An Interview with Dr. Indira Etwaroo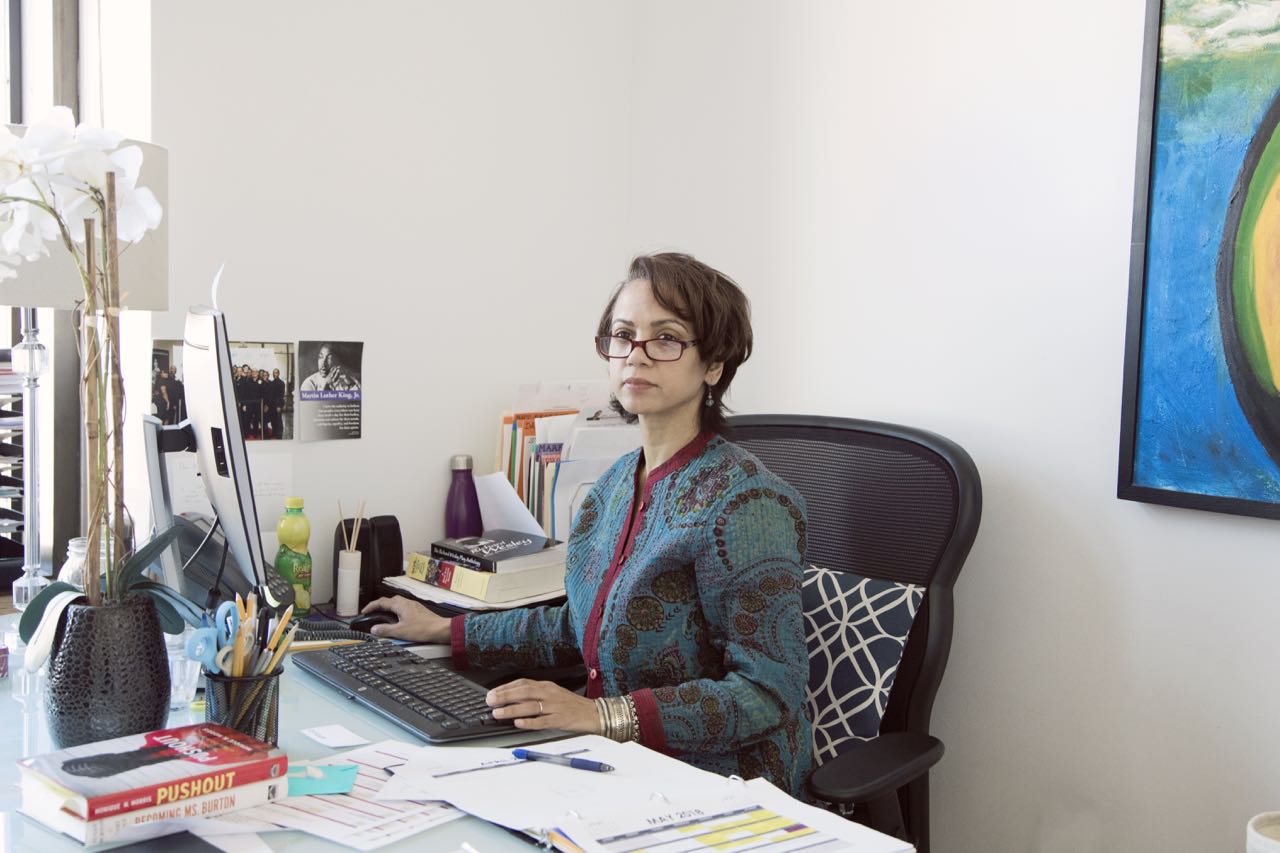 Written by Victoria Myers
Photography by Sofia Colvin
February 6th, 2018
The Billie Holiday Theatre in Brooklyn was founded in 1972 and came to prominence under the leadership of Marjorie Moon as a destination and breeding ground for black artists, but in recent years, has faced challenges from funding to demographic shifts in the neighborhood. That's where Dr. Indira Etwaroo came in. In 2015, Dr. Etwaroo became Executive Director of the Bedford-Stuyvesant Restoration Corporation and The Billie Holiday Theatre, which is part of the organization, and continued its legacy of matriarchal leadership. Only a few years into her tenure, she has already led a major renovation of the theatre's physical space and re-invigorated its programming. Prior to her role at RestorationART, she was Founding Executive Director of the Jerome L. Greene Space at New York Public Radio; Founding Executive Producer and Director of NPR Presents; has worked at BAM; and received a PhD in Cultural Studies, a Masters Degree in Dance, and a Bachelor's degree in Music. We recently visited her at her office and spoke to her about running a large arts institution, working with the community, funding, and being a woman in a leadership position.
Could you talk a little bit about what an Executive Director does? What is your day like?
I'm the Executive Director of RestorationART, which is a 21st Century creative complex that presents art and culture for central Brooklyn and beyond. I also am responsible for really painting a clear picture and a mission and then getting artists and administrators and the community and funders all very, very excited about that vision and that mission, and folded into it. And that mission and vision are based on the deep desires and needs of our community. I'm also the Executive Director of the Billie Holiday Theatre, so we build art also, but more so with a slant towards the theatrical experience.
A day in the life of me: It starts pretty early. I'm up and answering emails starting around 7am I may be putting out a fire with what's happening in a set build. I may be responding to a development grant proposal. And then, it's a lot of meetings, a lot of maintaining really strong and vibrant relationships with all of our constituents, my fellow staff, fellow executives, my board with the Billie Holiday Theatre, with funders, with our audience, with community stakeholders, with our elected officials. So just keeping an ecosystem of collaboration around arts and culture alive and well.
What is the difference between an Executive Director and an Artistic Director?
I think there really isn't a difference depending on how it's situated. There are some non-profits that have an Executive Director and an Artistic Director. The Executive Director is responsible, then, for the infrastructure, the operational, the fundraising. The Artistic Director manages more of the curatorial. When there's only one Executive Director, you do both. You manage the artistic/curatorial and then also the operational infrastructure.
How much of your job is figuring out how to find a balance between those two parts of it, especially when it comes to programming?
I would say that I live solidly in both worlds throughout the day, all the time. I am constantly leaning on both sides of my brain, leaning on both sides of my expertise. I am an artist. I was an artist first. Someone who studied classical music for a couple of decades and studied dance for a couple of decades and did theatre, and studied theatre. So I feel very, very well versed in all of those disciplines, and I studied them and performed in them up until I was an administrator and started my admin work, which was first at BAM. I found that it was actually an asset to bring those artistic sensibilities to the operational, to programmatic planning, and to working with artists.
I think artists are some of the greatest problem solvers. We get in a room and we have a script in front of us or we have a choreographic piece in front of us and we have to figure out in a moment's notice how to navigate bodies flying through the air without flying into each other. And so we have this incredible ability to navigate space and work through solutions and challenges in real time, in a collaborative way, in a powerful way, and in a transformative way. I think that's why the skills of an artist translate so beautifully into the operational and the administrative side, because that's really all we're doing. We are problem solving. We're building and we're looking to create sustainable systems that don't crash into each other and that fluidly work together in a beautiful way.
For your role at the Billie Holiday Theatre, what would you say is your overall philosophy in terms of how you make the choices of what to program?
Some of this comes from my work at NPR and WNYC. I was at both of those institutions for about 10 years collectively. We were always looking at the pulse of what was happening in the world. And, in that instance, it was breaking news. It was being on the pulse of breaking news and just incredible colleagues who were always investigating and digging deep. And so I find myself bringing those sensibilities to this job. I find myself taking sort of the artistic rigor, and also applying what's happening in the world to our curatorial decision making.
For me, it is highly important that we use an audience-centric model, so the audience remains at the center of all of our decision making. It's not, "What play do I like? What play turns me on?" But rather, what are the conversations that I believe people are having around their kitchen tables as families when they wake up in the morning? As couples? As mom to child? As older parent to an aging parent? What are the conversations, and what are the challenges and the struggles, and within that, what is the triumph of the human spirit?
And so, I'm looking for stories that speak to those relevancies of what our audiences are talking about. If you look at the work we're doing, we're constantly able to attach it to what's happening in the world. For example, The Old Settler was a work that we re-launched the Billie Holiday with. John Henry Redwood's incredible piece directed by the incomparable Michele Shay. A funny story, a heartwarming story, in some ways a heartbreaking story. but at the center of it was a housing crisis in 1943. I think Langston Hughes wrote most poetically about it, but people were living in tenements, and they were bringing in roomers, and sometimes every room was packed with a roomer, and sometimes every address had lists of roomers living in that tenement and so the list of names were above the bell. But that was 1943 where there was a housing crisis in Harlem. I think we can look at Bedford-Stuyvesant in Brooklyn in New York City and know that we're at another moment where we're at a crisis level with affordable housing, and our longstanding residents of communities are being displaced and our older community members and our lower-to-middle income community members are really struggling with affordable housing. And so, within this entertaining narrative, there is an incredible sub-theme of housing.
This narrative that we're working on now is A Small Oak Tree Runs Red, directed by Harry Lennix and written by an incredible playwright from Brooklyn, LeKethia Dalcoe. And it is looking at the lynchings of 1918. It's a memory play. It's allowing the audience to exist between reality and memory. It's sort of this purgatory space where, in order to move forward, the characters are being forced to remember. And that's really powerful given that just in the last several months, we found nooses hanging in Brooklyn just down the street at one of our public libraries in Bed-Stuy. One of our iconic cultural centers, the Met [Opera], had a noose hanging in it, and so with great misfortune, we're still at a moment where we are living in a highly racially charged environment. And so, we see the theatre as a conduit, as a catalyst to be able to tell stories and to be able to open up difficult dialogues with great dignity.
You mentioned you like to pay attention to the topics people are talking about around their kitchen table. What strategies do you use to figure out what those things are? Because the things people are actually talking about and what they actually care about is not always accurately reflected in the media.
Mainstream media covers sort of the national news, the big-picture news. We have some local media outlets that are really doing a great job of getting at the heart of what a community like Bed-Stuy cares about. One example would be the Brooklyn Reader. I'm sort of a news junkie, so I literally have every news feed that I can get hitting my computer, my email in the morning. I start my day reading everything I can. I read the Brooklyn Reader. I'm reading Caribbean News. I'm reading the [New York] Times. I'm listening to WNYC. It gives me a sense of what's going on. I also live in the community and walk to work every morning, so sometimes there are flyers up posted on light poles that might have some sort of political messaging on it. Sometimes something is tagged on either the sidewalk or a building that has some sort of messaging on it.
Also, a lot of the staff here are a part of the community. They're a part of the artistic community. We leave room to have conversations about what's happening in the world. This really does inform what we're doing. I don't know that I've thought of it in a conscious way, but a lot of my work in news organizations has highly informed how I'm curating here at the theatre. It's really important to me that what we are presenting and what we are talking about has a deep relevance to our audiences.
I've talked to some artistic directors in the past, and one of the things that they have mentioned that can be a challenge is how to plan but also stay flexible and responsive to what's happening in the world. What has that been like for you?
I think you just nailed the most difficult part of the job, probably, because that comes down to budgetary limitations. If we had all the time in the world and all the resources in the world, we could be more responsive and we'd have the bandwidth to do that. There is that fine line of figuring out how to be relevant, how to keep the runway long so you can plan, but at the same time, how to be responsive. What I've found is using our platforms in an interesting way is starting to feel really right. Our mainstage is large—produced works that exist and are here and are up for approximately four weeks, 30 performances. That's a big investment for the Billie Holiday Theatre, and then also leaving room for readings.
We have a reading series in partnership with the incredible Frank Silvera Writers' Workshop. They're an OBIE award-winning initiative that started 43 years ago under the leadership of Garland Lee Thompson, Sr. and Morgan Freeman, and is now in the incredible hands of Garland Lee Thompson, Jr. He does a monthly reading series in partnership with the Billie. He's curating and looking for new works that say something new and different and sort of fill the silences. That gives us an opportunity to respond in the moment to what's happening, because he doesn't have to curate years out or a year and a half ahead of time. He's curating those monthly readings several months ahead.
Then the other thing that we launched last year that I'm just in love with is a 50 and 50. It was Restoration's 50th anniversary. We sent a call out. We worked with Dominique Morisseau, the playwright and wonderful thought leader in the American theatre right now. She curated a statement for black women to respond to Say Her Name, these missing young women, and the invisibilization that often happens for black women in male circles and in white circles. We sent a call out, praying and hoping that at least 50 women would respond with a one-page monologue to that, and we got over 220 submissions. They were from across the world as far as Holland and South Africa and Canada and all over the country, and as close as women down the street. That became a platform where the women were literally telling us what was important to them, what mattered, what their point of view was. With the hybridity of platforms—meaning that we have the more highly-produced, investment-driven plays that we believe will speak to the masses, to our reading series, to this 50 and 50 monologue workshop—it allows for us to be able to both plan ahead, but also be responsive to things that are more breaking news or cutting edge or happening in the moment.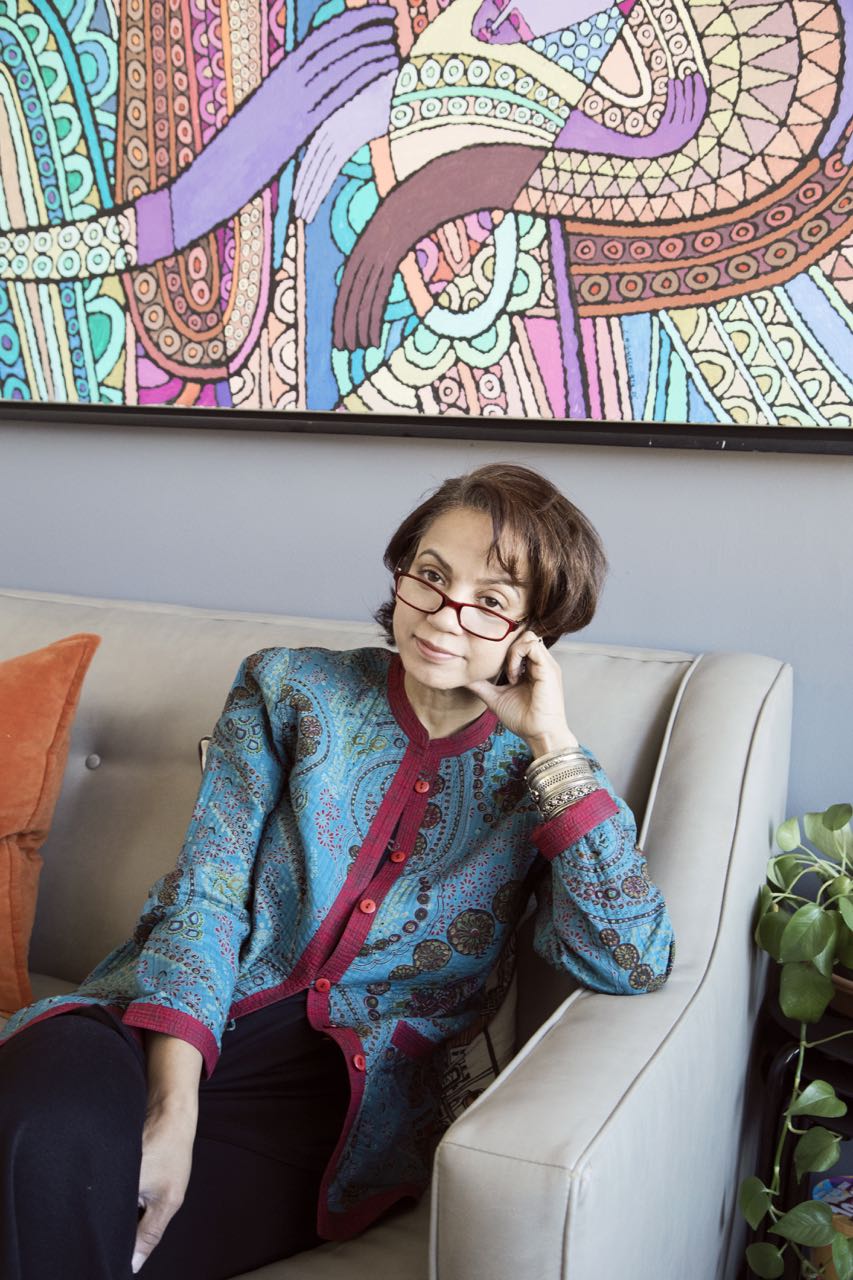 The Billie Holiday is part of a larger complex and your background spans different disciplines. How you feel that the different areas of the arts can better collaborate and be more in dialogue with each other? Sometimes I feel the theatre can be very culturally isolated in that way.
That's the entire mission of RestorationART, which was the Center for Arts and Culture for 45 years and is now RestorationART, which is this umbrella platform that allows all of the disciplines to live together. It is not something that happens organically, necessarily; it requires incredible levels of strategic thinking, incredible levels of a generosity of spirit from all of the leaders who work with us, and an incredible commitment to shared sustainability.
Part of what this creative complex is creating is a dynamic, functional, healthy, and ever-evolving platform where the Billie Holiday Theatre can coexist next to the Frank Silvera Writers' Workshop, next to Ronald K. Brown/Evidence, next to the Noel Pointer Foundation, next to Cumbe African Dance Center, next to our Skylight Gallery, next to our Youth Arts Academy, and figuring out ways that we can all begin to collaborate and coexist together, and not just be running in parallel tracks and not finding ways to cross-pollinate.
I've been here a little over two and a half years, and the first year was really about getting the lay of the land, doing a sort of feasibility assessment internally and figuring out what everything was. The second year was about building. We broke ground on the Billie Holiday Theatre. We broke ground on new dance spaces and theatre rehearsal spaces, and figuring out how to build budgets that would be more of a shared budget within RestorationART, then how to build pipelines between all of these institutions and how would we manage branding collectively.
This year is really about exercising the muscles of those collaborations. The RestorationART team, we meet on a weekly basis. We have everyone in a room talking about things, sharing what they're up to, brainstorming together, troubleshooting together. It begins to build the type of culture of collaboration and shared success and shared sustainability that we believe will be a model nationally for others to look to. We know that we are particularly vulnerable as black-led institutions. A development study emerged in 2015 that showed the deep economic vulnerabilities of institutions that serve audiences of African descent and that program towards curation and programming of African descent. We know that it's going to require us to think about ourselves in new and unique ways and innovate around those challenges and try to see them as opportunities. One of the things that I believe is that collaboration is a secret weapon for many institutions of African descent.
RestorationART becomes a platform for the Billie Holiday. It becomes a platform for Ronald K. Brown/Evidence. It becomes a platform for Frank Silvera, et cetera, to do this incredible world-class work. RestorationART is honored, and has the incredible privilege to step up as the presenter of this world-class work so that our audiences have what I think of as local arts equity. That they're not having to travel all the way to Manhattan or Harlem to see works that are relevant to them, to see themselves on stage, to take their children and engage them in cultural activities that would expand their worldview. They can walk down the street, they can catch the B25 bus or catch the A train, and a few stops away they are in a world-class facility that is presenting rigorous artistic work that believes in black excellence and believes in excellent storytelling.
Most theatre and arts institutions are always looking at how to bring in new audiences.  What has your philosophy been around that? Where do you see the challenges, where do you see the potential for growth?
I don't really see bringing in new audiences as a challenge. It's an interesting conundrum and opportunity because in my last three jobs, whether it was BAM, WNYC, or NPR, new audiences meant people who looked like me. It meant that it was a younger generation. It meant that it was a person of color. I'm here leading an enterprise where my audience is mainly made up of people of African descent. As we go through changes demographically in Bed-Stuy and Brooklyn, and there is a diversification happening and a demographic shift happening, our arms are wide open to welcome this audience in.
We believe that to fully understand the American story, it's so critical to understand the African-American story, and that the African-American playwright and choreographer and visual artist and storyteller are telling stories that are specific to the African-American experience, but they're universal. They're so universal as we share in commonalities around family and community and love and challenge and the triumph of the human spirit. So we believe that the development of our audience is really more geocentric, and that we want to reach the audience of central Brooklyn. We want to reach beyond the Brooklyn borders and have New York City come, and New York City is this beautiful global village. While our work will be focused on the stories of people of African descent, we know how preciously universal those stories are and that they can touch the lives of people from all walks of life.
Do you find that that's one of the things that you have to think about in marketing is how to not have the work be pigeonholed?
We try to be authentic to the work. I don't think we think about it not being pigeonholed. We do exist at the very center of our reality. We are not an institution that perceives itself to be on the margins of anything. We're not on the margins of the field. We're not on the margins of the greater American story. We are sitting smack dead in the very center of our reality, which is that great art is being created in the epicenter of black culture. We are serving the largest African-American community in the nation, and we take that with a great responsibility.
Our goal is to honor and tell the stories with the greatest authenticity and the greatest relevancy, and to ensure that we're honoring the agenda, the goal of the playwright, of the choreographer, of the visual artist, of the educator, of the poet, et cetera. That we are ensuring through our marketing efforts that our brand is holding true to the artistic values, but also the values that we hold dear—the value of authenticity, the value of excellence, the values of diversity and inclusion, the value of revolution, the value of a cultural courage, if you will, and bravery. Those are values that, again, translate across cultural barriers.
I'm not sure who might look at the work and think it's not for them, but if people are interested in great storytelling, we're for them. If they're interested in understanding the full American and global story, we're for them. If they're interested in seeing works that will touch their souls in deep and meaningful ways, we're for them. If they're interested in adventurous work, we're for them. If they're interested in taking a risk with an artist and seeing works develop and build and progress, we're for them.
There's also the economic aspect of your job in terms of how you work with the Board, donors, and funders. I was wondering if you could talk a little bit more about that and where you think the challenges are, particularly in our current economic-political climate.
It's an interesting moment. As the national agenda continues to roll out, there are some uncertainties about where things are going to end up and how much support arts institutions are going to continue to receive, and, with the new tax laws going into effect, what that will mean for philanthropy and individual donors and major gifts. I think there's an optimism because we've been here before as a field. We have weathered administrations that didn't necessarily understand that the arts were a pivotal and critical part of our landscape and of our entire narrative as Americans, and that we're forged in great artistry that is sort of the backbone of who we are as a nation, and so we've been here.
I'm very excited about, particularly, where the private foundational world seems to be going. There is a real look at equity and there's a real look at social justice within this. We also have to be very careful as we talk equity that our monies and our dollars are supporting equity; that we're not reifying the very same systems that created the inequities and supporting the same institutions, but diversifying and finding those new voices and those new institutions that have been or are on the front lines. There are institutions that have been on the front lines of social justice and equity, and ensuring that people of color and the LGBTQIA communities and that our older senior citizens and our children, some of the more marginalized group, and lower-class to middle-class audience members have been served for decades. Yet, some of these institutions have not received the same funding as other larger mainstream institutions. I think a lot of foundations are taking a really keen look at that.
I would caution that as we talk equity, we don't keep reifying the same systems that led us to the inequities. I also think that it's a moment where we're seeing women and people of color heading up these conversations within these private foundations, and so they're bringing a broader perspective to the conversation that I think is critical.
One of the things we haven't touched on is that you also have a PhD. How do you think that academic background affects your work?
The PhD can be very misleading because some people have said, "Oh, she must be very smart because she has a PhD." I think, "Oh, I'm not much smarter than the person next to me," but I'm very curious. I want to know everything. I apply a rigor to knowing. When I'm going to present a play, I read everything I can about that play. I read everything I can about the directors and the actors that I'm working with. I do a 360° look. I am applying the highest level of rigor.
My PhD is a vast look at cultural studies, focused on dance with a concentration in African and African-American performance aesthetics. The way the PhD applies to this job is that there's a level of rigor that I like to bring to the work. You won't see me read a script and then say, "I'm going to do that play." You will see me read a script, and then you'll see me read a couple of books that are relevant to that script. Then you'll see me have conversations with two or three people, historians or poets, who might have lived or be aware of something happening during that era about that script, and then I make a decision to curate.
There's just a lot of rigor that I like to apply to decision making, and that's what we had to do in the PhD program. We had a thesis, a question, and we spent four or more years doing a deep-dive and doing a comprehensive review of the literature. I looked back at my review of literature from my PhD, and I had read over 500 sources around that one question. I went to Ethiopia as a Fulbright scholar, and I lived there for a year and lived in the culture that I was researching, and had hundreds and hundreds of hours of tape around that one question, and wrote pages and pages and pages, and edited and re-edited pages and pages around that one question.
There's nothing more about the PhD than the exercise of applying the highest level of rigor to one question in terms of finding out, establishing a hypothesis, but then finding out what the results might be. Then, being open to the fact that you don't have any idea where that journey is going to take you. You have some guesses, but the moment you know where you're going to end up, you generally end up in the wrong place. That's true of the creative process. It's true of my work as an executive director. I know that I have a lot of questions about where an institution should go that is serving an audience as magnificent and culturally rich as this audience in central Brooklyn, and that we have the resources we have. I have some educated guesses on where we should go, but boy, is it going to be fantastic when we're moving down the years and the decades to see where we actually end up. I don't have the perfect answer to where we're going to end up, but I don't want the perfect answer. I'm interested in the journey.
Lately there's been a lot of talk about women in the workplace and the various challenges that exist there. Over the course of your career, especially in leadership positions and positions where your authority spans artistic and financial roles, where have you found specific challenges as a woman in a leadership role?
I think that it is still tough being a woman in a leadership role. It is not an easy undertaking, and I would say that you're still having to really be sure that you're finding space around that table. You're invited to the table of decision making, but you always feel like you have to speak a little bit louder, and you always have to speak a little bit more strongly to level the playing field in the room. It still feels like there's an inherent assumption that the woman in the room may not know. It always feels like you are working harder, you are staying longer hours, you are extending the highest levels of human compassion and the highest level of rigor and the highest level of strategies just to keep up, just to keep your head above water as a woman leader.
I still think there's a lot of work that has to be done until we are at a moment where it is natural and an absolutely ordinary thing for a woman in the room to be the voice that makes the final decision. I find that I'm learning every single time, every single day, every single season to trust myself, to have great confidence in my abilities, and to just sort of throw caution to the wind and sit in my womanhood and know that I bring assets to the table as a woman that actually make me the powerful leader that I am and am evolving into.
Did you think things would be better by now?
I did. I really did. I thought they would be easier. I've been leading in non-profits and having people report to me for about 15 or 20 years. It still surprises me that in 2018 we're at a place where Me Too is this watershed moment and yet, I am so glad that we're at this watershed moment. I hope that we will be baptized in our own tears, and that it will lead us to a better place. That both men and women will bring the same conviction to providing safe work environments for all people, that it is not a journey just for women to take, but a journey for all human beings to take to ensure that whatever walk of life you're in, and in any space that has been marginalized—whether it's a racial space, a gender space, a sexuality space, an ability space, a class space, a nationality space—that people have the right to flourish in their professional worlds. That we're building worlds, as Audre Lorde said, in which all people can flourish.
What is your dream for the next year? Five years?
My dream for the Billie Holiday Theatre is that it takes its place nationally as a preeminent theatre to present the works of people of African descent; that we are consistent; that our business model is sustainable; that we fold in incredible world-class artists, which we've started to do, and world-class storytelling; and that people from across the nation recognize it as the national treasure that it has been.