7 Women of Theatre History You Should Know: Part Three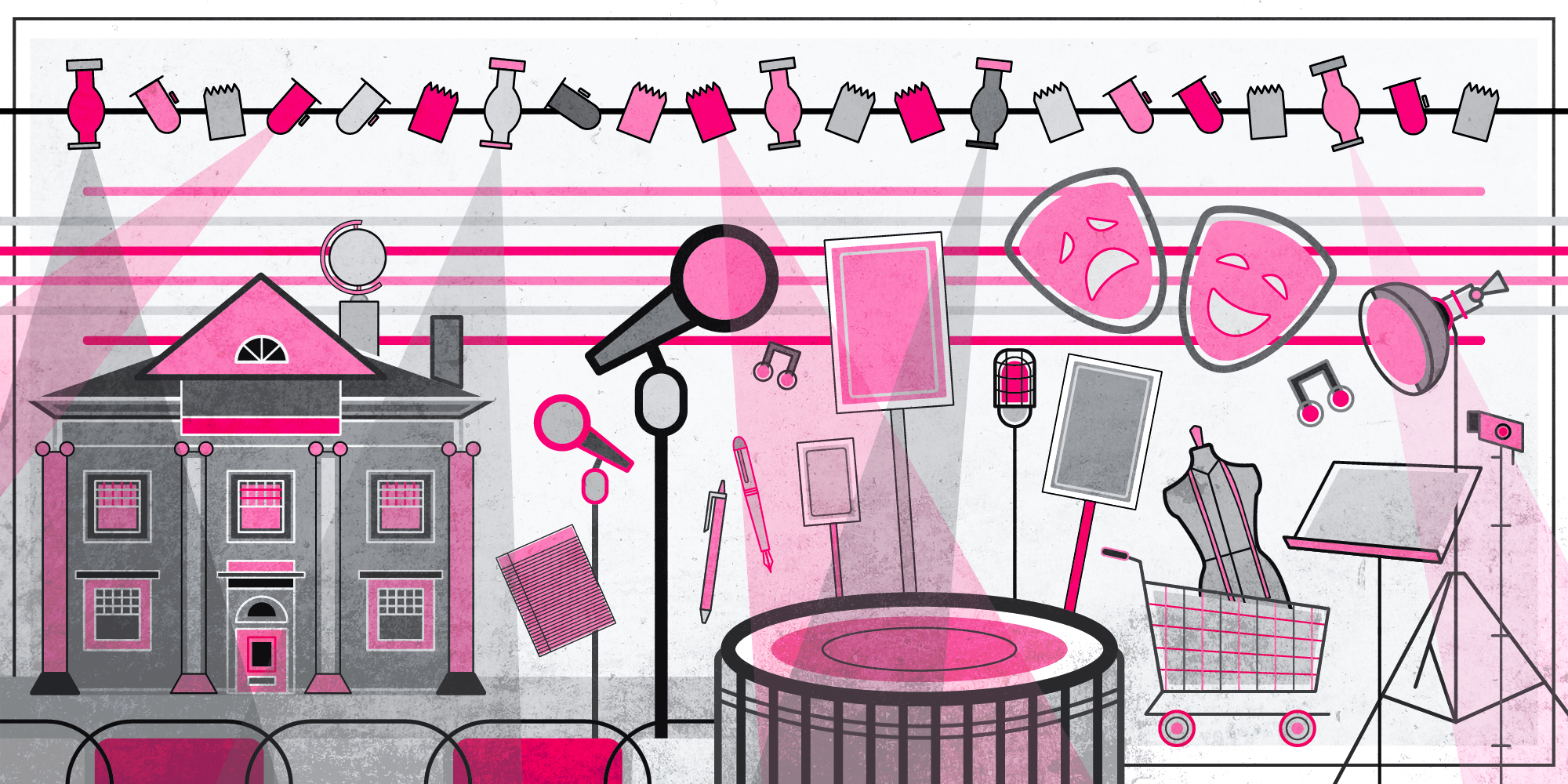 Written by Shoshana Greenberg
Illustrations by Desiree Nasim
March 6th, 2017
Welcome to the third installment of 7 Women of Theatre History You Should Know. As I said in the previous installment, the more I read about one woman in the theatre, another woman reveals herself. These seven women come from diverse backgrounds and cover a range of theatre disciplines—designers as well as playwrights, composers, and producers. The performance styles range from the avant-garde to the naturalistic, the writing from poetry to prose. These women—Jean Rosenthal, Kay Swift, Judith Malina, Marjorie Moon, Willa Kim, Ntozake Shange, and Zona Gale—are only a small percentage of the women whose achievements in the theatre industry go unrecognized or underplayed in theatre history. I hope learning about them inspires you to find out more about their lives and leads you to discover more women in theatre.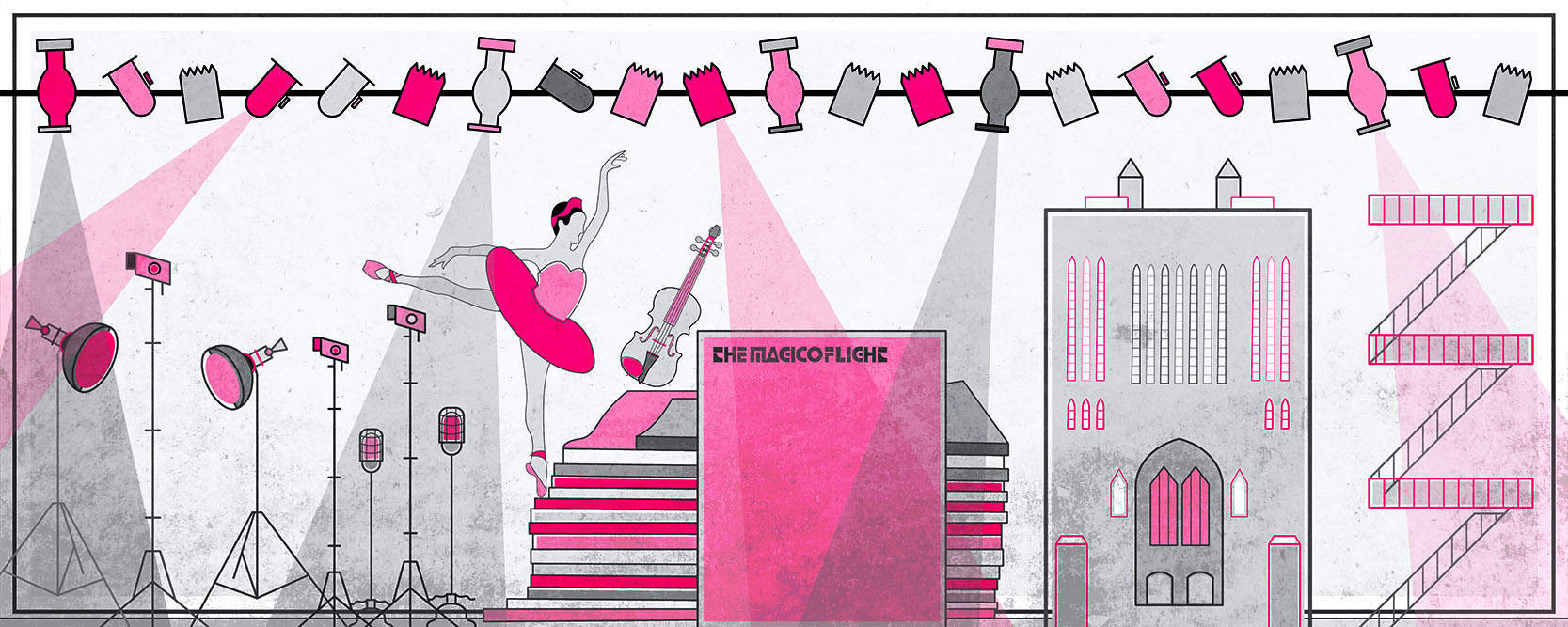 Jean Rosenthal
"Dancers live in light as fish live in water." – Jean Rosenthal in her 1972 book The Magic of Light
Jean Rosenthal was a lighting designer before there were lighting designers. When she began lighting shows, the lighting design was usually handled by either the scenic designer or the master electrician—and in the beginning she was thought of as an "electrician with notions"—but she made lighting design into what it is today: a profession.
Paving the way for lighting designers in both theater and dance, she also added the deeply colored washes of back and side light to the designer's vocabulary, was instrumental in organizing how dance was lit, and was the first woman to be a major presence in the field.
Rosenthal was small in stature and navigated the male-dominated backstage tech and design world by treating everyone with courtesy and "cultivating a careful impersonality." She called many of her crew members "darling" and "honey," but she knew her trade and always fought for what she knew served the piece best. Her colleagues treated her with respect, often refusing to do shows without her.
Born Eugenia Rosenthal on March 16, 1912 in New York City, she was the daughter of two Romanian immigrants and doctors: Pauline, a psychiatrist, and Maurice, an ENT. The second of three children, she went to Ethical Culture School in the Bronx and the experimental Manumit School in Pawling, NY. She attended high school at the Friends Seminary in Manhattan, but she didn't fit in and did poorly. Her grades were too low to attend a traditional college.
She instead studied acting and dance at the Neighborhood Playhouse School of Theatre in Manhattan 1929, soon becoming a technical assistant to Martha Graham and a member of the school's dance faculty. In the early 1930s she studied theatre at Yale University, taking classes in theatre history, scene design, costume design, and lighting design. While a student there, she received the Henrietta Lord Memorial Award from the Yale School of Drama in 1932. She remained at Yale until 1933 when she joined one of the WPA Federal Theatres. In 1935, she moved on to technical assistant in Federal Theatre Project 891 with John Houseman as producer and Orson Welles as director.
Houseman produced Leslie Howard's Hamlet in 1936 and took Rosenthal with him as second assistant stage manager in charge of lighting cues. Rosenthal also took over as the electrical technical director when the man who was supposed to install the lighting system was out sick. It was then that she received what is believed to be her first credit for lighting.
The following year she became the production and lighting manager of the Mercury Theatre, which Welles and Houseman founded in New York City. Her title was "production manager" but she most likely designed the lighting for eight productions. The theatre company eventually moved to Hollywood, but Rosenthal remained in New York City and opened a theatrical supply house called Theatre Production Service, Inc. or TPS, through which she offered a design and supply service.
Her entrepreneurship continued throughout her career, and in 1958 she started Jean Rosenthal Associates, a theatrical consulting firm that had a hand in at least 30 architectural projects, including the Pan-American terminal at the John F. Kennedy Airport in New York, the Guthrie Theatre in Minneapolis, the American Shakespeare Festival in Stratford, CN, the Juilliard School of Music in New York City, and the Los Angeles Music Center's Dorothy B. Chandler Pavilion.
But it was lighting design for which she was best known. Over the course of her 30-year career, she designed the lighting for over 300 productions. She had long-term collaborations with many artists, including Gian Carlo Menotti and Martha Graham, whose projects often took priority, and between 1936 and 1969 she designed the lighting for 53 dances for Martha Graham's company. Her lighting designs graced the Broadway stage in West Side Story (1957), The Sound of Music (1959), Barefoot in the Park (1963), John Gielgud's Hamlet (1964), Hello Dolly! (1964), Fiddler on the Roof (1964), The Odd Couple (1965), and Cabaret (1966).
She also designed lighting for the New York City Ballet from 1948 to 1957, the American Ballet Theatre from 1960 to 1968, the New York City Opera from 1950 to 1954, the Dallas Civic Opera from 1957 to 1969 and the American Shakespeare Festival from 1955 to 1959. At these companies she had more time to experiment with her designs than the commercial Broadway theatre would allow.
Her set design education did not go to waste. She also designed the sets for three Broadway shows: Conquering Hero (1961), The Beast in Me (1963), and On an Open Roof (1963). She also helped to educate others by writing about lighting and technical production. Her pieces were published in magazines such as Theatre Arts, Opera News, Musical America, and Impulse. She received the Outer Critics Circle Award, during the 1968-1969 season, for her contribution to stage design.
In 1968 Rosenthal was diagnosed with cancer. She had been working on a book on lighting design since the late 1950s and, while in the hospital, she was finally able to complete The Magic of Light. It was published posthumously in 1972, edited by Lael Wertenbaker and illustrated by Rosenthal's assistant, Marion Kinsella. Rosenthal died on May 1, 1969 at the age of 57. Ten days before her death she attended the opening of Martha Graham's Archaic Hours, which was to be her last lighting design. Even after her death, her lights burned brightly for three more years in Fiddler on the Roof, which closed in 1972, and for decades longer through her theatrical lineage, which extends from her apprentice Thomas R. Skelton to Skelton's student, award-winning lighting designer Jennifer Tipton, to the younger generation of emerging lighting designers today.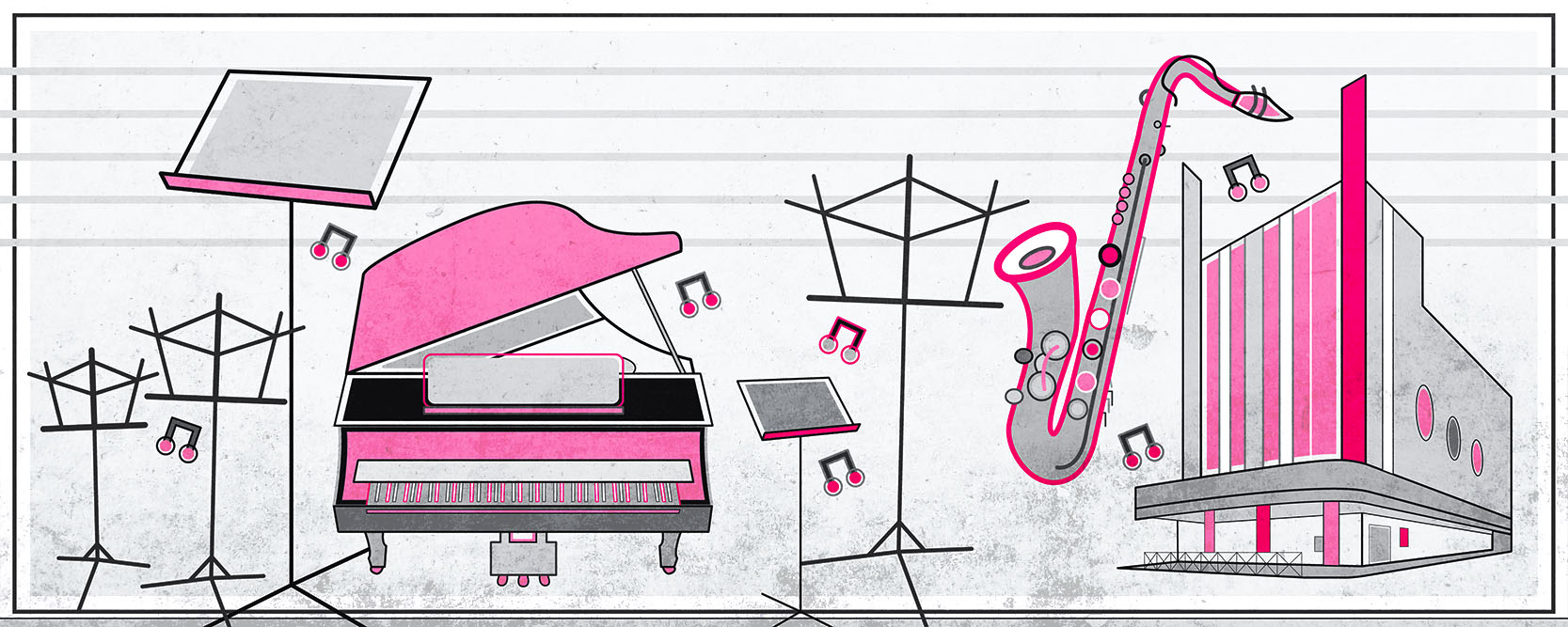 Kay Swift
"It is my belief, now, that women often allow their talents to dwindle because of the fact that they… are all too apt to be incurable romantics. I ought to know, because that's what happened to me." – Kay Swift in her memoirs
When people ask where the female composers on Broadway are, Kay Swift should be on the top of their list. She was the first woman to write the complete score to a Broadway musical, and not only was it the first, it was a hit, running for 236 performances.
Blending musical comedy, vaudeville, and social satire, Fine and Dandy opened in 1930 and starred the popular Joe Cook. Swift teamed up with her first husband Paul James (a banker whose real name was James Paul Warburg), who wrote the lyrics, and Donald Ogden Stewart, who wrote the libretto. The humorous plot concerned star-cross lovers in a tool and die Factory with a saxophone-heavy jazz score.
The musical is not popular today, however, and that's most likely because it was part of the early musical theatre era created mainly for trivial entertainment, and much of the original material has been lost. Later in Swift's life, she worked with orchestrator Russell Warner to reconstruct the score.
Born on April 19, 1897 in New York City, Swift grew up studying music—piano, composition, and orchestration. At one point she was writing a fugue a week. Though trained as a classical musician, George Gershwin, whom she met at a party in 1925, encouraged her to write popular music. She, in turn, helped him transition from Tin Pan Alley to classical.
Swift cut her teeth on various music jobs, including serving as the rehearsal pianist for A Connecticut Yankee (1927), and made a name for herself on Broadway early in her career. Before Fine and Dandy, she contributed music to the Broadway musical Say When (1928) and the musical revue Garrick Gaieties (1930), which was produced by the Theatre Guild and also had music and lyrics by Mark Blitzstein, Vernon Duke, Ira Gershwin, and Yip Harburg, among others. Her best known songs include "Can't We Be Friends?" "Can This Be Love?" and "Fine and Dandy." The first tune comes from the 1929 revue The Little Show and the latter two are from Fine and Dandy.
After Fine and Dandy, she wrote music for the ballet Alma Mater in 1935. Choreographed by George Balanchine, the ballet was a spoof of the Harvard-Yale football game and was one of his premiere American ballets. She was also the staff composer for the Rockettes at Radio City Music Hall in the mid-1930s, as well as the Director of Light Music for the 1939 World's Fair.
Swift's marriage to Warburg, with whom she had two daughters, dissolved in 1934 because Swift was romantically involved with Gershwin. They officially divorced in 1935. Though they spent much of their time together, Gershwin and Swift never married. In 1936, they agreed not to see each other for a year, and he left for Hollywood. By the end of the year he had passed away from a brain tumor at age 38.
Swift later married her second husband, Faye Hubbard, a rodeo cowboy she met working on the World's Fair, and they moved to Oregon. The marriage ended in 1947, but in 1943 she published an autobiographical novel about it called Who Could Ask for Anything More. The book was turned into a film called Never a Dull Moment (1950) starring Irene Dunne and Fred MacMurray. Swift wrote the film score, naturally. A third marriage to radio announcer Hunter Galloway also ended in divorce.
Swift knew Gershwin's music inside and out—she could play the entire score of Porgy and Bess from memory—so when Gershwin died, Swift turned much of her attention to his projects, creating pieces from unfinished songs and scores. She filled in the gaps from memory and turned the best ones into new songs. One she used for the 1939 World's Fair, another for a Betty Grable film, The Shocking Miss Pilgrim (1946). She was also asked to consult on Gershwin shows and transcribed his music with thorough notations, sometimes neglecting her own career in the process.
But in 1952 she returned to Broadway to write the score for Cornelia Otis Skinner's one-woman Broadway show Paris '90, a series of vignettes that celebrated the women in Toulouse-Lautrec's artwork. Famed Rodgers and Hammerstein orchestrator Robert Russell Bennett orchestrated Swift's score.
Swift died of Alzheimer's disease in 1993 in Southington, Connecticut at the age of 95. The Kay Swift Memorial Trust was set up to continue Swift's legacy. A book about Swift's life, Fine and Dandy: The Life and Work of Kay Swift by Vicki Ohl, came out in 2004.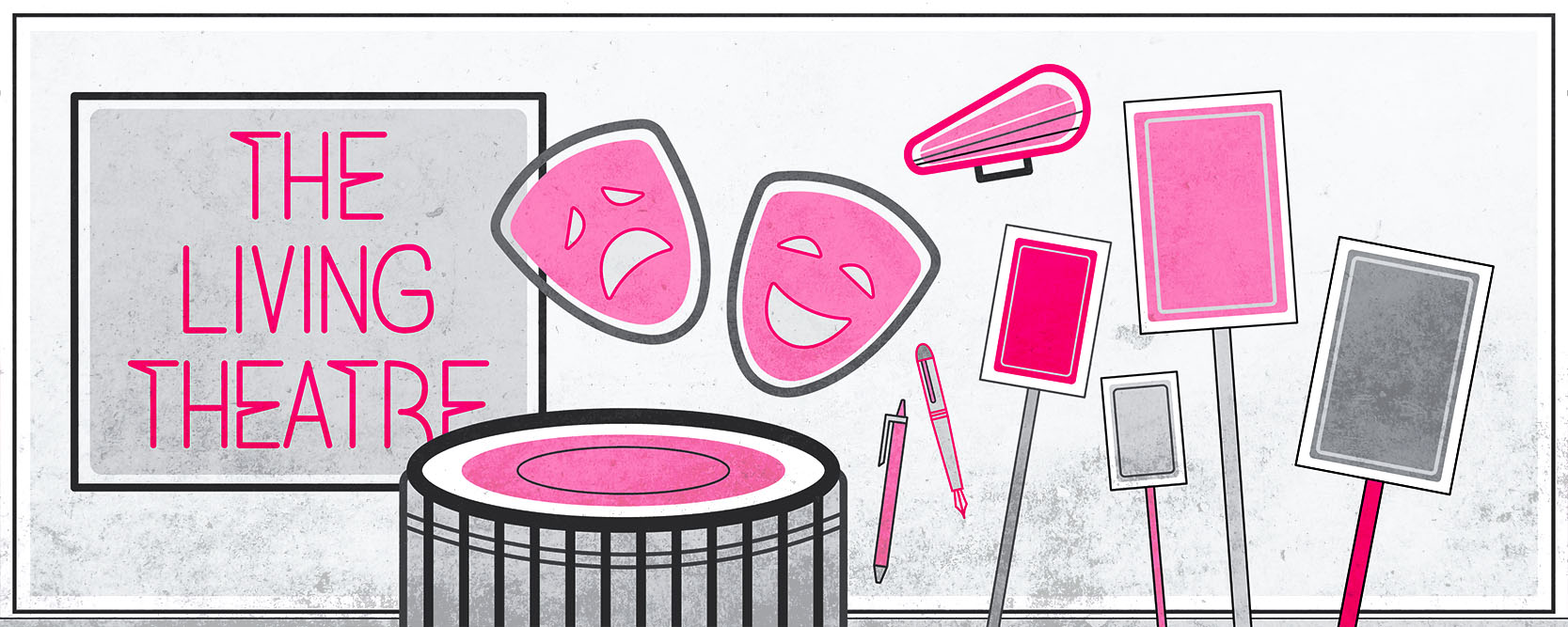 Judith Malina
"Tremble: your whole life is a rehearsal for the moment you are in now." – Judith Malina
When Judith Malina founded The Living Theatre with her husband Julian Beck, she brought forth political theatre in America and spread it around the world. Their mission was to dissolve the separation between actor and character, cast and audience, and art and politics, and over the course of many years produced over 75 plays. She believed theatre should be a force for cultural change and once compared herself to a biblical prophet, someone who criticizes and warns but works among the people.
Malina and Beck started The Living Theatre, sometimes known as the Living, in 1947 when she was 21 and Beck was 22, and it was at the forefront of the avant-garde in the 1950s and 1960s—Malina was influenced by Antonin Artaud's The Theater and Its Double. The company would create works as a collective, and their first production was Gertrude Stein's Dr. Faustus Lights the Lights at the Cherry Lane Theatre in 1951. They presented Jack Gelber's The Connection (1959), about heroin addicts awaiting their next fix, and Kenneth Brown's The Brig (1963), set in a U.S. Marine Corps prison in Japan, after they moved to their new home on 14th Street.
The company toured around the world. Malina directed The Mysteries of Frankenstein while touring all over Europe and Paradise Now (1965) while in France, where people heckled the performances. The company returned to the United States in 1968 and in 1971 left again for Brazil where they were jailed and kicked out of the country as incendiary for performing street theatre. The company moved to Italy in 1977 and was in France on residency in 1983.
A self-proclaimed anarchist and pacifist, she spent much of her life as an antiwar activist and belonged to many organizations, including Women Strike for Peace, the War Resisters' League, and the U.S. Committee for Latin American Political Prisoners.
Malina was born on June 4, 1926 in Kiel, Germany, to Polish Jews. Her father, Max, was a rabbi, and her mother, Rosel Zamora, dreamed of being an actor. They immigrated to New York when Malina was about two years old, and her political activities began early. She participated in an anti-Nazi rally at Madison Square Garden when she was seven. At age 12, in 1938, she and her father sent pamphlets to Germany that asked, "Do you know what has happened to your Jewish neighbors?"
In 1940, her father died and she dropped out of high school. She worked various jobs and studied acting and directing with Erwin Piscator, the German director and theorist who also influenced Bertolt Brecht, at the New School of Social Research. She began acting in 1945.
In 1948 she married Beck, whom she had met some years before. Malina and Beck had two children: Garrick Maxwell in 1949 and Isha in 1967. Isha often acted with The Living Theatre. After Beck passed away in 1985, she married Hanon Resnikov, who also wrote, directed, and acted with The Living Theatre. He passed away in 2008.
For her theatrical innovations over the years, Malina received the Lola d'Annunzio award (1959); Page One Award (1960); Obie Award (1960, 1964, 1969, 1975, 1987, 1989); Creative Arts Citation, Brandeis University (1961); Grand Prix du Théâtre des Nations (1961); Paris Critics Circle medallion (1961); Prix de L'Université de Paris (1961); New England Theater Conference Award (1962); Olympio Prize (1967); and a Guggenheim fellowship (1985). She taught at New York University and Columbia University, and co-founded Akashic Records, which preserved sacred texts. In 1982, she published Poems of a Wandering Jewess, which was later adapted as a jazz cycle by Steve Lacey.
To those outside the downtown theatre world, Malina is perhaps best known as a screen actor. She appeared on TV in The Sopranos as Aunt Dottie and many years prior in the Molly Goldberg series. She was also in the films Enemies: A Love Story, Radio Days, Dog Day Afternoon, and The Addams Family.
Malina used mime, improvisation, and audience participation in her productions and encouraged many new playwrights.
In 2004, she was inducted into the Theatre Hall of Fame and appeared in the documentary Resist!: To Be with the Living. She died on April 10, 2015, at the Lillian Booth Actors Home in Engelwood, New Jersey, at the age of 88 from lung disease.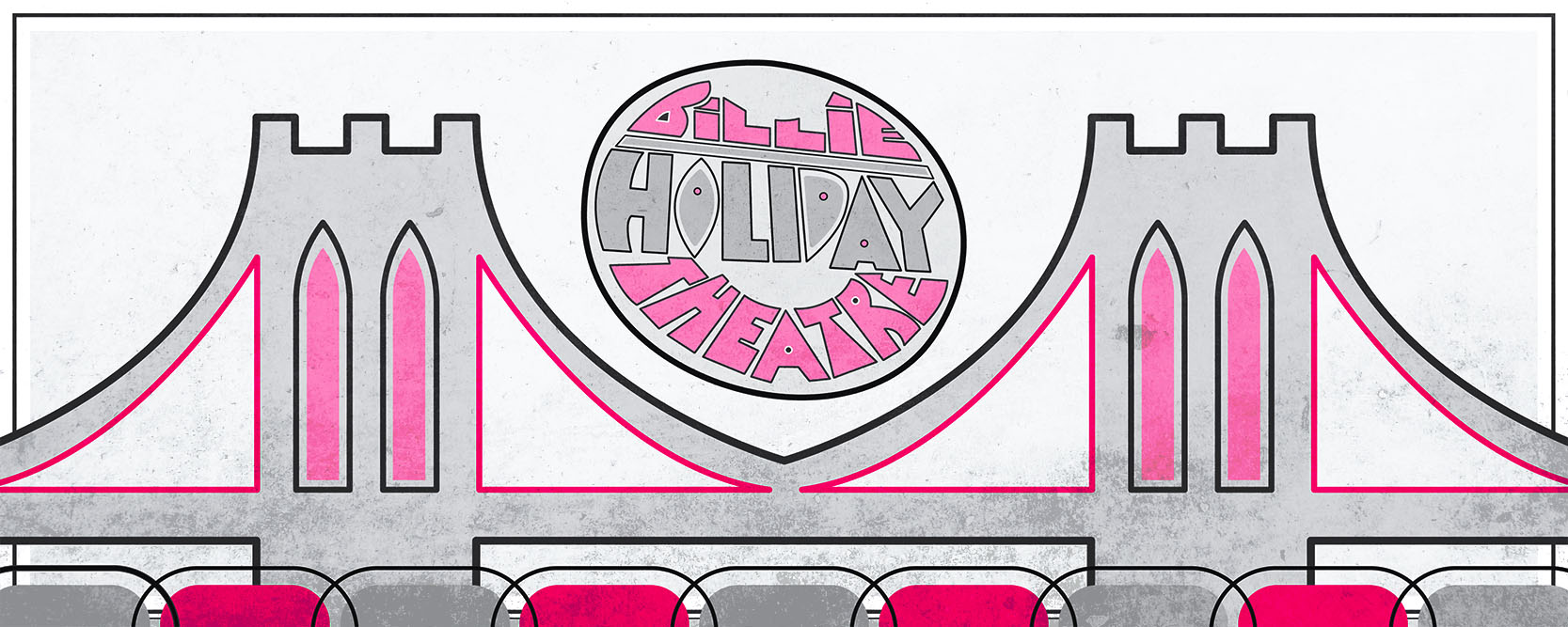 Marjorie Moon
"What we do here at the Billie Holiday Theatre has a spiritual connection with our audiences…. It deals with the heart, it deals with what's real. That makes them want to come back, and I think that's what sustains us." – Marjorie Moon on Brooklyn Independent Television
For 42 years, Marjorie Moon was the president and executive director of the Billie Holiday Theatre (BHT) in Bedford Stuyvesant, Brooklyn, where she produced roughly 150 productions and directed about 25 plays. The theatre's mission was to focus on the discovery of new works within the African-American diaspora, and it was instrumental in giving African-Americans a home to build their artistic and theatrical talents. The theatre also became an artistic center for the Bedford Stuyvesant community, as the theatre strove "to produce and present productions so dynamic in their relevance, content, and connection to our community that a positive transformation begs to take place."
The BHT was founded in 1972 by the Bedford Stuyvesant Restoration Corporation, whose mission is to improve the quality of life for residents of the Bedford Stuyvesant neighborhood. The theatre served as a training ground and home for actors such as Samuel L. Jackson, Debbie Allen, and Tichina Arnold, and many writers premiered new works, including William "Smokey" Robinson, whose first musical Raisin' Hell was produced there, Samm Art (later a Tony-nominated playwright), jazz musician Weldon Irvine, and John Henry Redwood (The Old Settler). The theatre also toured their productions to other first-class theatres around the northeastern section of the country.
Moon was born on May 14, 1946 in Kokomo, Indiana, and she spent her early years at the Karamu House Theater in Cleveland, Ohio. She graduated from Collinwood High School in 1954 and became one of the youngest members in the Cleveland Women's Orchestra. She earned a B.A. from Ohio University in 1968 and an M.A. from Temple University in 1970. She soon began teaching acting at Hampton University, and in 1973 moved to New York to become the executive director of the Billie Holiday Theatre.
In the early part of her tenure, she put together a group sales marketing strategy that more than doubled the theatre's subscription audience—increasing the number from 7,000 to 38,000 in three years. She directed Irvine's Young, Gifted and Broke, which ran for eight months and won four AUDELCO Awards. She also directed Over Forty at the New Freedom Theatre in Philadelphia.
BHT made history when a play originally produced at the theatre opened on Broadway. Inacent Black, a new play by A. Marcus Hemphill about an angel who helps with the problems of an upper middle class black family in Long Island, opened at the Biltmore Theatre on May 6, 1981. It was the first Broadway play for which 50 percent of the financing came from the black community. Directed by Mikell Pinkney and starring Melba Moore (Tony Award for Purlie) and Reginald Vel Johnson (best known for playing the father Carl Winslow on the TV series Family Matters), the play received a poor review in the New York Times and only ran for 14 performances.
The BHT continues to thrive in Bedford-Stuyvesant. It received a $900,000 grant in 2005, and Moon still serves on the board of directors and as Executive Director Emeritus.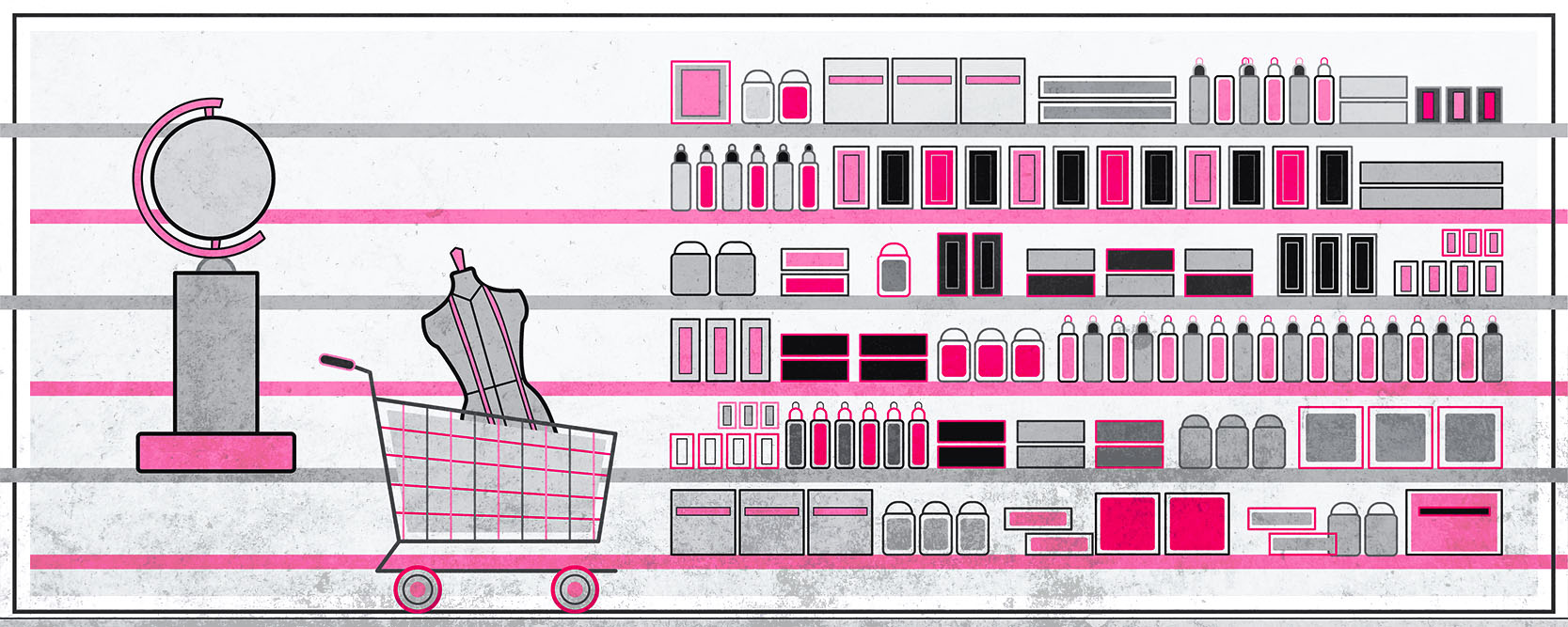 Willa Kim
"I wish [theatre] would go into theatre of the imagination, less realistic, but obviously that's not very commercial." –Willa Kim on Women and Theatre
Willa Kim has two Tony Awards for her costume designs. She won her first when she was in her 60s for the 1981 Duke Ellington musical revue Sophisticated Ladies starring Gregory Hines with costumes evoking the Harlem Renaissance era. Her second Tony came in 1991 for The Will Rogers Follies starring Keith Carradine, which had Ziegfeld Follies-inspired costumes. Between 1945 and 1995 she designed the costumes for 22 Broadway shows, including Victor/Victoria (1995) and Jumpers (1974).
Like lighting designer Jean Rosenthal, Kim was connected to both the theater and the dance worlds. She is known for being the first designer to switch from heavy, wooly nylon to lightweight stretch fabrics like lycra in her designs for dancers' costumes. She also painted the designs onto the new fabrics. This change first appeared in the 1971 ballet Weewis, choreographed by Margo Sappington. She also designed costumes for opera and considered her costumes for a 2005 production of Turandot and the Santa Fe opera her most interesting.
In 1981, along her Tony Award, she won the Emmy for her costume designs for San Francisco Ballet: The Tempest, which was part of PBS's Great Performances: Dance in America series. In her career she did one film: Gardens of Stone, directed by Francis Ford Coppola. She also designed for two television specials in 1987.
Kim was born Wullah Mei Ok Kim on June 30, 1917 near Santa Ana, California. Her parents Shoon Kwan Kim and Nora Koh were Korean immigrants with six children, and soon after Kim was born they moved to Los Angeles and ran a grocery store. As a child, Kim loved art and clothes and wanted to be a fashion illustrator and painter. She graduated from Belmont High School in 1935 and took art classes at Los Angeles City College before receiving a scholarship to study at Los Angeles's Chouinard Art Institute, now the California Institute of the Arts.
After a short stint in 1942 as a fashion illustrator at a department store, she left for an assistant position to costume designer Barbara Karinska at Paramount Studios. She was one of Kim's mentors. With Karinska she worked with designer Raoul Pene du Bois on the Ginger Rogers film Lady in the Dark (1944). In 1945 the three left for New York City with another artist friend Tom Keogh, whom Kim and introduced to Karinska. Kim designed the costumes for the musical Are You With It?, her first Broadway job. She continued to assist du Bois on big musicals such as Wonderful Town (1953), Bells Are Ringing (1956), The Music Man (1957), and Gypsy (1959).
At the start of the 1960s, Kim got more work as the main costume designer. She would be given only $250 to make 50 costumes, but she got it done. She designed costumes for Red Eye of Love at the Living Theatre in 1961 and started designing for dance. She found work on Broadway, but it wasn't until the 1970s that she started being recognized for her work. She received Tony nominations for the musicals Goodtime Charley (1975), Dancin' (1978), Song and Dance (1985), and Legs Diamond (1988). She was also nominated for five Drama Desk Awards, winning three for the play Operation Sidewinder (1970), Promenade (1970), and The Screens (1970).
Kim won many other awards, including the Fashion Institute of Technology's Patricia Zipprodt Award for Innovative Costume Design in 2003, the United States Institute for Theatre Technology's Distinguished Achievement Award for Costume Design in 2005. She was inducted into the American Theatre Hall of Fame in 2007 right around the time she was designing one of her last major projects, The Sleeping Beauty for the American Ballet Theater.
She had married William Pene du Bois, Raoul's cousin, in 1955. He was a founder of The Paris Review and served as the art editor of the review from 1953 to 1960. He moved to Europe in 1972, and after he died in 2003 Kim contributed to The Paris Review, both her own drawings and drawings from her personal archive.
Kim died on December 23, 2016 in Vashon Island, Washington at age 99. She had lived on the Upper West Side of Manhattan for many years before moving to the Vashon Island in the last years of her life to live with a niece.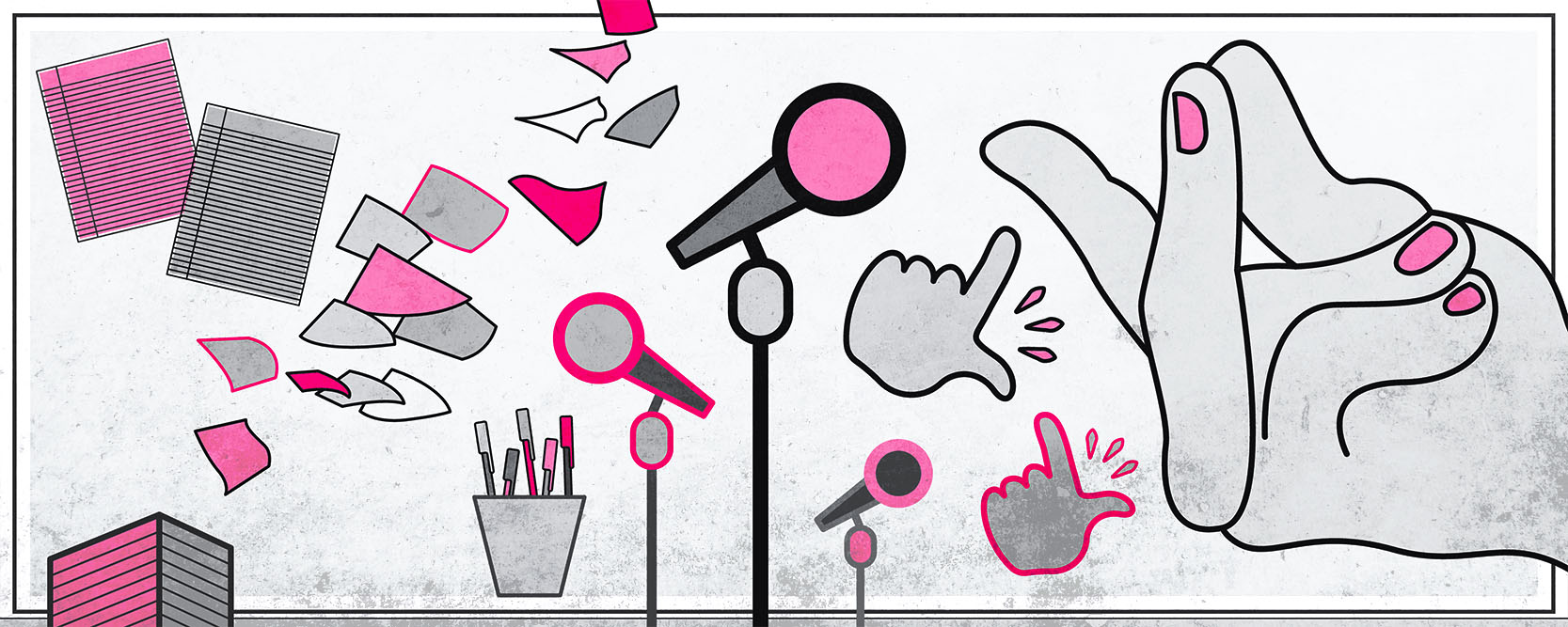 Ntozake Shange
"You have to keep acting like [poetry] is enough. You have to keep affirming it, and bringing yourself to it. You have to keep hoping that it will move the mountain." –Shange in the New York Times
Ntozake Shange (pronounced en-toh-ZAH-kee SHAHN-gay) is a poet and playwright best known for for colored girls who have considered suicide/when the rainbow is enuf. The theater piece combines music, dance, drama, and poetry that the New York Shakespeare Festival produced off-Broadway in 1975. It then moved to Broadway in the fall of 1976. She called the piece a choreopoem, a term she coined which means a piece that combines poetry, dance, music, and song. It won the Obie and Out Critics Circle Awards and was adapted into a film called For Colored Girls in 2010 by Tyler Perry, starring Janet Jackson, Thandie Newton, Kerry Washington, and Whoopi Goldberg.
Shange is a prolific writer in multiple genres. Her other pieces for theatre include A Photograph: Lovers in Motion (1977), Boogie Woogie Landscapes (1979), Spell #7 (1979), Mother Courage and Her Children (1980, winner of a 1981 Obie Award), Bocas (1982), and Whitewash (1994), which was adapted for a television special starring Rubie Dee. She's composed numerous works of poetry, such as Nappy Edges (1978), From Okra to Greens (1984), and The Sweet Breath of Life: A Poetic Narrative of the African American Family (2004), to name a few. She wrote the novels Sassafrass, Cypress & Indigo (1982), Betsey Brown (1985), Liliane: Resurrection of a Daughter (1994), Some Sing, Some Cry (2010), which she wrote with her sister, Ifa Bayeza), as well as several children's books.
Shange was born Paulette Williams on October 18, 1948, in Trenton, New Jersey. Her parents, Paul T. Williams, a surgeon, and Eloise, a psychiatric social worker and educator, moved the family to St. Louis when she was eight years old, where she attended a recently desegregated school. They returned to Trenton for her high school years. The eldest of four children, in 1966 she began attending Barnard College and graduated with a degree in American Studies. She then earned her master's in American Studies from the University of Southern California. It was then that she took the name Ntozake, which translates to "she who comes into her own things" in Xhosa, and the last name Shange, which translates to "she who walks like a lion."
As an educator, she has taught courses in Women's Studies, Gender Studies, Africana Studies, and Literature at Douglass College, the University of Houston, Brown, City College of New York, Yale, Howard, NYU, and Barnard, her alma mater.
As a performer, she appeared in her own play on Broadway, as well as off-Broadway plays Where the Mississippi Meets the Amazon (1977) and Mouths (1981), and has danced with the Third World Collective, Raymond Sawyer's AfroAmerican Dance Company, and West Coast Dance Works. She was a student in choreographer and dancer Dianne McIntyre's Harlem dance studio and later collaborated with her on works such as the choreopoem Why I Had to Dance. She has also directed at theatres such as the New York Shakespeare Festival and the Houston Equinox Theatre.
In her later years, Shange has battled a neurological disorder called chronic inflammatory demyelinating polyneuropathy. Since 2011, she has lost control over her hands and feet, which makes it difficult to write and type, and she moved to Brooklyn from the West Coast in order to be near family. Despite these challenges, in 2013 she premiered a new piece at the Nuyorican Poets Café in the East Village, Lost in Language and Sound: Or How I Found My Way to the Arts, her first new piece in more than a decade. She calls it a "choreoessay."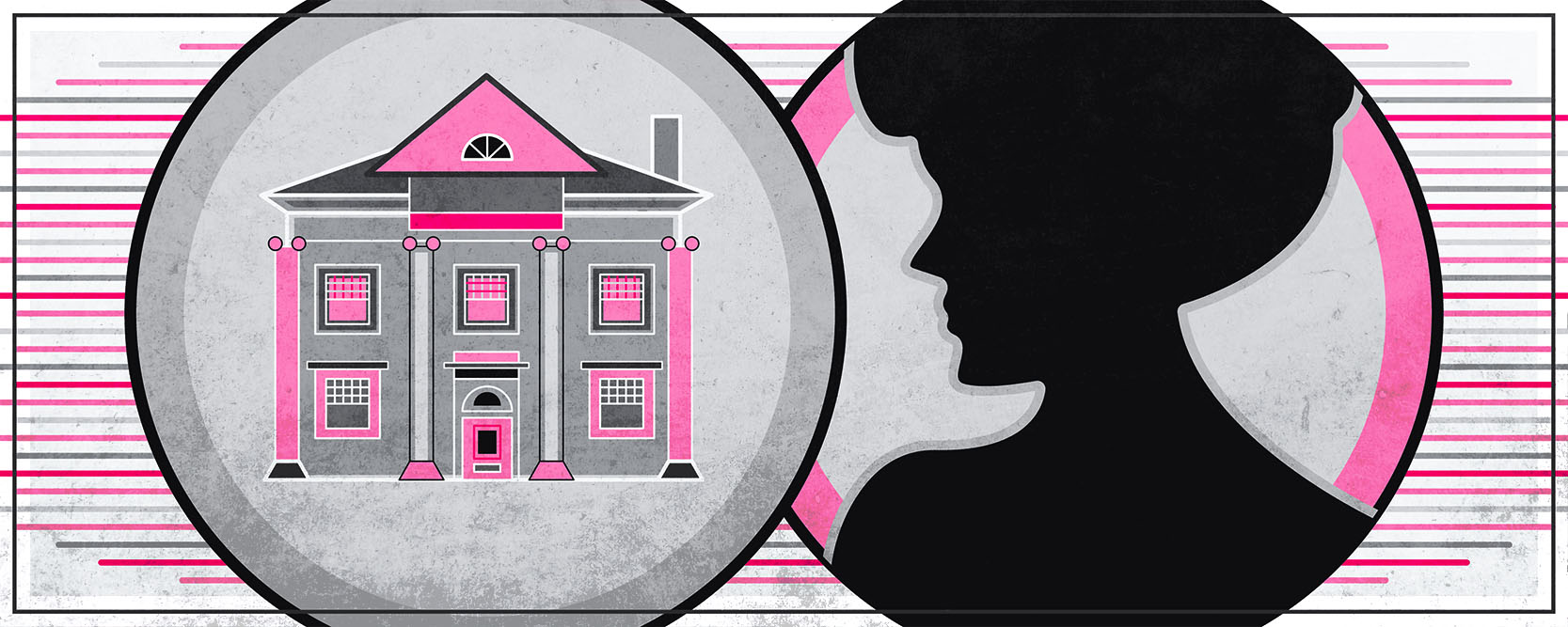 Zona Gale
"People want human nature, (which) is the same here in a New York restaurant as it is in Friendship Village." – Zona Gale
Zona Gale was the first woman to win the Pulitzer Prize for Drama. She won the prestigious award in 1921 for her play Miss Lulu Bett, a dramatization of her novel of the same name. A village comedy about the role of women, the story centers on an unmarried woman's attempts to assert herself in a small Midwestern town.
The majority of Gale's stories were set in these small Midwestern towns, and she used her writing as a way to bring these towns to life and to show that their inhabitants are just as extraordinary and creative as those in larger urban areas. Her characters were real because Gale knew them, loved, them, and lived among them.
Gale was born in Portage, Wisconsin, on August 26, 1874, the only child of Charles S. Gale, a liberal-minded railroad engineer, and Eliza Beers Gale, a teacher and religious zealot. She wanted to be a writer from a young age and wrote her first book at age seven. At age 13 she tried to publish a novel, but it was rejected. She attended the Wayland Academy at Beaver Dam, Wisconsin, and then the University of Wisconsin, where she received her degree in literature in 1895 and then her Master's degree in literature in 1899.
While pursuing her graduate degree and for some years after, she worked as a newspaper reporter for the Evening Wisconsin and then the Milwaukee Journal, one of the first female newspaper reporters on staff. She got her first assignment by pestering the editor until he finally assigned her a flower show. In 1901 she relocated to New York City to work for the Evening World, where she stayed for three years until she switched to freelance magazine writing. Her first magazine story was published in Success magazine, and in 1905 she published a series of stories set in Friendship Village, a fictional town based on her hometown of Portage. They were such a success that she eventually collected the stories into a book. She then wrote a novel called Romance Island, and more novels and stories followed. Her time in New York came to an end, however, when she won a prize in 1911 from Delineator magazine. At that time, she also broke off an engagement with a poet whom she loved, but her mother discouraged her from any further involvement. The money from the prize allowed her to return to Portage in a home overlooking the Wisconsin River, where she drew the inspiration for her characters.
Her novel writing continued in Wisconsin, and as World War I began she emerged as a pacifist and an activist—she was even watched by Federal Agents. She joined the Women's Trade Union League, the first national association dedicated to organizing women workers, and the American Civic Association. Her novels of this period reflect her political stance. Heart's Kindred (1915) speaks out against war and A Daughter of the Morning (1917) took on women's working conditions. She also helped write the Wisconsin Equal Rights Law, which prohibited discrimination against women, in 1921.
After Gale wrote her successful novel Miss Lulu Bett, a New York producer Brock Pemberton optioned it and asked her to write the adaptation. He was worried that another writer would "miss the flavor of the book." Gale finished the adaptation in 10 days.
She returned to New York for the rehearsals and previews at the Belmont Theatre. It was a critical and commercial hit, although audience members wrote in requesting Gale change the ending back to the main character getting the man, which she does in the book, as opposed to setting off alone. She returned to Portage, where she found out she won the Pulitzer and her play was being turned into a film.
Throughout her life, she continued to write novels, biographies, poetry, and short stories. A later novel, Light Woman, was set to be adapted for the stage, but even though she finished the script through failing health, a production never materialized. Her last novel, Magna, was published after her death in 1939. Her political activities continued as well. From 1923 to 1929 she was on the board of regents at the University of Wisconsin.
In 1928, she had married William L. Breese, a childhood crush, and in 1932 they officially adopted Leslyn, a child Gale had been taking care of since 1926. She died of pneumonia on December 27, 1938 at age 64.