The Interval x Summer Reading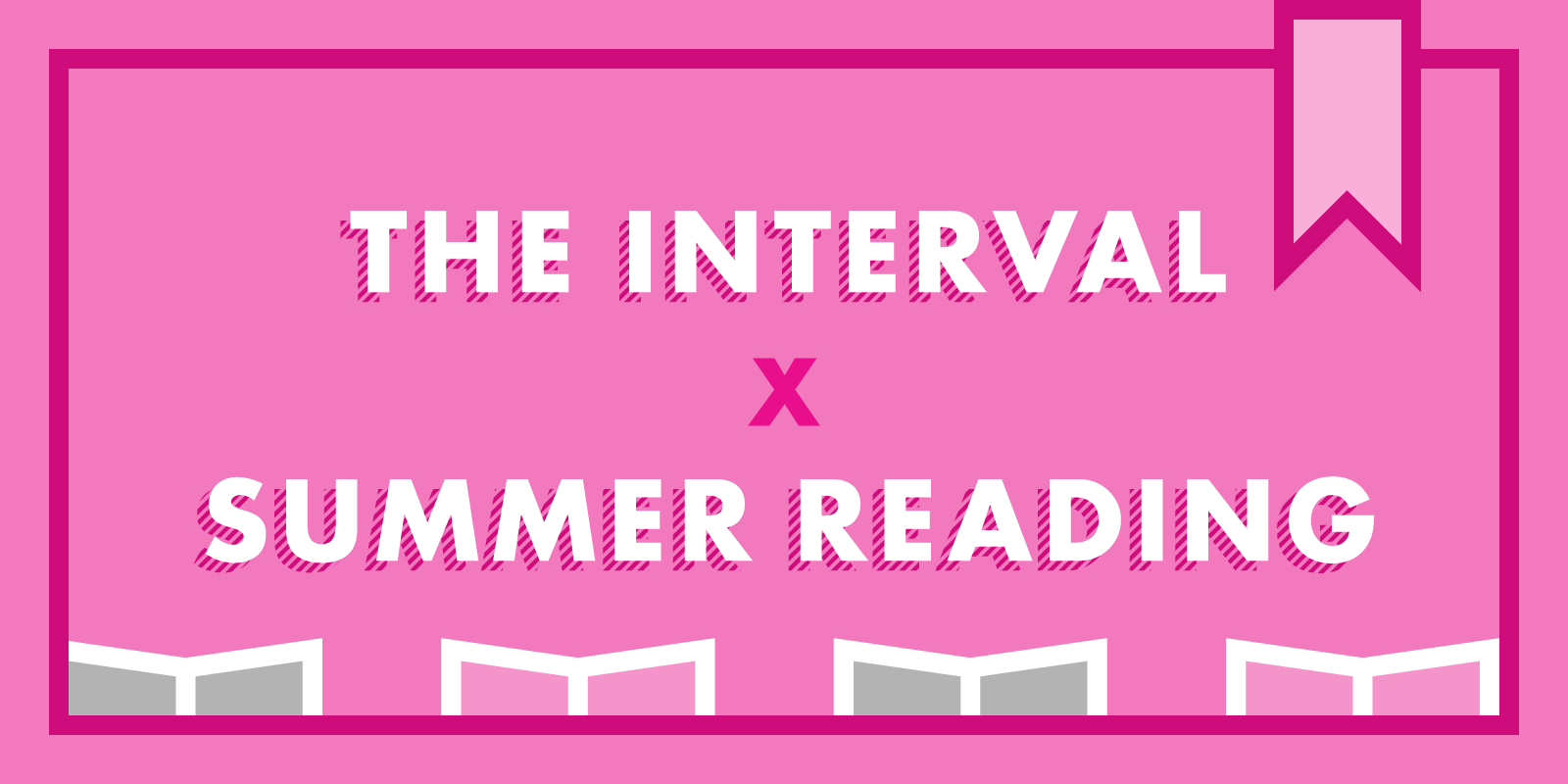 One of the great things about being a fan of someone is that it's a bridge to finding out about other people and things that you might not have encountered. One of the great things about summer is that it gives people time to catch up on all the books that they've been wanting to read. Now, we're bringing those two things together! Throughout the month of August, we're asking a variety of artists to tell us about some of the books in their lives. Check out their answers and then check out the books. 
Get to know some of the Interval staff members as they share some of their book recommendations.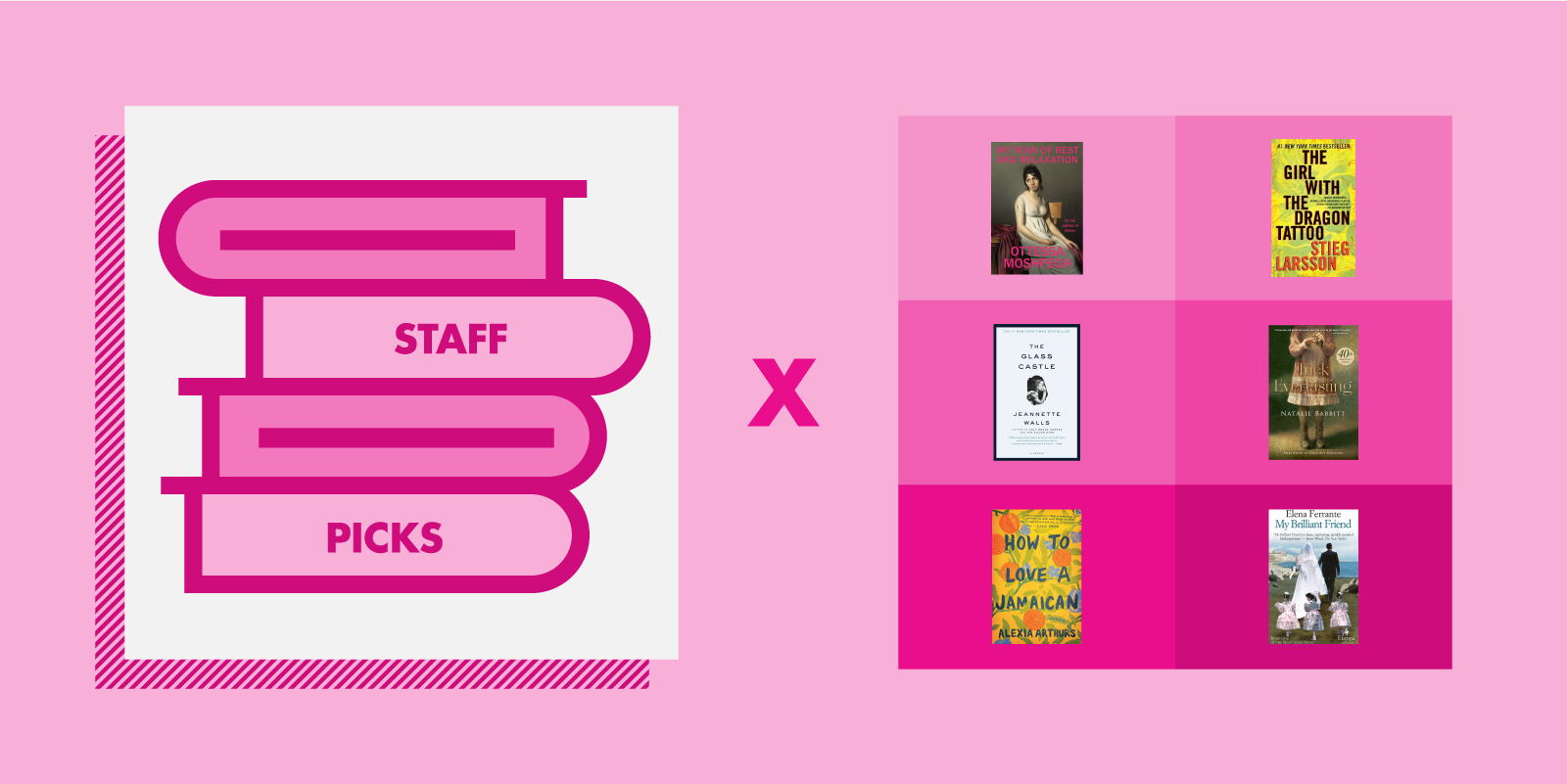 What's the best book you've read recently?
 How to Love a Jamaican by Alexia Arthurs. I was put onto this book last December, when I had the opportunity to photograph one of the short stories for Vice Magazine's 11th Fiction Issue. I got an advance reading copy of that particular story, and kept my eyes peeled for when the book was set to be released in the summer of 2018. I recently finished the book, which through several short stories, consists of the many experiences Jamaican people can go through: being an immigrant, or first generation living in America;what it's like to perhaps be born in America to Jamaican parents, yet finding yourself in Jamaica, a country that isn't technically your home; or maybe never leaving the island at all. Arthurs does a fantastic job of highlighting the different layers of what it means to be from a small island that holds so much weight in culture. I cried and laughed at several stories, and hope that if you read it, you'll do the same! – Miranda Barnes, Photographer
What's a book where you wish you could be friends with the characters? 
 One of my all time favorite books is The Girl with The Dragon Tattoo. I originally saw the American version of the movie, and was drawn to the main character Lisbeth Salander. The book obviously took it to a whole new level, as books always do.. Her character is a loner, brave, intelligent, and a survivor. I remember wanting to know this person in real life, or wanting to emulate her characteristics. She was a badass who defended herself, and didn't rely on anyone. Lisbeth's strength was something I admired;it's probably because I hadn't seen other female characters like her prior.  – Sofia Colvin, Photographer
What is a book that made you see yourself differently?
Tuck Everlasting by Natalie Babbitt would be my answer for many of these questions. It is my favorite book. I've read it multiple times; it made a huge impression on me in school (well, second grade), and it made me see the world differently. But I am choosing to use it as my answer to a book that made you see yourself differently because I believe this book inspired me to be a writer. I was writing before second grade, but with Tuck Everlasting, I was introduced to what words could do. I learned words like "melancholy;" I learned how words could create such a pensive but ominous tone, and I learned how words could be strung together to create the most exquisite descriptions–of the first week in August, of cows walking around a wood, and how that led to the preservation of a magical spring, and of time as a wheel that shows us not just the value of life but the value of death. Not only did Tuck Everlasting inspire me as a writer, but I believe it was the first book in which I encountered a main character that I felt was me. Winnie Foster says, "I'm not exactly sure what I'd do, you know, but something interesting– something that's all mine. Something that would make some kind of difference in the world." I have been living those words ever since second grade.  – Shoshana Greenberg, Contributor
What's the best book you've read recently?
Ottessa Moshfegh's My Year of Rest and Relaxation. I was hesitant to read this because the premise seemed like it could quickly become infuriating– the premise being a woman who decides to sedate herself and sleep for a year in the hopes of becoming a new person– but it's delightfully deranged, and moving, and unsettling.  It also builds towards 9/11 and, in its own strange way, is a book about being a young woman in New York City– and being unhappy, and angry, and selfish, and adrift. For me, there was something very resonate about someone doing something so absurd, and seeing it as logical, and their best option. It's a hard novel to describe since it's structured with a lot of blank space for the reader to come into the narrative. It doesn't allow for complacency from the reader. Another reason to read it is to see how masterful a writer Moshfegh is, since it's a real accomplishment in form. Plus, it had me at the protagonist's most calming influence coming in the form of Whoopi Goldberg. I'm going to cheat and give two more recommendations (because what is the point of having "in-Chief" in your title, if not to bend the rules for yourself?) since there are two books I read last summer that really stayed with me. The first is Conversations with Friends by Sally Rooney. Rooney has been described as a female J.D. Salinger, and I think that comparison is apt. Her second novel, Normal People, was just released in the UK, and I can't wait for it to be released in the US (or to convince someone in the UK to mail me a copy). The other is Forest Dark by Nicole Krauss, which is a novel I think about at least twice a week.  – Victoria Myers, Editor-in-Chief
What's a book that made a huge impression on you in high school or college?
Upon entering high school, I read The Glass Castle by Jeannette Walls. It's an inspiring memoir about a unique and, at times, very dysfunctional family. Though troublesome, it was the combination of her parents' flaws and unconditional love that prompted Jeannette to carve out her own path. Not only did this book make me fall in love with memoirs in general, but it made me aware of the rewards and lessons that can come from being different. Jeannette's tenacity and intelligence strengthened my determination to achieve my own goals. – Desiree Nasim, Design Director
What is your favorite book?
I'm also going to cheat slightly, by writing about a quartet of books, because it is too hard for this self-proclaimed bibliophile to choose just one. Written by the mysterious Elena Ferrente, the Neapolitan novels (comprised of My Brilliant Friend, The Story of a New Name, Those Who Leave and Those Who Stay, and The Story of the Lost Child) are an insightful, epic depiction of a lifelong friendship between two women, Lila and Lenu.  These novels are the most in-depth, brutally honest tale of female friendship that I have ever encountered in literary form. Beginning with its protagonists' childhoods in an impoverished neighborhood of post-war Naples, the beautifully written, often non-linear story takes a nuanced approach to its exploration of Lila and Lenu's complicated, competitive relationship, as the two struggle to rise above their circumstances. I read all four books in a row, back in fall of 2015, right after the final book was published in the US. I've been recommending the books, and giving them as gifts to my female friends ever since. When I lived in Italy in 2016, I actually created a little walking tour of Naples for myself, based on some of the sites mentioned in the story. The Neapolitan novels are currently being developed into an HBO mini-series, so I'll definitely plan to binge-watch that!  Runners up: All the Light We Cannot See by Anthony Doerr, The Nightingale by Kristin Hannah (which Kate Baldwin actually told me she thinks would be a great musical!), Beautiful Ruins by Jess Walter, Pachinko by Min Jin Lee, and the book I'm currently reading, which is The Weight of Ink by Rachel Kadish. – Sarah Rebell, Contributor
Director Lila Neugebauer, who will be making her Broadway debut this September with The Waverly Gallery, lists some of her book recommendations.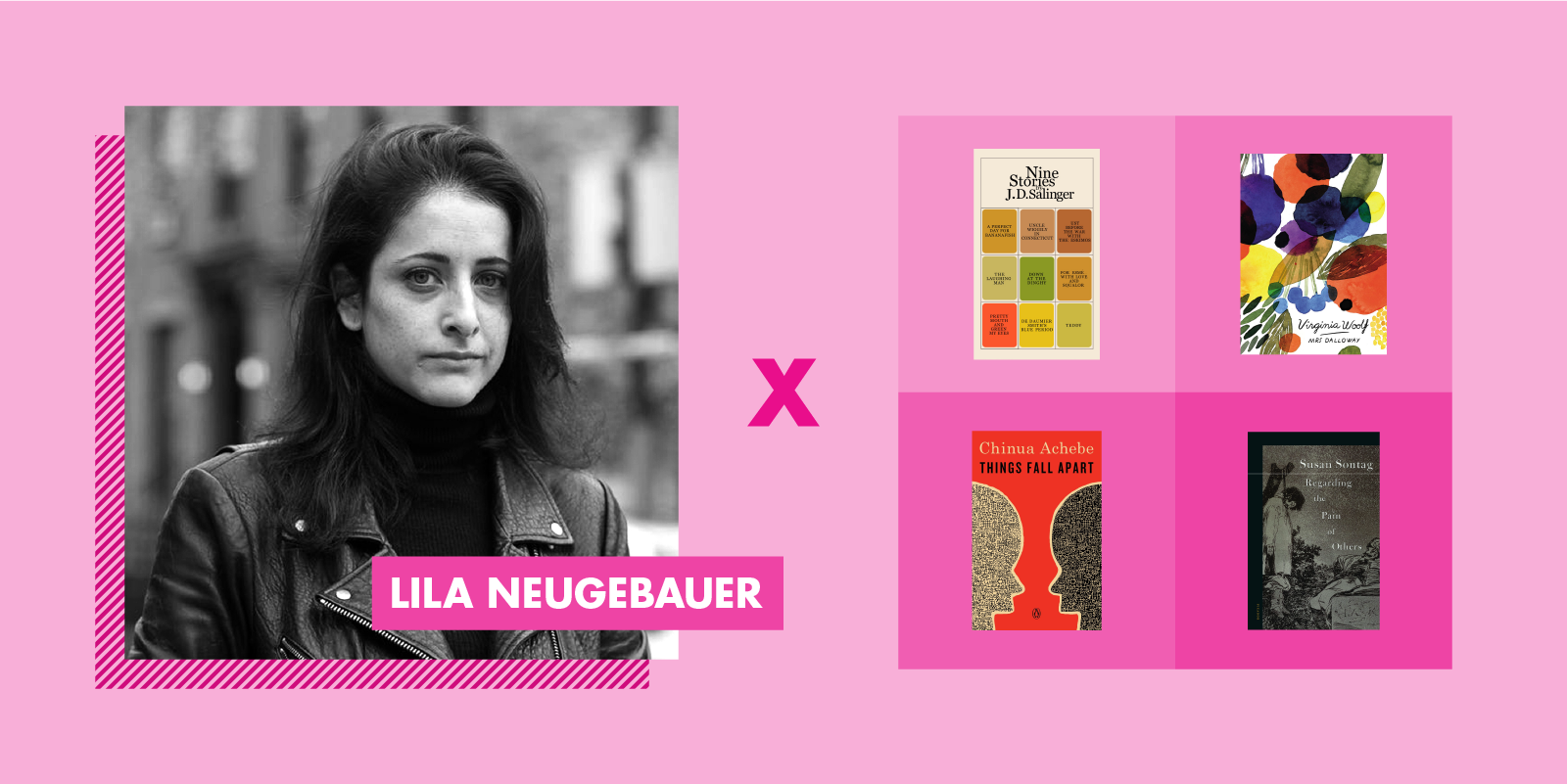 What's a book that you've given as a gift?
JD Salinger's Nine Stories 
The poetry of Adrienne Rich and Stanley Kunitz
What's a book that you have read multiple times?
Virginia Woolf's Mrs. Dalloway 
What's a book that made a huge impression on you in high school or college? 
Ralph Ellison's Invisible Man
William Faulkner's Absalom, Absalom
Chinua Achebe's Things Fall Apart 
Jean Rhys' Wide Sargasso Sea 
F. Scott Fitzgerald's The Great Gatsby
Toni Morrison's Playing in the Dark
The work of JM Coetzee, especially Disgrace and Life and Times of Michael K
What is a book that made you see the world differently?
Susan Sontag's Regarding The Pain of Others
What's a book that you wish you'd read sooner in your life than when you did? 
The work of Mary Gaitskill
Tala Ashe, who can be seen on stage and screen (she's currently playing a superhero on CW's Legends of Tomorrow), shares some of her book recommendations.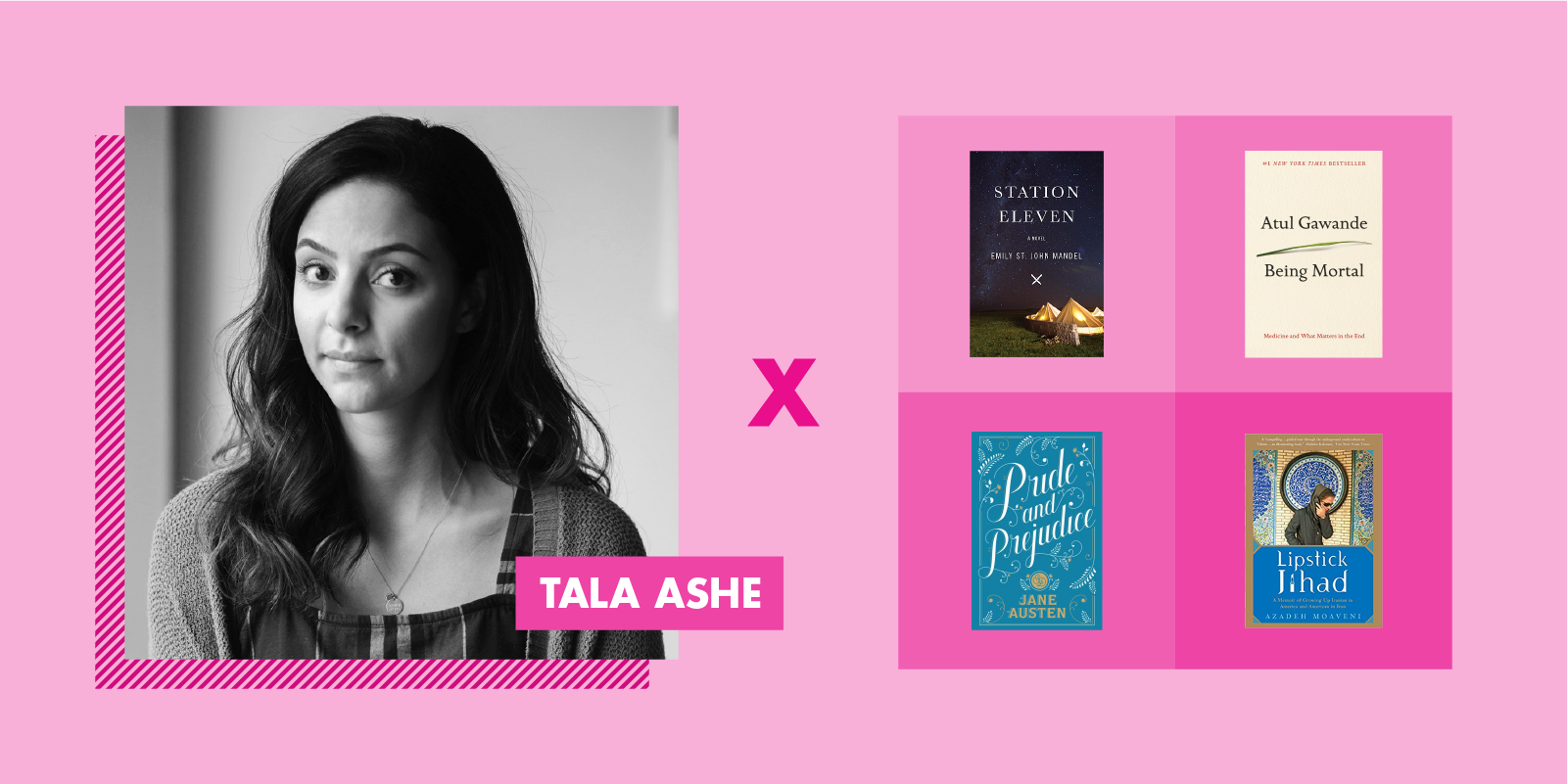 What's the best book you've read recently?
Station 11 by Emily St. John Mandel. I'm generally not one for post-apocalyptic novels, but this far surpasses the usual scope of that genre. I love when a book seeps into my daily consciousness and makes me ask questions about the world around me—Station 11 certainly does that. It very artfully and entertainingly weaves together multiple stories that all essentially make you ask, "What really matters?"  Also, it starts with a production of King Lear and includes a traveling caravan of actors which, as a theatre nerd, I just loved.
What's a book that you've given as a gift?
I'm not sure it's the most welcome gift, but I've given Being Mortal by Atul Gawande to multiple people. Gawande pragmatically and compassionately articulates how his many years of experience as a doctor treating terminal patients has affected him and what it has taught him about end-of-life care. Despite the difficulty of his subject he essentially argues that it is possible to die with dignity—if you're willing to have some difficult conversations and step into (generally speaking, in our culture) uncomfortable territory. It's not an easy or light read, but I feel like it should be required reading as a human.
What's a book that you have read multiple times?
I've read Pride and Prejudice, quite literally, hundreds of times. It's always by my bedside ready to comfort at the first sign of insomnia or homesickness. For all of its rom-com, popular culture stylings, it's incredibly well written and the characters are beautifully fleshed out—believe me, I know x100.
What's a book that made a huge impression on you in high school or college?
Lipstick Jihad by Azadeh Moaveni. This memoir was incredibly impactful because it was the first time I saw myself represented in literature (or film, TV, and theatre, for that matter). To read a first generation Iranian-American immigrant's story that so closely paralleled my own made me feel infinitely less alone, less "weird." I ended up adapting some of the material for the stage, which gave me my first taste of the power in telling your story.  
What's a book you haven't read yet but are excited to read, or a book that made you see the world differently?
I'm slowly making my way through Sapiens: A Brief History of Humankind by Yuval Noah Harari. In all honesty, it's super dense, but so so fascinating—this falls under the category of books that affect how I interpret the world. He has written in incredible scope about how we arrived at this moment in history and expresses a pretty chilling prediction of where we're headed. That old adage: "Those who cannot remember the past are condemned to repeat it…" He's saying, "Those who cannot remember—or willfully ignore—the past, are condemned to make things much much worse."
Patti Murin, currently starring on Broadway in Frozen, shares some of her book recommendations.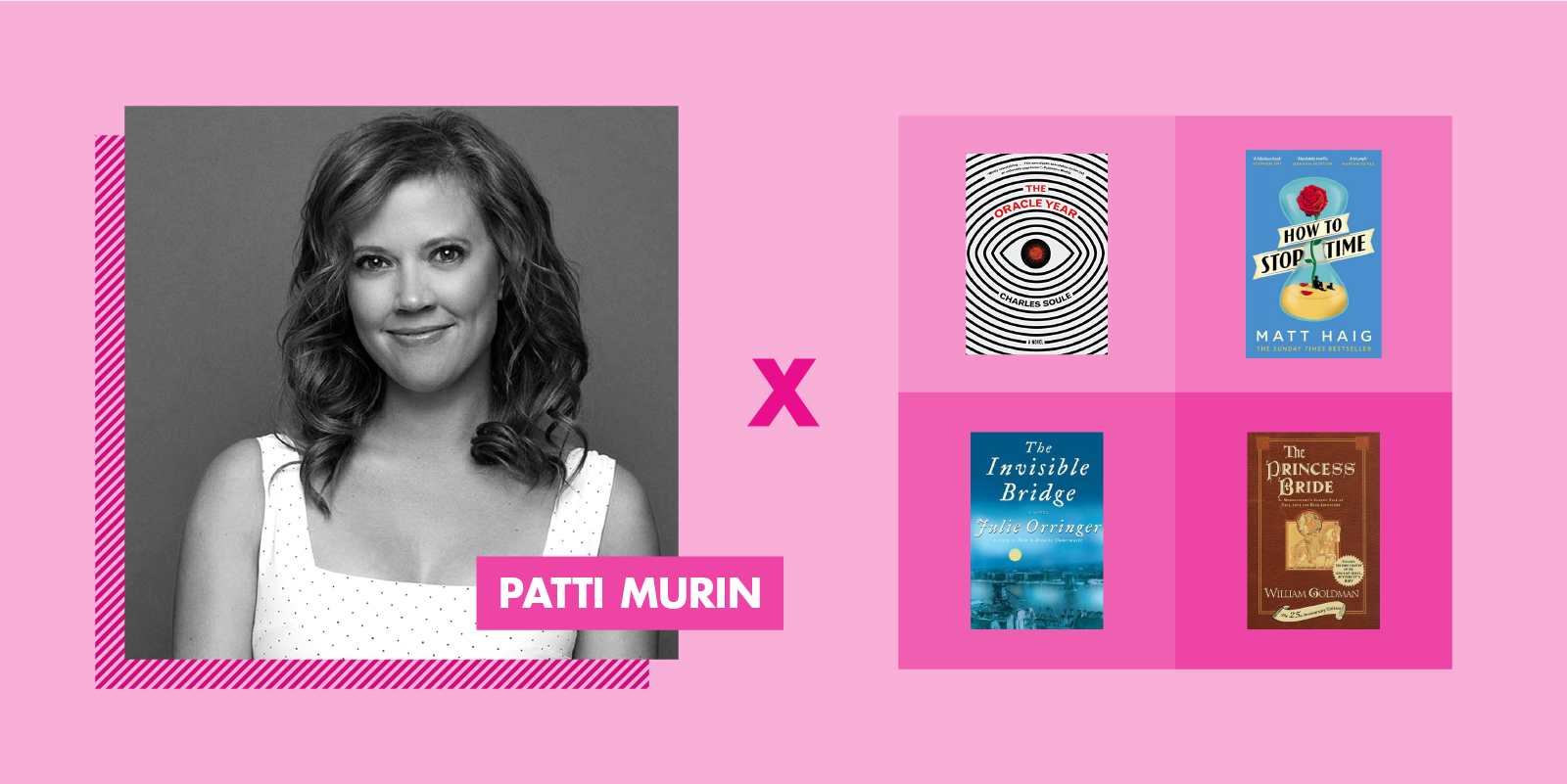 What's the best book you've read recently?
The Oracle Year by Charles Soule. A man wakes up one day and knows 108 things about the future. You think you know where it's going, but it ends up somewhere you would least expect.
What's a book that you've given as a gift?
How to Stop Time by Matt Haig. It's just a gorgeous story of love and a life that spans centuries.
What's your favorite book?
This is basically an impossible question, but if I had to choose just one, it would be The Invisible Bridge by Julie Orringer. I have a weird passion for novels set in Europe during World War II, and this is an absolutely epic story that starts as a romance, but quickly turns into a wartime drama. You'll cry all the tears.
What's a book that made a huge impression on you in high school or college?
The Princess Bride. It's my favorite movie, but I still maintain that the book is somehow better.
Producer of Dear Evan Hansen, and former journalist and editor, Stacey Mindich shares some of the books and authors that have made an impact on her.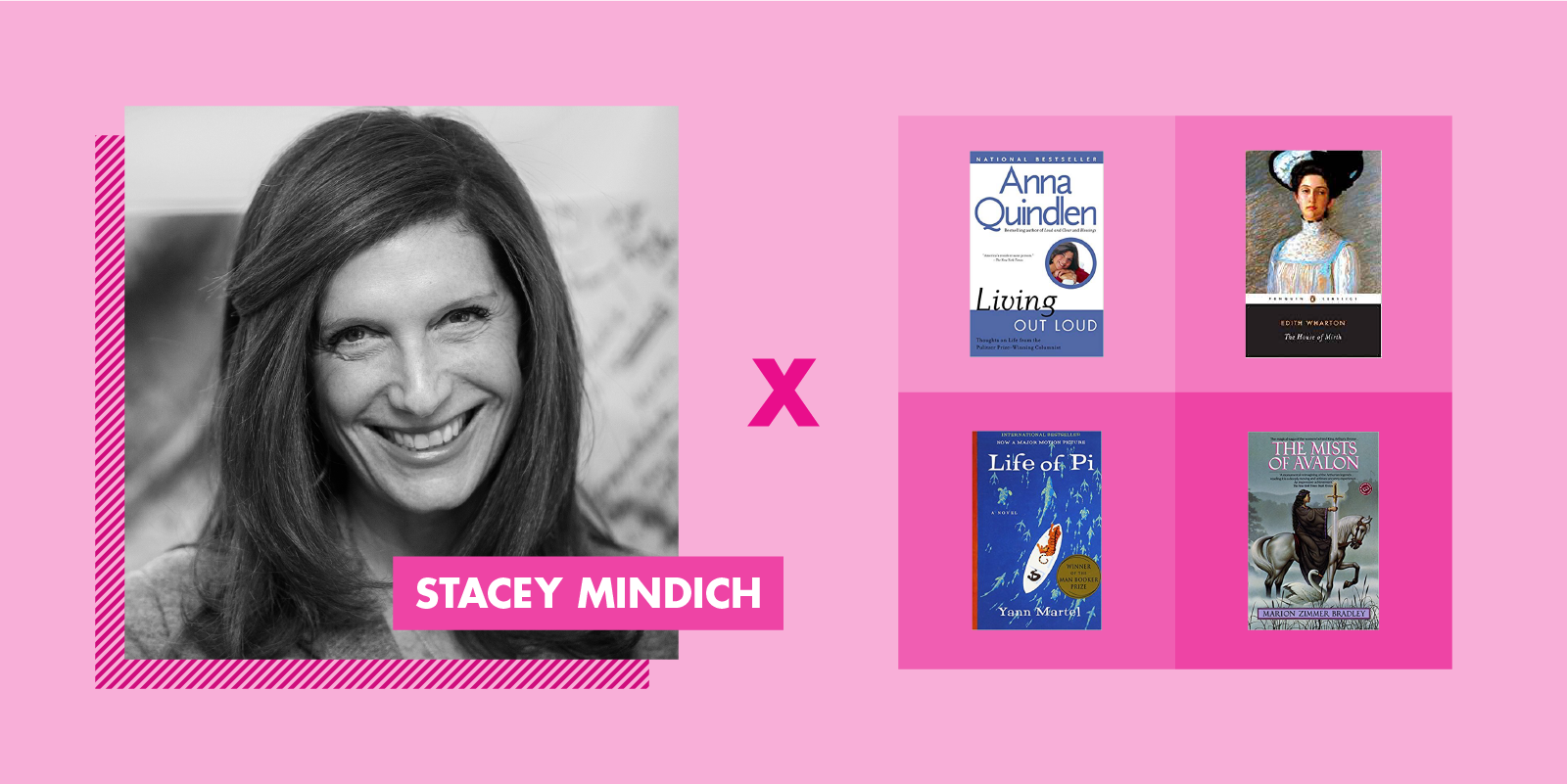 What's the best book you've read recently?
I was late to the Life of Pi party, but my 19-year-old Harvard-bound son, Danny, recommended it, and he's recently rediscovered a love of reading. I fell in love with Yann Martel's beautiful, wry sense of humor, his ruminations on faith, and the oddly adventurous story of this boy and his tiger. I treasure any recommendation from a son (I have three!), but was exhilarated to realize that this one has developed great taste in books beyond Harry Potter and Lord of the Rings. 

What's a book that you've given as a gift?
When I was in my late 20s and 30s, Anna Quindlen wrote a column in The New York Times called "Life in the 30s." I lived for it, as it reflected the state of my own life as a writer struggling to find the right words, as well as the balance between work, mothering, and a little personal space. It appeared weekly in the old Times' "Living" section. Ultimately, it was compiled into a collection called Living Out Loud and I often give it as a gift to women in that phase of life. I still carry one of those original columns—now in yellowed newsprint—folded up in the back of my wallet. And one of the greatest joys of my life as a reader was when I spotted Anna in the audience at my musical, Dear Evan Hansen, and I had the chance to meet her and bring her backstage to meet the cast. They couldn't understand why I was so emotional about this author being in our "Blue Room." I finally had to explain to the younger cast members: "Remember how you felt when Beyoncé came to visit?"

What's a book that you have read multiple times?
Anything Edith Wharton or Jane Austen. Particularly The House of Mirth and Pride and Prejudice, plus every modernized version of Pride and Prejudice there is out there. Curtis Sittenfeld's Eligible was a particularly enjoyable rendition of the latter, featuring Elizabeth Bennet as Liz, an unmarried magazine writer in her late 30s. Crossing to Safety, by Wallace Stegner, has also meant different things to me at different times of my life—an epic story about youth, friendship, and marriage.
What's your favorite book?
See above. But I have a particular fondness for The House of Mirth, as my husband gave me a first edition of it when we were dating.

What's a book that made a huge impression on you in high school or college?
I have always loved Arthurian literature and took a course on it in college. We read the stories of the Knights of the Roundtable from early Old English versions to modern-day retellings. I had a fascination with The Mists of Avalon, Marion Zimmer Bradley's fantasy novel, which tells the story from the perspective of the female characters. And I had a special tenderness for T.H. White's The Once and Future King, where you meet Arthur as a boy and then follow him through life, meeting Guinevere, falling in love, and then looking back as an old man.
What is your favorite book that you wish more people knew about/had read?
I wish more people read! But I am very attached to the books I read in my 20s, and the authors who wrote them. I remember the feeling of having graduated from college and being free from required reading and released into a world where every book was mine to enjoy, with no essays to write, no commentary to share, just me and the book. And so I discovered writers who were then "young contemporary novelists,"—Jane Smiley, Barbara Kingsolver, Lorrie Moore, Mona Simpson, John Burnham Schwartz, among many others—and have joyfully followed them through their lives as writers, snapping up their books the moment they are published. I feel as if they are old friends, and still recommend their early works as some of my most beloved reads: Jane Smiley's The Age of Grief; Barbara Kingsolver's The Bean Trees; Lorri Moore's Anagrams; Mona Simpson's Anywhere But Here; and John Burnham Schwartz's Bicycle Days.

What is a book that made you see the world differently?
Jane Smiley's recent trilogy, The Last Hundred Years, is an incredibly wonderful and detailed look at an American family over the course of a century. One of my favorite reads in recent years. It's a time commitment, but there's nothing more I love than getting lost in a story that stays with you for awhile, both literally and figuratively. Smiley has this incredibly deft way of chronicling small details to weave a larger narrative and makes you think about the seemingly minor daily decisions we all make that create the true fabric of our lives. I like a good family story, can you tell?
Actress and author of After Anatevka and the recently released memoir White Hot Grief Parade, Alexandra Silber tells us about some of her favorite books.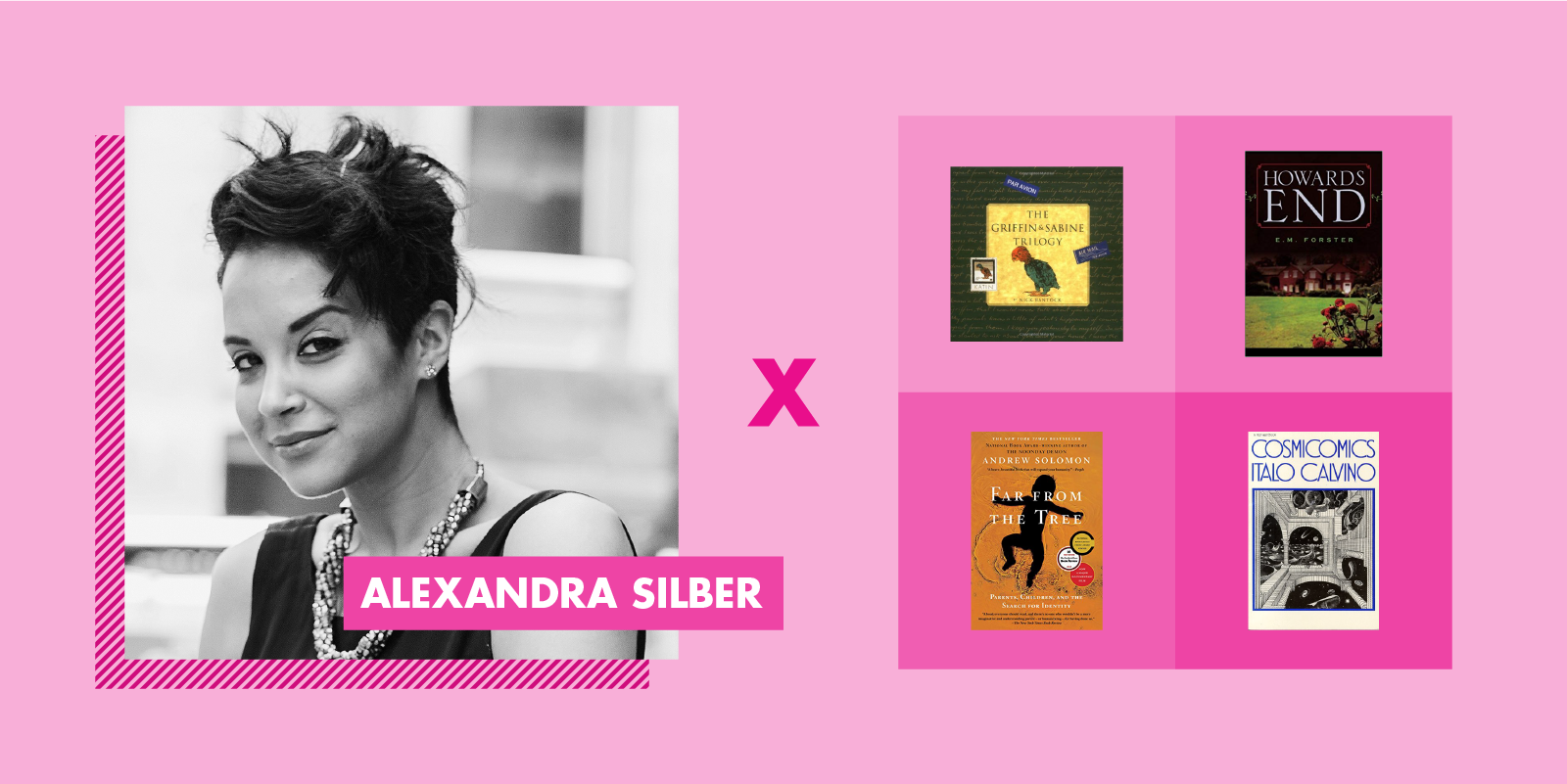 What's a book that you've given as a gift?
The Griffin & Sabine

 Trilogy by Nick Bantock. When I was 16, I was introduced to author and visual artist Nick Bantock's trilogy of books (Griffin and Sabine, Sabine's Notebook and The Golden Mean), and was instantaneously moved by it in a way I had never been moved by a book before.
The book is a boundless feast for the senses—visually stunning, emotionally stirring, mixing in touches of mystery, philosophy, mythology, and even a dash of science fiction—on the pages containing simultaneously immaculate and chaotic "mail art" artwork, all used to tell a story. This homage to the old fashioned post, combined with its phantasmagoric love story, were all created by Bantock himself.
Depressed London artist Griffin Moss receives a postcard one day out of the blue from an unknown South Pacific island. It simply states:
Griffin: It's good to get in touch with you at last. Could I have one of your fish postcards? I think you were right—the wine glass has more impact than the cup. —Sabine
But Griffin had never met a woman named Sabine. How did she know him? How did she know his artwork? Who is she?
Thus begins the strange and intriguing correspondence of Griffin and Sabine. Each letter they exchange is pulled directly from an envelope attached to the pages of the book, so the reader must engage in the delightful, forbidden sensation of reading someone else's mail. Come on: that's sexy stuff.
What's a book that made a huge impression on you in high school or college?
Howards End by EM Forster. I first read Howards End under the expert inspirational tutelage of "Lady" Judy Chu, my high school British Literature teacher of such remarkable influence. I read it in the spring, when every blossom seemed to beckon me to the country estate. It is the perfect time of year to read this classic. My lovingly thumbed-through high school copy still sits on my adult bookshelf—complete with my 17-year-old scrawl penning such comments as:
"Well: London sounds dreary."
"Note to self: sign every letter 'BURN THIS…'"
and my favorite:
"Oh! All of this LOVE!"
Like all of Forster's early novels, Howards End concerns itself with Edwardian society. But the magic lies in the novel's remarkable heroine Margaret Schlegel—without question the literary heroine I first "recognized," and prayed resided within my own soul. Margaret is a font of love, intellectualism, imagination, and idealism, and the shimmering inner life of her mind is all shared with affection by the (charmingly biased) Narrator.
But it is Margaret's "battle cry" that makes Howards End a masterpiece of the heart:
"Only connect! That was the whole of her sermon. Only connect the prose and the passion, and both will be exalted, and human love will be seen at its height. Live in fragments no longer. Only connect, and the beast and the monk, robbed of the isolation that is life to either, will die."

What is a book that made you see the world differently?
Hands down: Far From the Tree by Andrew Solomon. It might be the best piece of non-fiction I've ever read. An exploration about parents and children, when children are not in fact apples that don't fall far from the tree—but might, in fact, fall very, very far from the tree indeed, sometimes in a different orchard. He explored the notions of horizontal and vertical identities between generations, and the fact that "reproducing" is not in fact a reproduction of the parental self, but a production of a permanent relationship to a stranger. He explores this by immersing himself in horizontal cultures such as Deafness, the Transgender community, criminals, prodigies, individuals with Down Syndrome, and many others. By exploring our differences, Solomon ultimately reveals what we all have in common: humanity.

What's the book you would most want to be adapted into a piece of theatre?
Cosmicomics by Italo Calvino. Cosmicomics is a book of short stories first published in Italian in 1965 and in English in 1968. Each story takes a scientific "fact" (though sometimes a falsehood by today's understanding), and builds an imaginative story around it. A being called Qfwfq narrates all of the stories, save two, each of which is a memory of an event in the history of the universe. Qfwfq also narrates some stories in Calvino's t zero. All of the stories feature non-human characters with very human qualities.
Lauren Patten, who recently blew audiences away in Jagged Little Pill, tells us about some of the books that made an impact on her.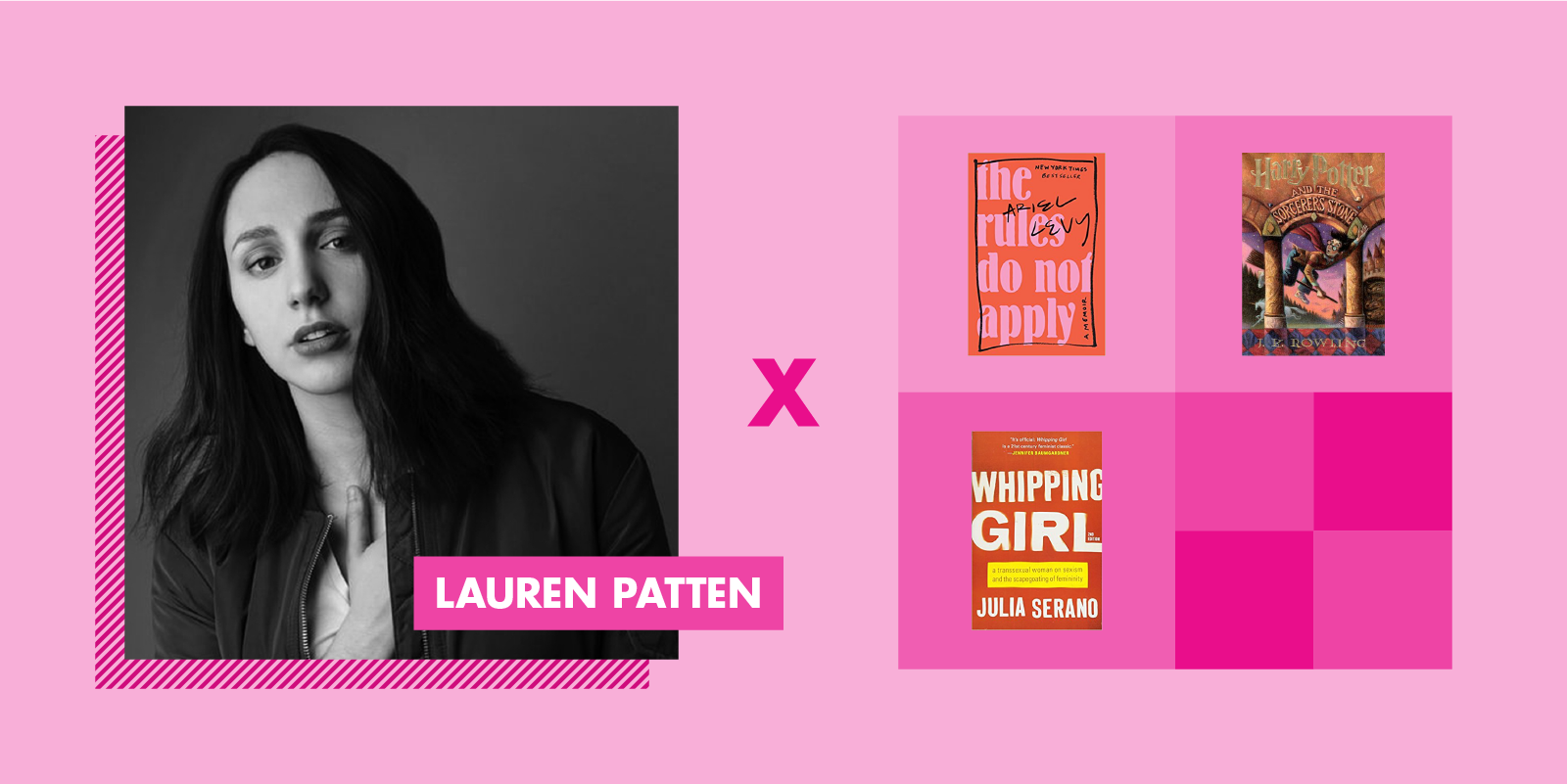 What's the best book you've read recently?
The Rules Do Not Apply by Ariel Levy. Levy is a staff writer for The New Yorker, and I've admired her articles and profiles for a long time. This book explores her relationship to marriage, fidelity, and motherhood, and it's absolutely riveting. I just graduated from the Creative Writing program at The New School, with a focus on personal essays and creative nonfiction. So, Levy's ability to craft expert narrative from life experience is a skill I deeply admire.
What's a book that made a huge impression on you in high school or college?
The Harry Potter series. Certainly not a unique experience, but this series had a major influence on me as a teenager. My sister is 7 years older than me, which was a tough age difference when I was little. But as a teenager, when she had moved out, I read the entire Harry Potter series aloud over the phone to her. We bonded through the epic journeys, and through Ron and Hermione's romance. It kept us close even when we weren't together.
What is your favorite book that you wish more people knew about/had read?
I just finished an incredible book called Whipping Girl by Julia Serano. It's a manifesto of sorts written by Serano, who is a transgender activist. Her argument—that both the trans rights & feminist movements will remain stuck if we do not come together to see that we are fighting against the same thing, oppositional sexism—is deeply illuminating. The insights from her personal experience and her research are vital to me as a feminist and a trans ally. I want to shove it into everyone's hands and make them read it.
Pulitzer Prize winner Quiara Alegría Hudes shares some of her book picks.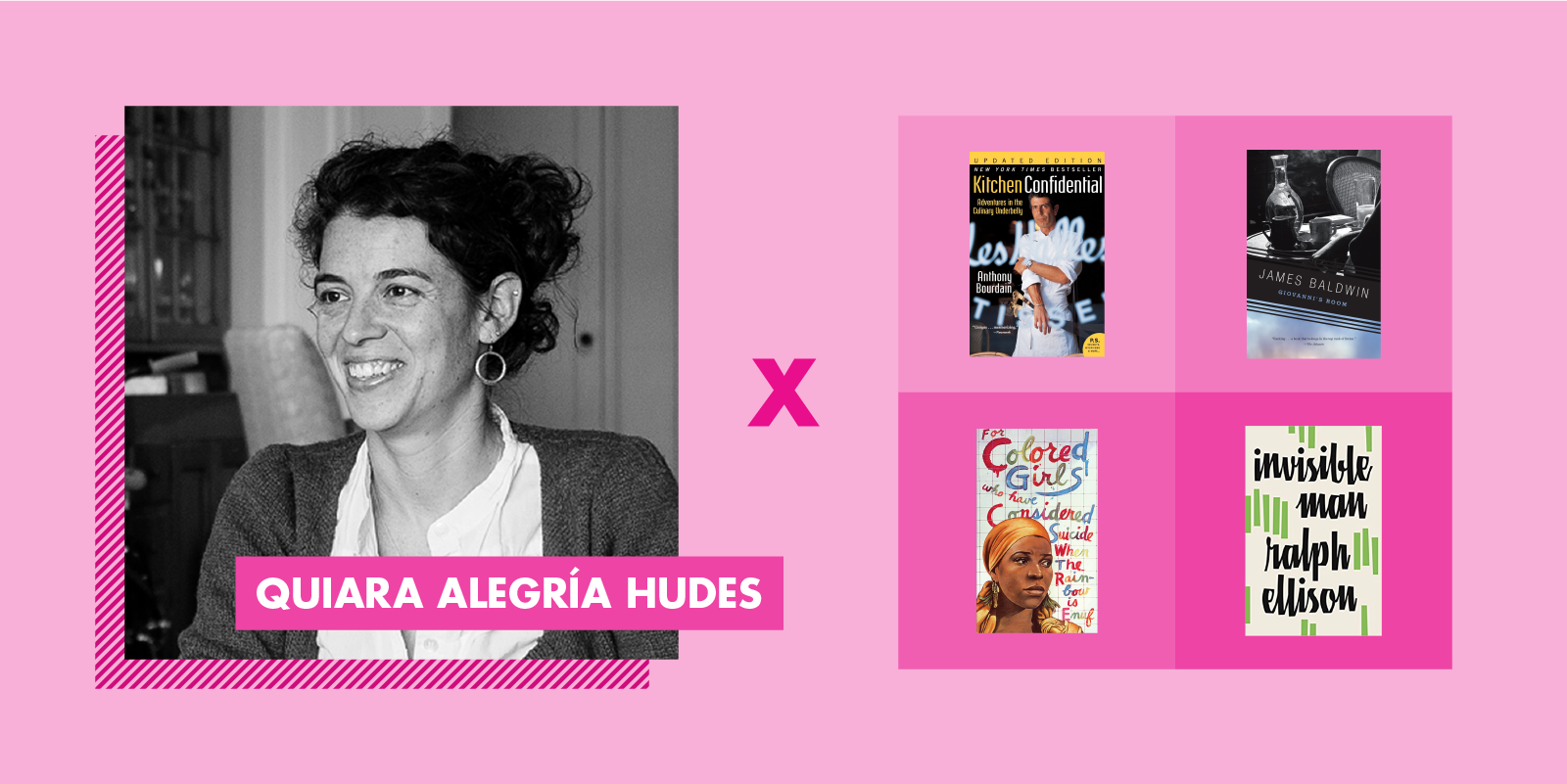 What's the best book you've read recently? 
Kitchen Confidential. I'm on a memoir kick, as I'm writing one of my own at the moment. Bourdain's language is explosive and he spins a great foul-mouthed yarn. Dynamic, conversational writing. He loves and hates all at once. It's so relatable. Also, Giovanni's Room. As a [James] Baldwin fan, it had been years since I'd read his fiction. The book felt edgy, dangerous, and disorienting. The narrator's persistent self-denial—his delusion really—was scary. Self-loathing can run so deep, and it can wear the mask of sarcasm.

What's a book that you've given as a gift?
I gave my little sister a book about puberty and adolescence when she became a teen. She kept it, and decades later, re-gifted it to my daughter. 
What's a book that you have read multiple times?
The final pages of [Ntozake] Shange's for colored girls… is practically disintegrating from all the times I've thumbed through them. It's a weekly habit. I don't even bother re-shelving the book; it just stays on the carpet beside my writing desk. It doesn't even gather dust, that's how frequently I pick it up.
What's a book that made a huge impression on you in high school or college? 
Flannery O'Connor—all the short stories. And Invisible Man by Ralph Ellison. I was a polite teen. I swallowed my anger, smiled through my outrage. Those two writers dispelled me of the notion that politeness is useful or strategic. Being real and raw, to the point of brutalizing national mythology, suddenly seemed quite necessary.
What is a book that made you see the world differently?
My most prized books are my small collection of out-of-print texts on Yoruba, Ifá, and Lukumi practice, in both Spanish and English. My mother gave them to me during my teenage years so I could learn about her spiritual practice. They are full of my underlines and highlights. They gave me language for all the spirituality I'd witnessed for years.
Tony nominee Jenn Colella tells us about some of her book-ish thoughts!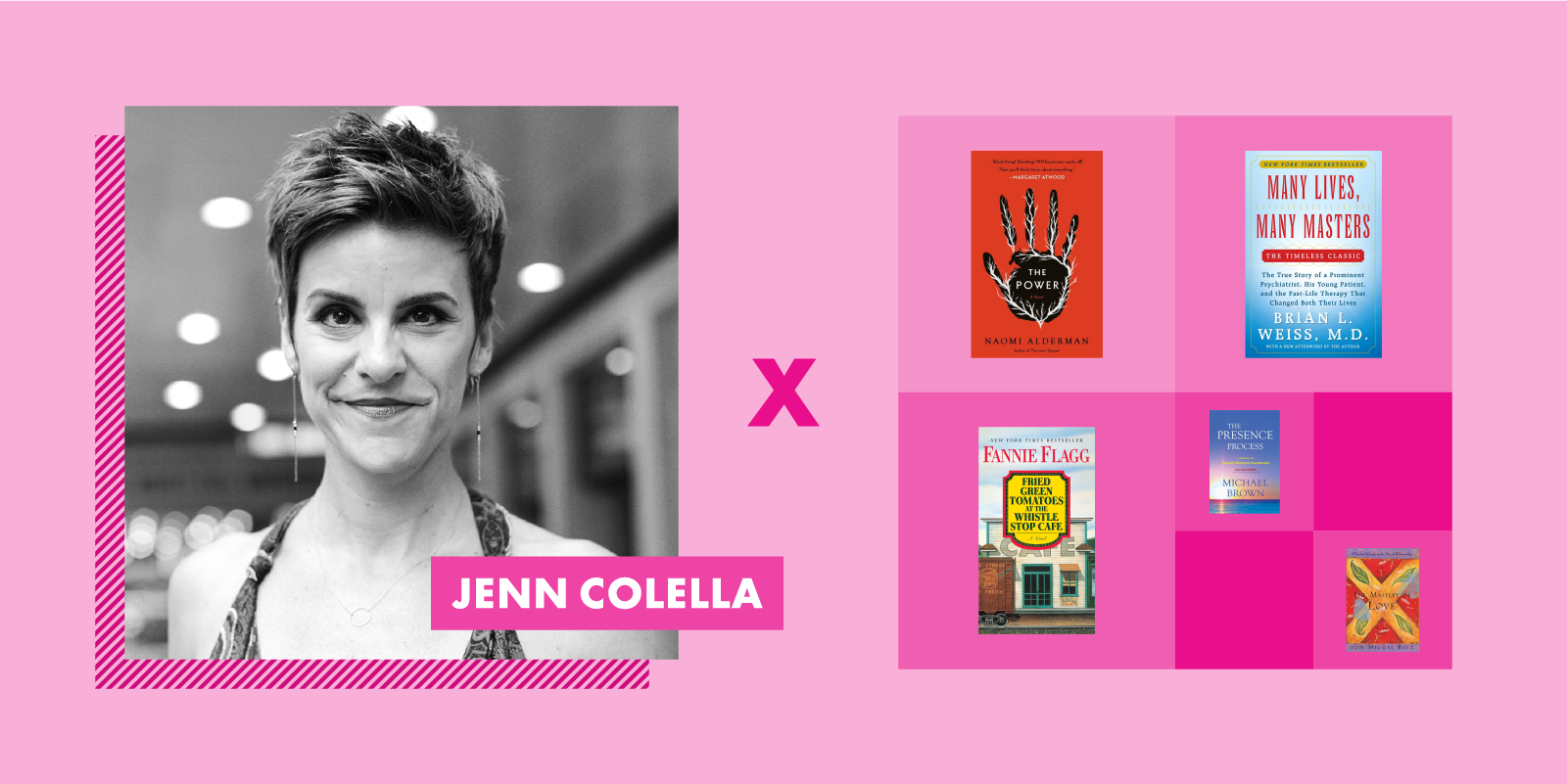 What's the best book you've read recently?
The Power by Naomi Alderman. It is a speculative fiction wherein women discover they now have physical power over men and how that shift changes the world as we know it. It's riveting.  
What's a book you haven't read yet but are excited to read?
Many Lives, Many Masters [by Brian Weiss]. I'm interested in learning more about the concept of reincarnation and gathering transcendental knowledge as we evolve. I also dig the notion that god is in each one of us. That book has been recommended to me more than any other, and I'm excited to finally introduce my heart to its teachings.

What's a book where you wish you could be friends with the characters?
Fried Green Tomatoes at the Whistle Stop Cafe [by Fannie Flagg]. I wanna be suuuuper close "friends" with that sexy bee charmer, Idgie Threadgoode.  
What is your favorite book that you wish more people knew about or had read? 
This is a toss-up: The Presence Process by Michael Brown and The Mastery of Love by Don Miguel Ruiz. Both are highly transformational reads. One of my partners wanted to have The Presence Process bronzed and on display because it proved so valuable in our relationship.
If you purchase any of the books through the links provided, The Interval may receive a small commission.