5 Women I Admire: Mary-Mitchell Campbell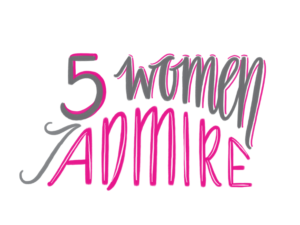 In an ongoing series, we ask women we admire to tell us about some of the women who they admire. Because a successful lady you admire can be a great gateway to learning about a whole world of women. And, yep, we're reclaiming the word fangirl. Today, music director and founder of ASTEP Mary-Mitchell Campbell writes about 5 women she admires.
Written by Mary-Mitchell Campbell
Lettering by Olivia Cook
December 10th, 2015
Chita Rivera: Chita is one of the greatest performers, and is still performing full out in her 80s! She brings such professionalism to everything she does. She was the first Hispanic woman to receive the Kennedy Center Honors Award. She embodies the longevity we can all aspire to as artists.
Dorothy Fields: She was the first successful female lyricist and librettist—she wrote over 400 songs! She worked closely with my mentor Cy Coleman. One of my favorite songs she wrote is, "It's Not Where You Start, It's Where You Finish."
Susan Stroman: She originally started as a performer, and then became one of the top director/choreographers in the industry. Her work ethic is amazing to experience… She never gets tired. She brings such strength to her leadership, and she is so creative.
Jeanine Tesori: When I first moved to the city, Jeanine was one of my earliest inspirations, and she continues to inspire. Her work as a female composer, conductor, arranger, and general badass has paved the way for many others.
Jacqueline Novogratz: She is a top leader in the fight against economic inequality around the world. She wrote a book I love called The Blue Sweater and is using entrepreneurship as a way to pull communities out of extreme poverty.