5 Women I Admire: Leigh Silverman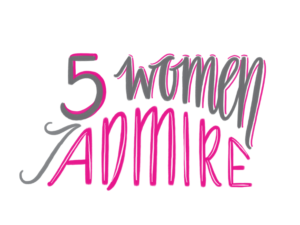 In an ongoing series, we ask women we admire to tell us about some of the women who they admire. Because a successful lady you admire can be a great gateway to learning about a whole world of women. And, yep, we're reclaiming the word fangirl. Today, director Leigh Silverman writes about 5 women she admires.
Written by Leigh Silverman
Lettering by Olivia Cook
November 4th, 2015
Zelda Finchandler: Founded Arena Stage in Washington DC in 1950, essentially starting the regional theater movement in this country. She ran Arena for 40 years, and since I grew up there, I consider her my hometown hero.
Edie Windsor: She changed what it means to be a lesbian in this country and she is a sexy goddess in her nineties. Hearing her talk about the romance with her late wife Thea is as inspiring as hearing her talk about bringing down DOMA. It's difficult to overstate what a Badass she is.
Jill Soloway: An artist of epic proportions who talks with searing honesty about being a woman in Hollywood. She has brilliant vision, incredible craft, and a spectacular ability to say it like it is.
Miranda July: I admire how many mediums she works in and how crazy weird she is in all of them. Not afraid of the awkward, deeply controversial, and irresistibly smart, she is always memorable, inventive, and unpredictable.
Lear deBessonet: What Lear has done for the last 3 summers in the park is literally magic. Her magnificent pageantry not only deeply honors Joe Papp and his vision for the Delacorte but [they are] truly some of the most moving experiences I have had in the theater. It takes serious directorial mettle and a stunning display of chutzpah to make those massive epics happen.