An Interview with Stacey Mindich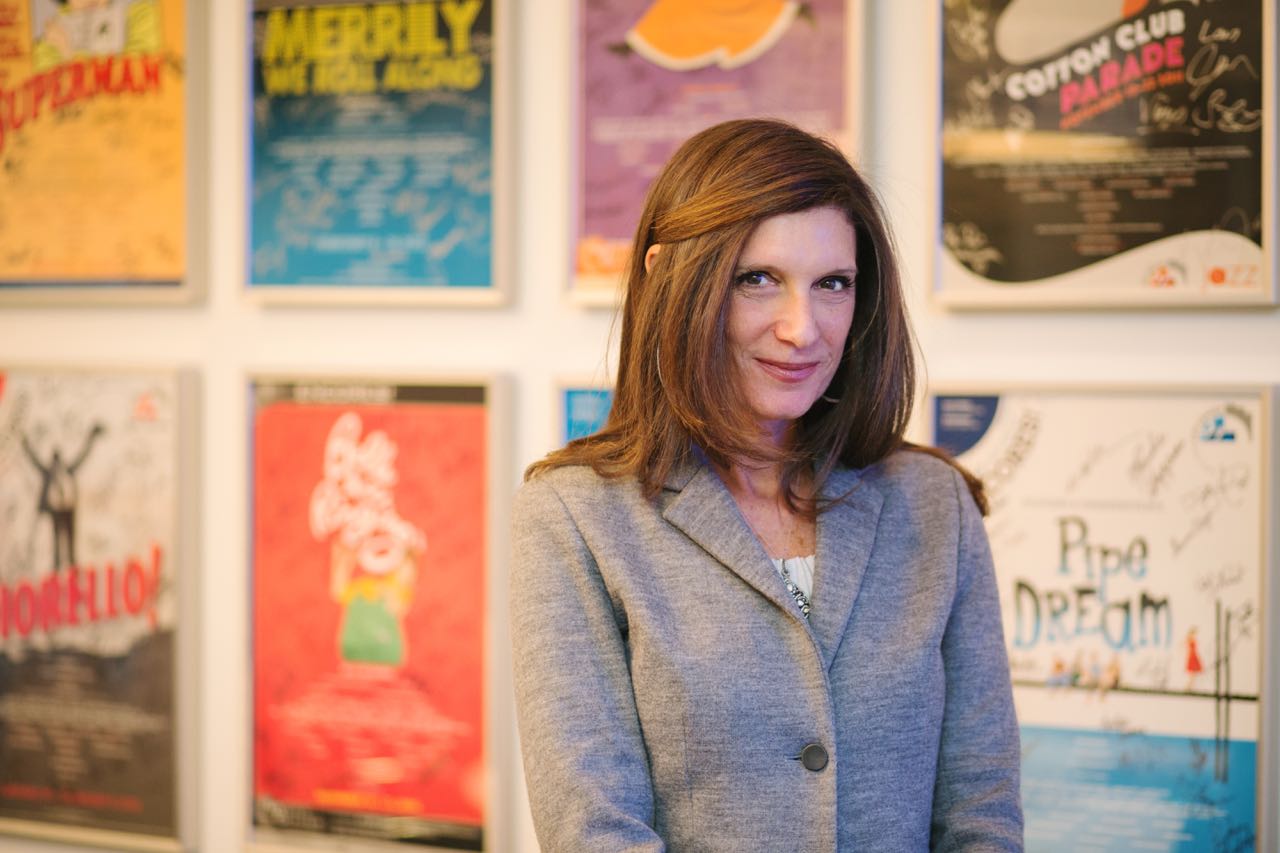 Written by Victoria Myers
Photography by Tess Mayer
January 17th, 2017
Dear Evan Hansen is a Broadway oddity. It's a new musical that isn't based on any pre-existing source material. Its writers, librettist Steven Levenson and composer/lyricists Benj Pasek and Justin Paul, are young, and their resumes don't boast a long list of Broadway credits. The cast features no stars. Any one of these things is rare; all three are an anomaly. The woman responsible for bringing Dear Evan Hansen to Broadway is lead producer Stacey Mindich, who has shepherded the show from nascent idea to fully formed production. Her past productions range from Broadway musicals like The Bridges of Madison County to Off-Broadway plays like Small Mouth Sounds. She's co-chair of the Board of New York City Center, where she helped to create Encores! Off-Center. Additionally, she founded the "Fund for New Musicals" at the National Alliance for Musical Theatre and the "Go Write a Play Award" for female playwrights at the Lilly Awards. We sat down with Stacey in her office at Stacey Mindich Productions to talk about her journey with Dear Evan Hansen, the role of a producer, new work development, and more.
You were the producer of Dear Evan Hansen from the very beginning, before there was even a script. Can you talk a little about your role, as a producer, in the creative development process?
Dear Evan Hansen really started from a lunch that I had with the two young composers. They were very young then. I think they were both 24. I had been hearing about them from a variety of sources, and I had commissioned a piece of work for them for a not-for-profit theatre, and was starting to really get excited about their talent and took them out to lunch. I asked them what they wanted to do next, because they were working on a commission of Dogfight for Lincoln Center Theater. It wound up going to Second Stage, but that wasn't a piece that I could work on commercially. Beyond believing in their talent, I just loved their music. I just wanted to be surrounded by their music. I wanted to listen to it all the time.
It was striking me that they were forces of nature, even at that age, and that me saying to them, "Here's an idea I've always wanted to turn into a musical," wasn't going to work. Because they had their own ideas and thoughts and opinions, and I wanted to hear what they wanted to do. So I asked them, and they told me this story about a student in Benj's high school when he was a senior, in a Quaker school in Philadelphia, who had passed away. Everybody in Benj's class seemed to write their college application essay about this student. Benj and Justin really were taken by the idea of their generation's need to belong and need to be part of things, the way their generation looked at grief, and looked at a whole variety of things. It is not what Dear Evan Hansen is exactly today, but it got shaped over the past eight years. It was enough for me to say, "Let's do it." Even though all I could think of was, "Well, there's two 24 year old composers, and we have a theme of death going on here. How are we going to turn this into something that people are going to want to come see?" That was the inherent challenge, always.
It was the very beginning, and I love to think about it now, because it was eight years ago and it, to me, has been the definition of what a producer does. Because I think what a producer does is everything. I think there is nothing that you don't do. You don't write the script, but you listen to it all the time. You try to make suggestions. You don't sing the songs, but you hear the actors sing them all the time, so that you can make suggestions. But beyond that, the putting together of it is sort of an endless job. That's what has been my joy on this show. It's not a transfer from London. It's not a play that has a limited run and big star. It's been something meaty that I've sunk my teeth into and shaped, and in a lot of ways, mothered for the better part of my theatre career.
All that seems unusual in today's world, or at least from what I've heard. It seems like a lot of what we hear about are producers coming into a process or, like you were saying, brining things over from London. For you, when you were first thinking about it and having that meeting with them, did you think of it as, "Oh, this is a kind of unusual, risky thing to do?"
Risky is an understatement, but I'm not really scared of that kind of thing. This is my second career. I was a journalist for many years, and I didn't really get involved in theatre until my 40s. So I think I just don't look at things the same way as other producers do. I don't mind failure, because at least I tried. If you're going to sink your teeth into something and spend a lot of time working on something, and these things are incredibly enveloping and they take over your life, then it just has to be something you love. I tend to love the underdog. Of course Benj and Justin aren't the underdog anymore, but I like that kind of thing.
But these things don't come along very often. To have an idea for an original musical, that isn't based on any single thing other than a moment in high school that isn't even part of our show anymore, is extraordinary. It was exciting to me. I knew we needed a book writer, [so we got] Steven Levenson to craft the story and, in an essence, we worked for almost three or four years just having Steven create the foundation. I think this has been a unique opportunity in so very many ways. There just aren't very many original musicals. The risk has really paid off, I think.
Do you think your background in journalism and work outside of theatre has helped you and made you less inclined to think things like, "Oh, these are the rules of how this is supposed to be done?"
I think that what I've learned is that there are no rules in musical theatre. If my journalism background helped at all, it's that I always have had a good eye for what is a good story. I often compare the job as a producer to the job of a magazine editor. There are a lot of similarities—and I was a magazine editor for many years—in that you champion a story. As a magazine editor, you get to do a lot more stories, but you find a story and then you assign it to the right writer who will have the right chemistry with that piece. Then, you match that writer up with an illustrator or a photographer, to complete the package. Also, as a magazine editor you're constantly looking for ways to keep your magazine alive on the newsstand and keep it running. And once you get a show mounted, that's what a producer's job is—constantly keeping the show running and fresh and alive, and looking at audience maintenance and audience development. Finding reasons for people to come, and come back. So those similarities made my transition from journalism to theatre a little easier, I think.
During the writing and workshop phase of Dear Evan Hansen's development, what was your role? What does a producer do during that phase of development?
Well I think on the logistical side, producers organize. Producers make things happen. Producers get people into the room. That's not so easy. When we first started, Benj and Justin were in New York, but they started getting more and more work, and Steven Levenson was a Brooklyn playwright when I hired him, then became, very quickly, a Los Angeles TV writer. That all became very challenging. We were incredibly fortunate to add Michael Greif into the mix soon after Steven came on. That was another important person to get into the room.
I think beyond the logistics, with a musical that's developing, the producer is the one set of ears that is constantly listening to the piece and understanding when it's ready to move to the next level. We started out just in this office, with Benj, Justin and Steven at my round table working together, and then going away. Steven would write chunk of text, and Benj and Justin would take that and decide whether there was a song in it or not. That we did for a really long time, until we felt like we had a draft that was good enough to bring the likes of Michael Greif in and listen to it.
Once we had Michael on, he became, in essence, that set of ears, and I was sort of one step back from that. They worked for another year or so before we actually had a work session where we got actors in the room to read it out loud for us, instead of us reading it in the room. For a long time I played Heidi Hansen, but they didn't let me sing the songs. So, we quickly went from one work session to another work session with actors, some of whom are still in our cast today. Until, at the second work session, Michael and I looked at each other and we had that real sense that we were ready for more.
That's when we did an official reading. It was September 2014. We invited some out of town theatres to come look at us with the hope of doing a developmental production. And out of that experience we had a real meeting of the minds with Arena Stage.
How important is timing in that development process? I would imagine that each of those decisions—when to invite a director, when do to do a work session—are actually fairly major.
I think it's just instinct. I think what I felt at the time was that I had some young writers who wanted to have, in the best of all possible fantasies, Michael Greif direct their show. But we wanted to be sure that we had something that would be exciting for him to hear when he came in. But we also wanted to be able to allow him in to the process, so that he could be a part of the shaping of the show too. I think it was really just instinct, and I will never take all the credit for all of this, because the writers were a very big part of it. This show was their idea, and they had such ownership over it, and I really feel that in the early days, Benj and Justin and I were partners. And we had the same instincts about what the timing was.
Then the show ran at Arena and at Second Stage. What is the process like for you, as a commercial producer, working with non-profits? Do you think commercial producers working with non-profits is a trend that will continue?
I think it is a trend that has to continue, because we all need to get our shows up and running somewhere. There's no option to bring them right to Broadway, I think, unless it's a revival and it's been done before. It's a tricky, tricky relationship with a not-for-profit. And I speak of this with a great deal of affection, respect, and love because I'm the Board Chair of a not-for-profit, City Center. But you're in essence walking into a building that has its own way of doing things, and yet it's your show that you're bringing to them. It's a different circumstance when you come into a not-for-profit and decide to get the rights to their show and bring it to Broadway, as opposed to bringing something to them. I think you just have to be very graceful, because you're a guest in someone else's building. But you also have to be very strong, because in this particular instance, I gave birth to this show. I knew what I needed for it to get where I wanted it to go. It's a challenging relationship, but I was very fortunate. At Arena Stage I worked with Molly Smith and Edgar Dobie, two masters of the art of theatre, in general. They were nurturing when they needed to be, and they understood when I needed to be left alone with things. I'm forever grateful because their audiences in D.C. were as much responsible for shaping the show as they were. We had this invaluable experience of these incredibly smart D.C. audiences coming to see Dear Evan Hansen every night at a time when we were listening to the show every night and then ripping up pages and taking out songs the next day. It was incredible.
Then we were, I would say half-baked, by the time we left Arena Stage. We had gotten great reviews. We had sold out, but we all knew we had more work to do. That was even trickier because I had a show that didn't need that much from an artistic director at a not-for-profit, but needed its structure, needed its audiences, and needed its nurturing. Carole Rothman [artistic director of Second Stage] was the perfect partner. She said to me, "If you need a home for this show, Second Stage will give you that home." I still tear up when I think about that. She was there for us, and she had wonderful comments and notes, but she also understood that we'd gone six years already with that show. And we were bringing her something that was already formed. It was a great experience.
Now that Dear Evan Hansen is on Broadway, do you see your role changing?
Well, I'm taking a deep breath because I feel like I've been mounting the show for eight years, and now it's mounted. I'm kind of stunned with the realization about how much more there is to do. I don't take any of this for granted. I don't use the word "hit" in my own head. I think about how much more has to happen. The Music Box has 984 seats we have to fill. I like to think a lot about customer service and the people who come to see the show being happy with it. The repeat customer is very important to me. A trend I've seen with this show, which I'm really intrigued by, is that we have a lot of young people come and they bring their parents back. We have a lot of my contemporaries come, parents in their 40s and 50s, and they bring their kids back. There are a lot of things that are developing that I'm watching because I think they'll be part of our strategy in the—hopefully—year and years to come with keeping Dear Evan Hansen alive on Broadway. But yes, I watch over this show like a hawk. I am constantly visiting the cast and going to understudy rehearsal. We have a weekly ad meeting for my entire core team who work on the show, and I have breakout sessions every week where I meet with the digital marketing team, I meet with the press team, I meet with the sponsorship people. I'm on top of everything. I have my hands in everything. The work is endless. Now that we've had some success I want to ensure that it continues.
It sort of sounds like running a corporation?
It's not at all like a corporation, because it's art. It's really just about the details and about making everybody feel engaged and excited about this every day. Once the opening night party is over, you worry that people are done. But I think that's when the work really begins. We want Evan Hansen to stay alive. We want Evan Hansen touching people for years to come. So that's really the goal.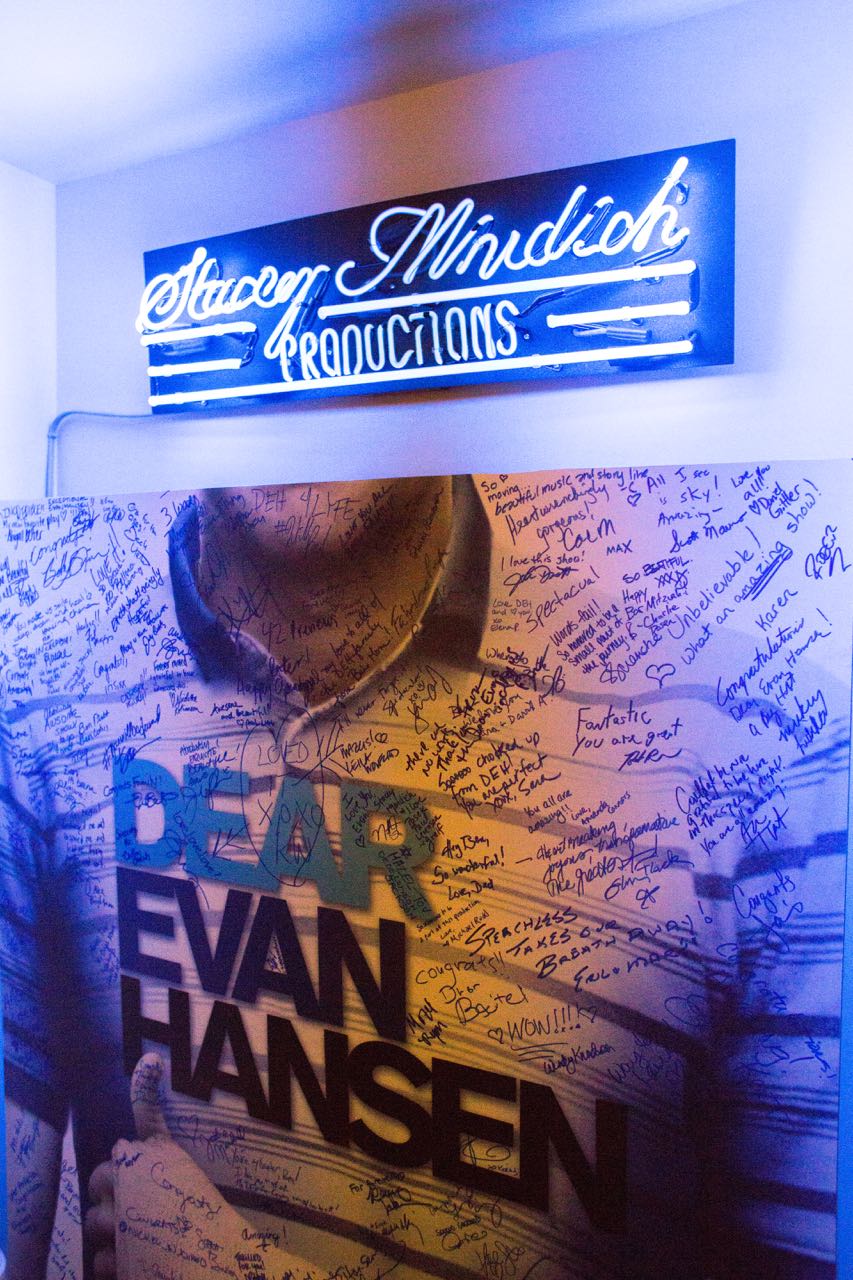 In general, how do you decide what projects you want to get involved in?
It's love. I will often do a show as a co-producer—meaning I'm not leading the show—because there's an artist in it that I respect and admire, or I love the congeniality of this community and I like to support other producers. So sometimes I'll join a show for that reason. But if I'm going to lead produce a show then I absolutely have to be besotted with it, with the writers, with the artists, with the topic. Because, as I said before, you just have to immerse yourself in it, and I don't want to immerse myself in something that I don't absolutely love.
You mentioned before about theatre being art. Do you have rules or guidelines that you internally follow for how to balance making sure that the creative process and the creative work is protected, but still balancing the commercial necessity part of it?
I don't think I have rules. I think it's just about having good instincts. So when Pasek and Paul told me this story all those years ago, they told me about a boy that told a lie, and in my head—and this is just because of who I am, I'm a 52 year old mother of three—I thought, "Well, if there's a boy, then there has to be a mother." For me that automatically makes it more commercial, because the ticket buyers are women who are 35 to 65, and who make the spending decisions in their home. I don't think that was an outright commercial decision, but I think that I'm in a particular phase of my life where I represent the commercial world in some ways, personally. I think what I like is often what other people like. I try to just always think about, if I like this, would my husband like it? Would my kids like it? Would my best friend like it? That kind of thing. But for me, even though I am a commercial producer, I've always just been much more interested in what the artists have to say. The truth is that we never knew if Dear Evan Hansen was going to be commercial. Even after our success at Arena Stage, where we weren't on subscription, so we did have to actually see how we did out there in the real world. But it was 598 seats. So it became easy to fill, but we never really knew if this story that had a dark side to it would be a commercial show. And I didn't care, because I loved it. I just loved it, and I thought, "We'll find our way somewhere."
How do you think new musicals and new plays can better be developed?
I think that every show and every play is different, so I'm not sure there's just one answer. I think there are some common issues that happen, like people try to rush things into production. I love having the luxury of taking your time and listening to the show tell you when it's ready, as opposed to saying, "Oh, there's a slot there so we've got to be ready." I wish that every talented young artist could have a producer champion him or her, because I think that it's very hard for artists to make decisions about their work. I see what I can do for some of the artists that I work with, just taking some of the pressure off of them, and moving the show forward while they just do the work. They do the creative work that they've always wanted to do. I've often thought about, maybe in the next phase of my career, I could start a not-for-profit that pairs young composers and writers with producers. I think it's essential to have somebody championing you, and there just aren't enough of us to go around.
There have been a few conversations lately about the economics of theatre from Fair Wage Onstage to the ongoing discussions about ticket prices. Sometimes those conversations are in conflict with each other, since the money always has to come from somewhere. Is anything in terms of the economics of theatre that you wish were part of the conversation or could be changed?
It is all incredibly expensive to produce. Always. I wish there were a way to lessen that. Broadway rents are enormously expensive. Enhancements out of town are enormously expensive. We have a model here that has been working for decades, and it's very, very hard to get it to change. I have been staggered by the costs of things, and keeping our show to a very tight capitalization was a real challenge, but a goal. Failure was not an option, or to have it be a very, very high priced musical.
Is it difficult to work within an economic structure that is so entrenched?
Yes, but I think one of the attributes of having had a career in another field is coming into something with a different point of view. That's not just in terms of the economic structure of Broadway, but it's also about the marketing and digital marketing of Broadway. Even though you come into meetings and people say, "Well, this is the way we do this," I feel a greater liberty to say, "Why? Explain it to me, because I don't understand. Because I'm new at this, or I'm new to this industry." Even though I've been around now for 10 years, I still use that excuse all the time. "Explain it to me." Manny Azenberg [another producer] once took me to lunch, and he gave me some advice. He said that Neil Simon used to go into extremely complicated, technical meetings for his shows and say, "Explain it to me like I'm Norwegian." Make me understand this. Or sometimes I'll just say, "Tell me why it has to work this way, because I don't understand it." I think I've been able to challenge things a little bit more and ask questions, because I came from another field.
Has that ever backfired on you a little bit? Something that comes up with women when they're in authoritative positions is that they feel like they still have to fight for that authority, and the concern that they lose a sense of authority by saying, "I don't know."
I'm really fortunate because I got to put this team together, so every single person on this show was hired by me. While my authors and my director are four gentlemen, Hillary Blanken is the technical director. She's the person who's in charge of the entire physical production as it's being constructed. I was actually unbelievably excited to have her in a role where she's telling a lot of men what to do. My general manager is a woman, Wendy Orshan, from 101 Productions. I have a lot of women on the ad team. I haven't felt that way. I hear this a lot, and I see it in the industry, but I have been incredibly fortunate to not feel that I've had that experience in this industry.
What is one of the things that you think people maybe don't understand or that there's a misconception about producers?
I think people don't know what producers do. I think that a lot of people think that producers write checks and get dressed up and go to the Tony Awards. When I first started in the industry, people not knowing me thought that was what I wanted to do, too. Because there's a sort of initiation process, for lack of a better word, in this industry where you often, if you want to lead produce, you will co-produce first. Join other people's teams to see how they do it. To learn, to watch, to listen. Some people do that as an entire career, and that's wonderful. I knew the minute I got on to my first show that that was never going to be enough for me, that I had ideas and thoughts and I really wanted to creatively produce. But being a co-producer gives you the chance to watch and learn from other people. I think there was a perception when I first started that I also wanted to write checks and go to the Tony Awards. It's been sort of the pride and joy of my life that I've been raising money for the better part of my career, and that I don't often go to the Tony Awards, unless there's a reason to. My favorite thing to do in the world is to watch the Tony Awards in my pajamas with my husband and my dog. But I feel incredibly fortunate that I worked hard to gain people's trust in this industry. I've supported a lot of people, and I don't feel like I've been challenged that much by many.
Recently, we did a story about working mothers in theatre, and I know you have kids. How do you think the industry can be improved for working parents?
I'm very proud to be a board member of the Lilly Awards and one of the things that the Lilly's have started to do is create these summer programs where you can work somewhere and have your kids taken care of there. So I think that there is a growing movement to pay attention to that. But in essence, I think the problem with the life in theatre is that the real work starts at 10 o'clock at night, and it's a huge, huge challenge to be a mother and to have that happen. I have had to travel and be away from my children in the summer, when they're finally off from school. I've had countless preview periods where I've been at the office all day, have a quick dinner break where I'll run home to have dinner with them, and then run back. Then watch the show, then stay for the notes sessions and crawl in around midnight. Then realize there are notes I have to write, lunches that I would have to pack, college applications to proofread, all at that hour. But there's no way around it. Live theatre is live theatre, and I think you just have to have your eyes open when you come into this industry.
There aren't a lot of female producers. Why do you think that is?
The thing that I've noticed, and I didn't really notice this until I was bleary eyed and thinking this is actually harder than I thought, is that there aren't a lot of producers with children, whether it's women or men. I know a lot of female producers. I make my community out of female producers. I think there are fewer female producers who have been successful. But I don't know if there's a reason why. I think it's just an incredibly hard industry [in which] to be successful, in general. Putting a musical together is one of the hardest things I've ever done in my life. But I don't know if I have a theory on that. But, somebody just told me this, I'm one of the few female producers who've produced an original musical.
Part of it could also somewhat be a perception issue too. That the stereotype of a producer is a man.
Well all the greats—Cameron Mackintosh, David Merrick—they were all men. I think it's all growing and changing, to be perfectly honest. I came into this industry ten years ago, and there were some pretty amazing role models for me. Margo Lion and Daryl Roth were two. On this floor [where my office is] is Liz McCann, one of the first female producers. I feel that they have been incredibly supportive of me. If there's a reason why there aren't enough female producers, it's because it's hard, and if you have a family, it takes you away from it. Raising money is hard. Finding a theatre to have your show produced in is hard. All of these things don't come without complications. It's an exercise in patience. These things take a long time to happen. This was an extraordinary journey on Dear Evan Hansen. I was one of the lead producers of The Bridges of Madison County. That took five years.
I wanted to ask you about Bridges because I loved that show, and I know a lot of people who loved that show, but it closed earlier than anyone wanted. Is there anything you wish would have been done differently?
I'm not sure, because it was a beautiful show, and it did have a Tony Award-winning score. It's taken me a lot of years to be able to actually talk about it without sobbing, but I'm not sure if the title itself was what the cultural pulse was at the moment that we produced it. You know, it's all about cultural pulse. It had been a book that had been a wildly successful book in a different era. It had been a wildly successful movie in a different era, and it may have been that it was just played out. It may have been that the topic of adultery was something that made it difficult for women who wanted to see the show to bring their husbands to. Or it just wasn't for everyone. Nowadays, it's really great when there is a show that's for everyone. But in the end I think that if I've learned anything from The Bridges of Madison County and Dear Evan Hansen, it's that the show tells you. The audiences tell us what should happen next. And people weren't coming. People just weren't coming to see us, so I wasn't sure what else we could have done at that point.
Is it difficult having to balance things you can control with things you really can't?
Yes. You cannot control the snowstorms, and every theatre producer who has a show on Broadway, Off-Broadway, anywhere, absolutely dreads the weather report that says, "Blizzard coming your way." That said, the other thing I've learned from having a show that's currently successful is that people really want to see a show, then they'll try to get in, even in a blizzard, because they don't want to cancel their tickets, because they know they're hard to get. But yes, it is very hard with live entertainment; it's very, very hard to have control.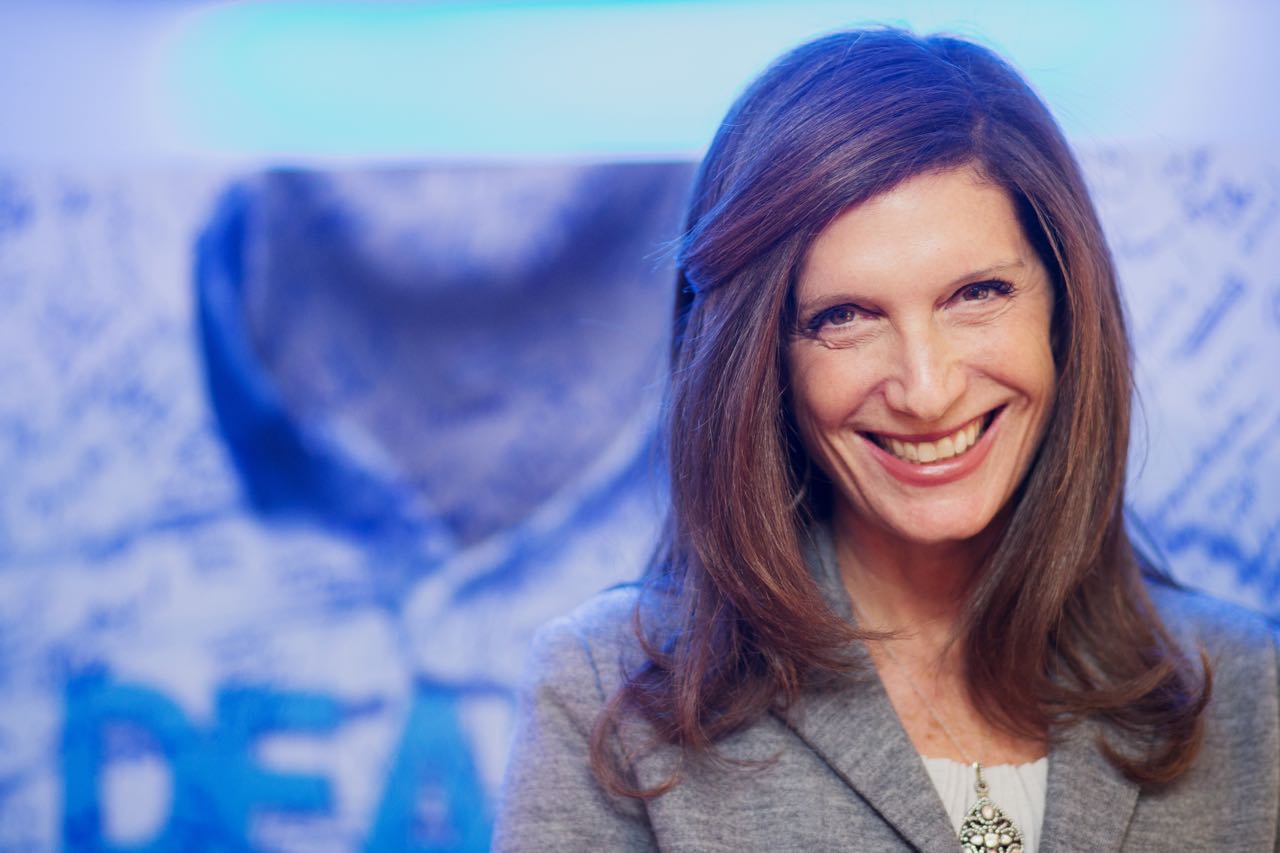 Do you have any sort of dream type of project you would like to do?
This is my dream project. I'd love to do this again sometime, but I have to fall in love first. Right now I just want to continue to listen to young artists and see if I can fall in love.
What's something you think can be done to improve equality for women in theatre?
Mentoring. I think that both women and men should be mentoring the next generation. I know the Broadway League is really working very hard to start a program for mentoring women, but I will say that as much as Margo Lion mentored me, Jeffery Richards, who I worked with on The Bridges of Madison County and The Realistic Joneses, also mentored me and taught me a lot about the way that he does things. I think that it's about the established generation of producers welcoming in the next bunch. Sifting through and seeing who are the investors and who are the people who creatively really, really want to get in there and produce. There's not really a school you can go to to learn to be a producer. You can take the CTI course, you can go study theatre management in college, but the only way to produce is to actually do it. Because this industry just throws things at you, and you never know what they're going to be. So to actually go through the process with a producer who knows how to do it is, I think, invaluable. It's very important for women to mentor women. It's important for men to mentor women. It's important for the next generation to be brought in. One of the greatest joys of my life as Dear Evan Hansen lead producer is that tons of young people have gravitated towards this office. It's not so big, so I can't have a lot of interns, but since we came to Broadway I have one female intern and one male intern. It's just a joy to have them here every day. I hope that they're having a ball working on this show and I hope that they're learning something from this office. So, that's been the real fun of it for me.