Beth Leavel on The Prom and More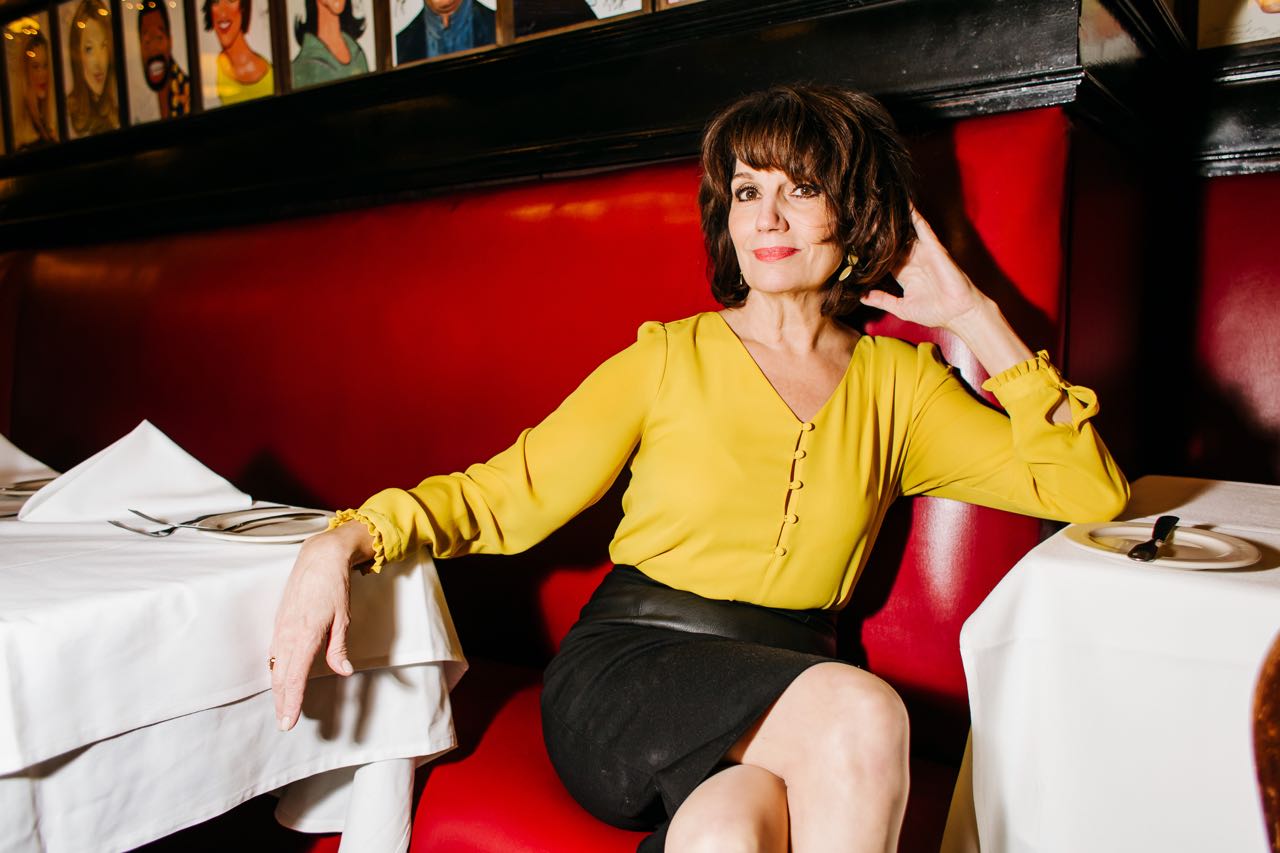 January 8th, 2019
Most cultural depictions of the high school prom present a night about winning (titles of Prom King or Queen) and losing (often one's virginity). But the message of the new musical The Prom, currently playing on Broadway, is about building tolerance through listening to and empathizing with people who are unlike oneself. The trials and tribulations that high schooler Emma is forced to endure because she wants to take her girlfriend to prom intensify when a quartet of Broadway stars prance into town, determined to help Emma (and their own images, by extension). One of these stars is Tony Award-winner Dee Dee Allen, played by actual Tony winner Beth Leavel. This is not the first time that Beth has portrayed a satirical theatre diva; her twelve Broadway credits include a career-defining performance originating the title character in The Drowsy Chaperone (which was co-written and directed by Bob Martin and Casey Nicholaw, the co-bookwriter and director, respectively, of The Prom.) Last month, I sat down with Beth Leavel at Sardi's for a conversation about the experience of playing her own narcissistic "evil twin" in The Prom, how she approaches comedy, her thoughts on celebrity activism, and more.
What is it like to play a tongue-in-cheek version of yourself on stage?
I call her my evil twin, because she's so accessible to me. She must live in there some place, and it's so much fun to play someone that doesn't feel the responsibility to be nice all the time like Beth does. It's so much fun to get permission to do that and play that every night. To say lines like, "I've never said this before to someone, but tell me about you." To actually say that to another human being, it's satisfying. For two and a half hours I get to be the antithesis of that nice Southern girl I was raised to be. It's awesome. Dee Dee has a lovely arc, and she does discover kindness and humanity in the end.
What was your approach to creating the character of Dee Dee? In interviews, back when you were doing Drowsy Chaperone, you mentioned writing a bio for your character. Did you do something similar here?
I didn't really have to this time. Because it was so specifically written for my comedy, and my timing, and just for Beth, it was like putting on a very familiar pair of shoes with a slight adjustment. So, my process of discovering Dee Dee was just to be in the room with a group of amazing actors and comedians, and a group of creative people behind a desk who would write it, and rewrite it, and we would polish it. It's work, but the work is so easy because it's so well crafted. So, all I had to do was show up, and say these well-crafted lines that were written for me, and it just works. It's just "easy" hard work. I'm doing air quotes. "Easy" hard work.
You're saying this is easy hard work, and it's just written for you, but you're working with creative teams who have written for you before. What was it like to work with this director and these writers again, after collaborating together on Drowsy Chaperone and Elf?
It was like coming home. You walk in a room and you know they want you there really badly, you're safe, you are free to make mistakes, and the celebration of your talent is so important to them. I know when I walk into that room with Bob [Martin] and Casey [Nicholaw] and Matt [Sklar] and Chad [Beguelin] that I'm going to be doing my best work. How many times do we get to say that? So I get to say that three times. Hopefully, maybe like six times before I pass on to the great ASPCA in the sky.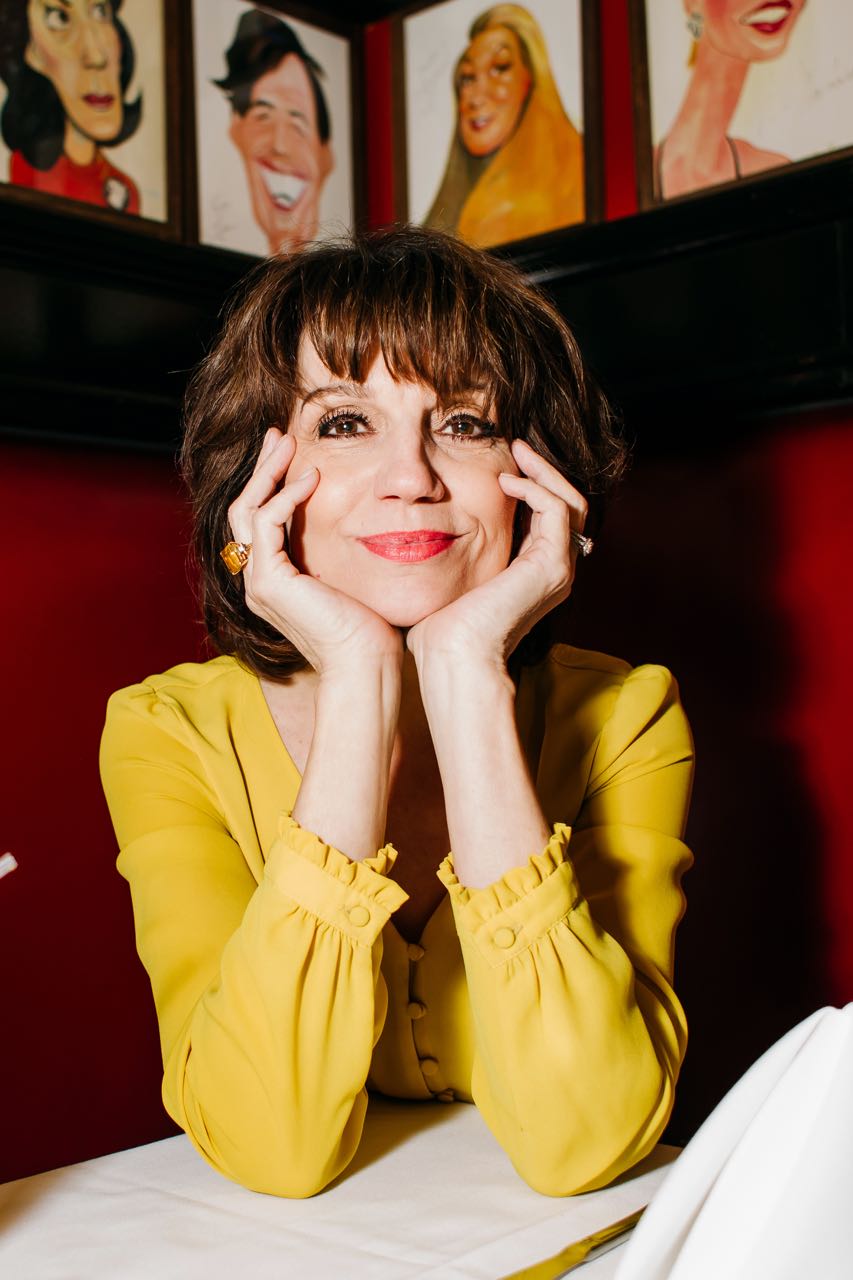 Watching the show, it occurred to me that even though the theatre people in The Prom are portrayed as egotistic to the point of alienating each other, in the real theatre world, there can be a huge network of collaboration.
Absolutely. But would that make interesting musical comedy? Would that be something that you can laugh at, and enjoy the journey, and enjoy the arc of these characters? If you saw everyone nice up there, we'd all be asleep, and the audience would be like, "No. We're not going to do that." So that's why these people are so interesting and so entertaining. Even the people from Indiana mixing with the four of us crazy New York, narcissistic, egocentric actors, and how we both inform and change each other by the end of the show, which is why I think the show is so surprising. It's not just one thing. To me, it would be exhausting to watch four narcissistic actors talk about themselves, and celebrate themselves, and deal with themselves. That would be exhausting. So thank goodness such smart people knew that, and now all [the characters] have this fabulous journey.
As someone who grew up in North Carolina, do you relate to the experiences of the characters in The Prom who are from the small, conservative Indiana town?
Absolutely. I'm really more like Emma. I didn't go anywhere. We didn't see a lot of theatre in North Carolina. My soul is probably originally much more like the people in Indiana, but I've been in New York now longer than I'd been in North Carolina, so I've crossed over. So I'm a mixture.
Growing up in Raleigh, did you have a theatre program at your school, or were you like the teenagers in The Prom who had no real access to arts education?
We did have a theatre program, but I was not aware of it until my senior year in high school. I didn't know I was interested in it. I didn't know I had a curiosity about it, much less a passion, much less that this would be my life's work. My senior year, my best friend said, "Why don't you audition for the musical?" I'm like, "What are you talking about?" She said, "It's a great way to meet guys and you'll have fun." And I remember I got it. I got the third lead in Brigadoon, Bonnie Jean. I have no idea how. And I remember the first day of rehearsal being in that room with all these people who I wasn't even aware were of like mind. It was like a light bulb went off in my heart, in my soul. Then, I think I spent the next six years trying to figure out what to do with that curiosity and passion. And then, lo and behold, it became obvious what I needed to do. I needed to open the door and just leap through it and go. It took a lot of pushing, and a lot of mentoring, and a lot of encouragement, and a lot of fear, and a lot of, "You're going anyway, whether you want to or not." And a lot of my parents going "Are you going to be out of this phase pretty soon?" They just wanted me to have a real job, and have kids, and be "normal." I'm air quoting normal.
You're often known for your comedic roles. Your Tony Award, for instance, was for playing the title character in The Drowsy Chaperone. Have you ever felt that this industry tried to box you in or typecast you in a way in which you didn't want to be portrayed?
No. Because I did Bandstand last year, which is the exact antithesis of Dee Dee Allen. And before I did Dee Dee Allen, I did Mama Rose [in Gypsy]. I have the opportunity to play a lot of other things. My voice, my technique, limits me from playing soprano roles and stuff like that, but the industry does give me opportunities to play other things. But you know what? Mama likes to get laughs. I loved doing Bandstand. I loved it, but man, is it satisfying to make an audience laugh, as well as have this emotional connection to them.
Was that true even when you were just starting out?
I was always funny. And I remember discovering that I knew, in some way, shape, or form, how to be funny. People go, "Were you taught to be funny?" I'm like, "No. You're kind of born with that, I think." Just like as an artist. I can't paint, but I look at my godson who, when he was four years old, was painting better than I could paint now. So, I think somewhere in my DNA, my inner comedian bloomed.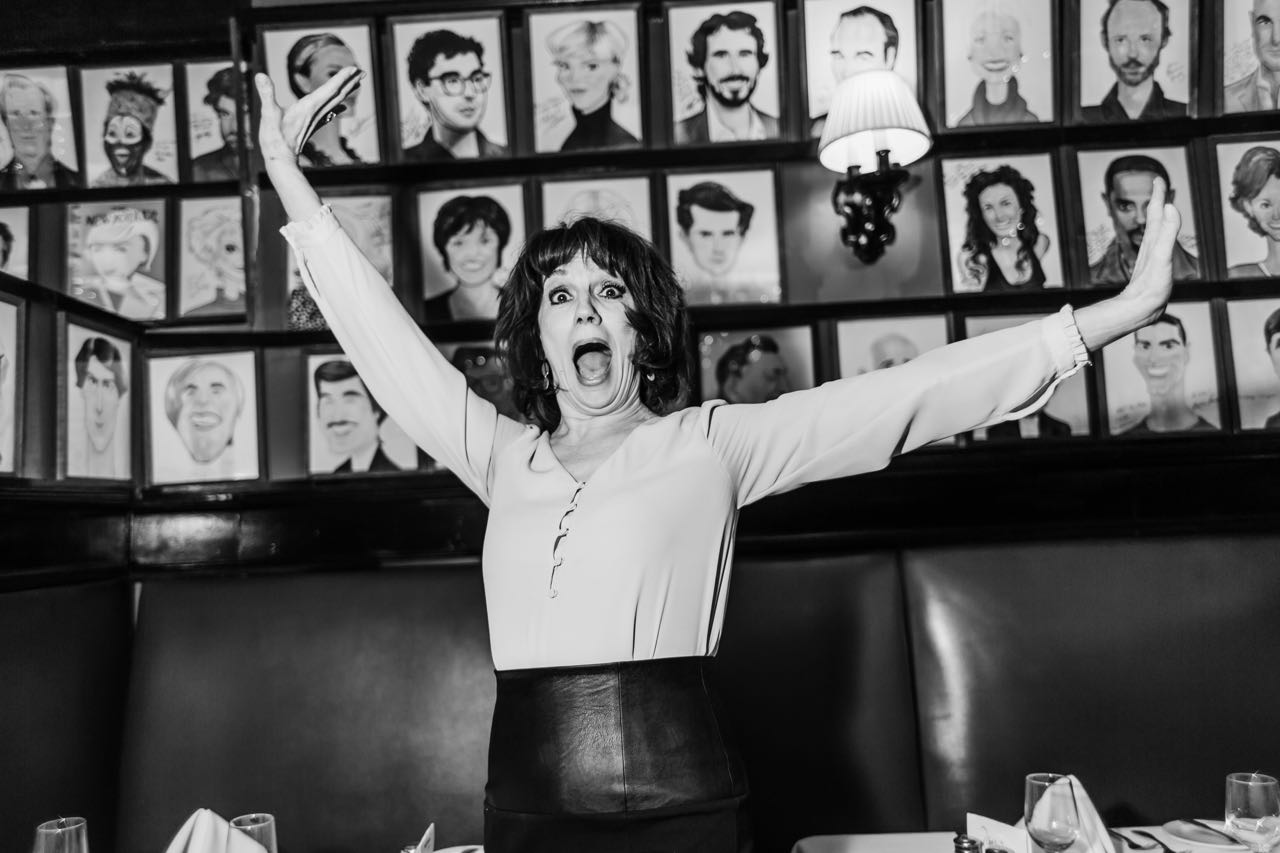 Does that mean you try to just let the comedy happen and not analyze it too much?
Absolutely. Even though comedy is math. It's really set up. It's in threes. It's really, really technical, but once you get used to the comedy math, you can see that that's not going to get a laugh if you don't [do it correctly]. It's really interesting. Brooks [Ashmanskas], Chris [Sieber], Angie [Schworer], and I have done it so much that we understand the comedy math, and that a pause is going to get a laugh or a pause will not get a laugh. Fortunately, Casey is brilliant at that, and Bob and Chad [are as well]. Also, inevitably, we have to wait for our scene partner, which is the audience. The audience tells us if we have failed the math test or whether we need to repeat the math test. We keep refining the math, the comedy math. It's fascinating. Sometimes it can be so technical, but yet it's an instinct that we all have. And, like I said, the creative people can tell us exactly what to do or what not to do. Casey's like, "Don't take that pause, you'll get a laugh." I was like, "I'll be damned. That was right." He was absolutely right.
Is the comedy, for you, a vital part of how you to get to the serious story at the core of The Prom?
Yes. As I find with most things, if I can get you to laugh, I can get you to listen much more easily. I think that's what the story does so brilliantly. You fall in love with these people, and therefore you're more available to listening to their point of view. And I think comedy lends itself to that. Comedy lends itself to listening. I fall in love with funny people. I'm a sucker for funny people. I'm like, "Yeah, you take me wherever you need to go, funny person. I'll go on this ride with you." Plus, you know, it's entertainment. We're doing a Broadway show, so you get the comedy and you get this fabulous story.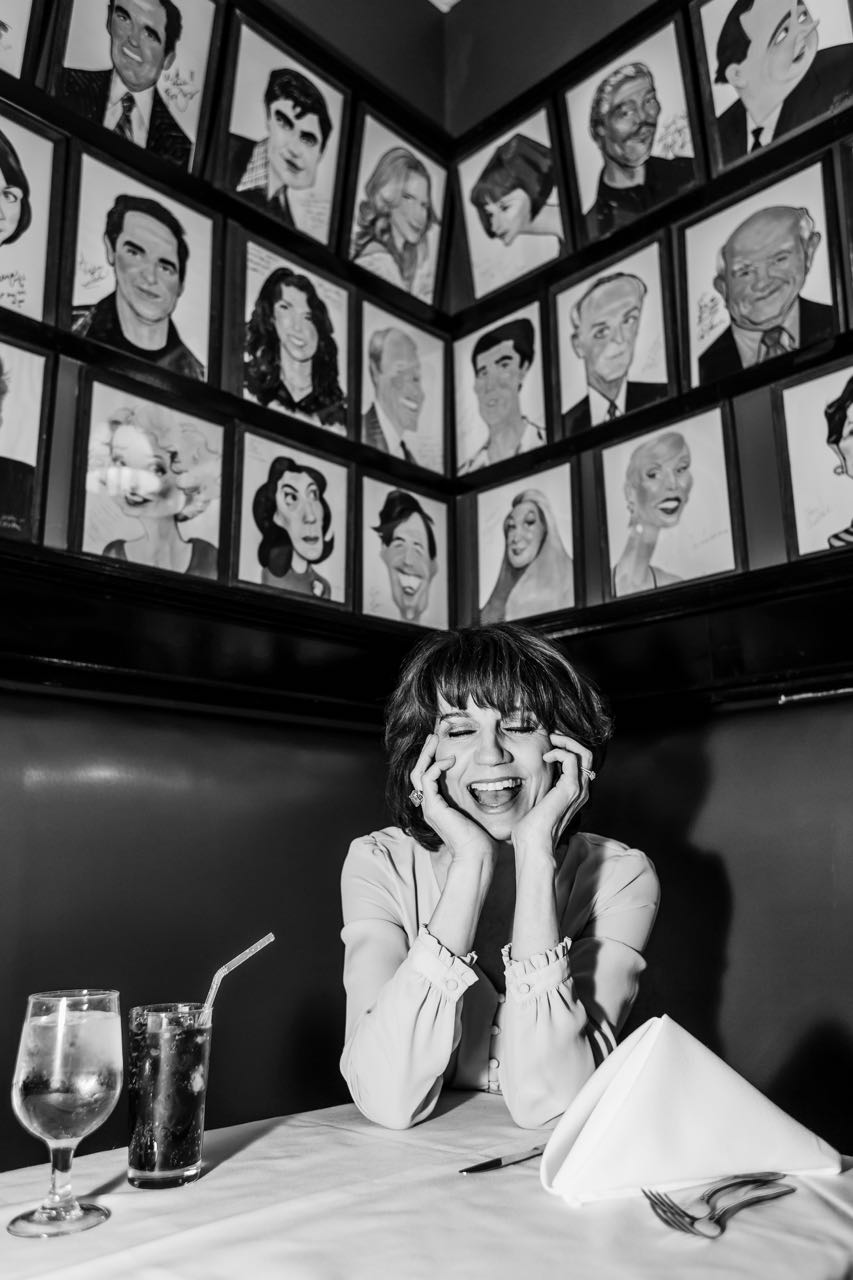 One of the things that Dee Dee seems to struggle with is that she doesn't maybe know how to conceive of herself outside and apart from the stage or her celebrity.
Exactly. Her celebrity status is her existence.
How do you manage to keep yourself grounded in this crazy business with all of the ups and downs?
I have an amazing support system. I have kids. I was married. I have pets. I have dear, dear friends. I have a life. My work is a huge part of my life, but if I didn't have all the other components, I'd be Dee Dee. Because for Dee Dee, all her life is her work, and my life is my life, which includes my work.
Did you ever feel that you had to choose between your life and your work in certain situations?
No. Not really. I've been very lucky. The only thing I wouldn't do was when my kids were young, I was offered a national tour and I didn't want to go. I couldn't leave. The only thing I really said "no" to was national tours. You just make it work. This is what I do. I was a breadwinner for a long time. We just made it work.
Another aspect of the celebrity status that Dee Dee has constructed for herself is her social media presence. I wanted to ask you about that because I've noticed that you're not very active on social media.
I'm invisible. My life is so full, and it's something I've chosen not to jump into. Plus, if someone asks me a question, I'm going to spend a great deal of time responding, because I don't want to hurt anybody's feelings. I want to make sure they know that I'm listening, but that would be a full-time job. So, I just enjoy stuff that's sent to me from people who send me fun stuff, but I have a very, very, very quiet footprint in that world, and I'm happy about it.
It seems like there is less of a separation between the actor and the fan in this day and age, not only because of social media, but also due to the increased culture of stage-dooring after a show.
Right. I go out the stage door every night. I will do that, and we'll actually have conversations. We'll have communication about how they felt about the show. That to me is valuable. With this show too, the letters that we've gotten, particularly from young kids, really have touched us. Letters about how much the show has meant to them, to see their lives mirrored, to see a mirror of what they've gone through. It's really powerful for us. The letters are shared with the entire company, if it's something so important. I've also gotten texts or messages from acquaintances who've passed on things to me like, "Oh my gosh, this changed this person's life," and what that has meant to them. And the joy of being in that oxygen, that satisfies me. I feel like I am partially responsible for the comedy, for the original Broadway show.
You've described Dee Dee as a narcissist several times now in this conversation. Narcissism has become a really prevalent theme lately, because of current politics.
Everyone knows what the word means. We allude to it in the show anyway, the current climate. One of the great things about the show is that it takes both sides of a divided group, and, lo and behold, if we don't find each other, and find love and tolerance or at least really, really important listening—
—The two groups teach each other how to have empathy.
Absolutely. If it had just been one sided, it wouldn't be the musical that it is. It represents both sides teaching each other empathy, and opening a revelation of some sort, [experiencing] an aha moment for all of us. I think that contributes to its great story telling.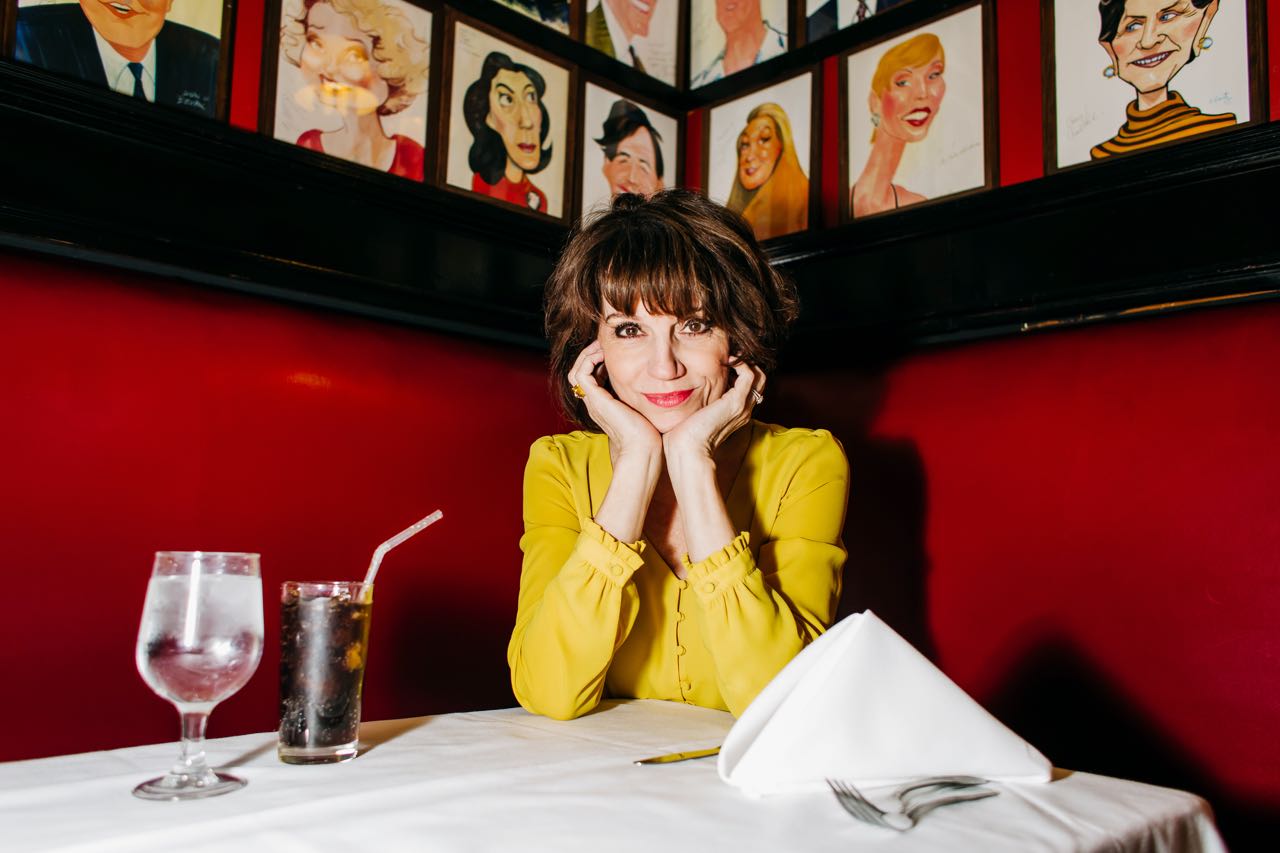 In the show, celebrity activism gets a lot of ridicule. Do you think performers should be publically vocal activists?
I don't think it's one size fits all. I can only be my authentic self, and support my causes the way I wish to do that, which may not be the way that someone else wants to. Who's to say what's right or wrong? If someone is very vocal about it, and I disagree, I just don't have to listen. But what if I agree? I'll learn something. And then, other people will give money or their presence to a cause that they support. I will find a way so that I don't necessarily have to stand centerstage and scream, but I have a list that you wouldn't believe, like Habitat for Humanity, and it changes every month. But I will be at Broadway Barks every year. I will be at Broadway Cares/Equity Fights AIDS. When I can be there, and my presence will raise money for funds that I consider dear to me and important, I will do that. Will I go out with a megaphone? Not today. Would that maybe change? Don't know. This, today, that's me being authentic, just being in the background of this and not posting things, but "To thine own self be true."