SLUT the Play and Conversations about Sexual Violence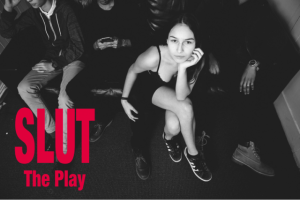 Written by Alex Strycula
March 3rd, 2016
When I sat down to write this piece about SLUT the Play, Katie Cappiello and The Arts Effect All-Girl Theater Company's powerful production currently playing at Dixon Place, I barely knew where to start.
The show's main plot through-line vaguely mirrors Kesha's maddening struggle to cut ties with her record producer and abuser, Dr. Luke.
I could also mention Emma Sulkowicz, the brave college senior whose transformative mattress performance "Carry That Weight" turned heads on and off Columbia University's campus in 2014.
It also feels near-egregious not to recall Lady Gaga's commanding performance of "'Til It Happens to You" from The Hunting Ground during the Academy Awards broadcast this past weekend.
And this is sadly only a small sampling of the countless other stories of sexual violence survivors that have—and have not—made headlines in recent months.
Written by Katie Cappiello and directed by Katie Cappiello and Meg McInerney and performed by members of The Arts Effect All-Girl Theater Company, SLUT the Play has been rightfully making headlines of its own in New York City this February. SLUT tells the story of 16-year old Joey Del Marco, a high school junior who is sexually assaulted during a night out with three friends. When Joey reports the incident to the police, her ensuing testimony of the night's events and the vicious responses she receives from her peers lead her to feel degraded and disbelieved, illustrating all too plainly the harmful effects of rape culture and victim-blaming that damagingly permeate our society.
The way the girls of SLUT communicate with one another is at once strikingly true to life and wildly disconcerting. In between dialogue peppered with "like"s and "um"s, they nonchalantly and playfully call one another sluts in the locker room after dance practice in the play's first scene. They then unwittingly turn the word back on Joey as the lowest form invective possible in the days and weeks that follow her assault.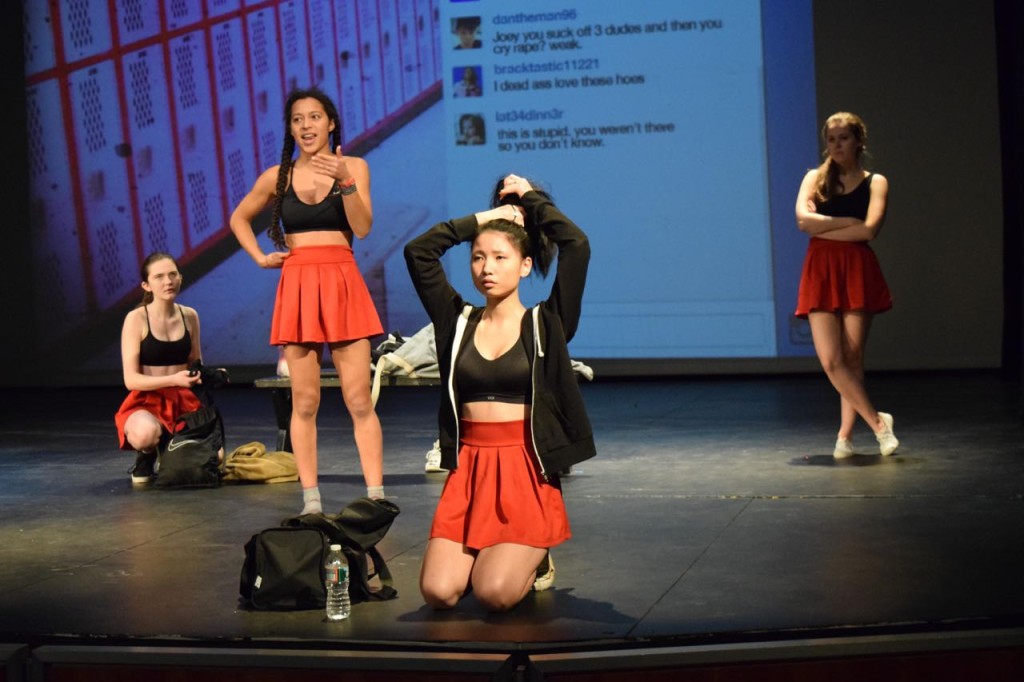 What is most striking about the play and its potential to promote positive change, though, is how it so perfectly captures the folly and colloquy of the modern teenager living in a media-saturated millennium culture. SLUT bottles the pressures and frustrations of a world in which young women and men alike must dodge a daily hailstorm of perceived societal stipulations and contradictions, literally broadcasting them for all to see through projections showing key snippets from the characters' social media feeds. The music that fills the scene changes is also a strange, yet seemingly accurate, mixture of Drake, M.I.A., and other contemporary artists whose songs contain a bevy of conflicting messages—messages that no doubt shape the way that young individuals like those in the play perceive themselves and one another, particularly when incidents of sexual assault are perpetrated.
The sheer effectiveness of dramatizing a rape survivor's experience onstage is in and of itself  an additional part of what makes SLUT such a powerful vehicle for enacting affirmative revolution in adults and individuals as young as those portrayed in the play alike. As Cappiello and fellow Arts Effect founder Meg McInerney state in the published version of the play's introduction: "Action is desperately needed, and that begins with awareness and discussion. In our experience, theater provides the most effective platform for shared catharsis, the breaking of silence, and the cultivation of empathy." While assault survivors are often silenced, whether voluntarily or for other reasons, SLUT the Play and the show's ensuing #StopSlut movement thus aim not only to combat such silence, but to effect a gradual cultural shift through strategic storytelling and discussion.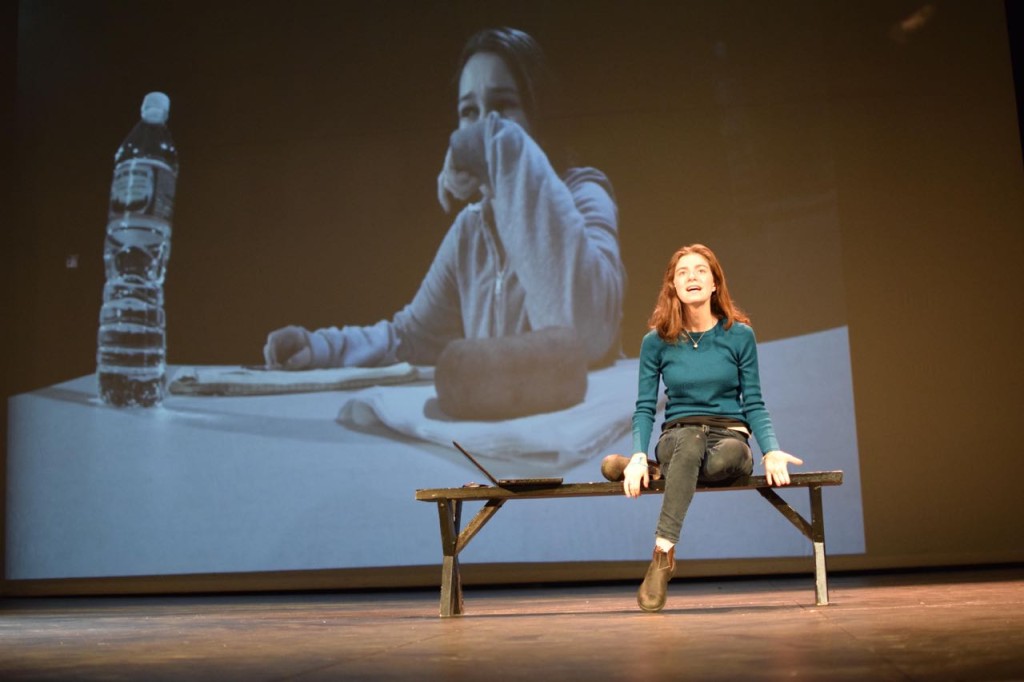 While the Dixon Place staging marks SLUT's first major New York run, the show has also toured throughout California, North Dakota, Washington D.C., Minnesota, and Georgia. No future engagements are currently planned, but when asked how she hopes the play will continue to inspire beyond its present production, Ms. Cappiello said the following:
"My greatest hope for this play is that it will continue to serve communities across the country and world as an effective tool for cracking open challenging conversations. When high school and college students license SLUT stage productions on their own at their schools, and really custom tailor the piece to best serve the needs of their campus, they are taking a stand and providing their peers with a much needed platform for catharsis, empathy, healing, and change. I love theater as a form of activism because it's something you can actually do—it's hands on, it requires team work, it requires showing up and sharing your voice, it demands vulnerability, and it's something people can experience in real time, face to face, together. Hashtags are great—online petitions matter—but in my opinion, theater and the arts in general have the most power to transform culture. I hope SLUT plays a part in the transformation of rape culture into a culture of care—Communication, Accountability, Respect and Empathy—for as long as possible."
No matter where SLUT the Play goes next, it will continue to promote what can often be the most imperative, yet sometimes unspoken, message of all for survivors of sexual assault: we're here for you, we hear you, and we believe you.
SLUT the Play was originally conceived and developed by Katie Cappiello, Meg McInerney and members of the Arts Effect All-Girl Theater Company and is currently performed at Dixon Place by a cast of 13 teenage girls, all of whom are members of The Arts Effect All-Girl Theater Company.
Tickets are still available for the show's final New York City performance this Sunday, March 6th. For more information, visit StopSlut.org.
Production photos by Charlotte Arnoux.
---
Born and raised in the suburbs of Pittsburgh, Alex Strycula is a New York City-based digital marketer for Broadway and live entertainment clients. She proudly holds a degree in Theatre and American Studies from Barnard College. Follow her on Twitter/Instagram: @strycoola