Jennifer Ashley Tepper on Be More Chill And More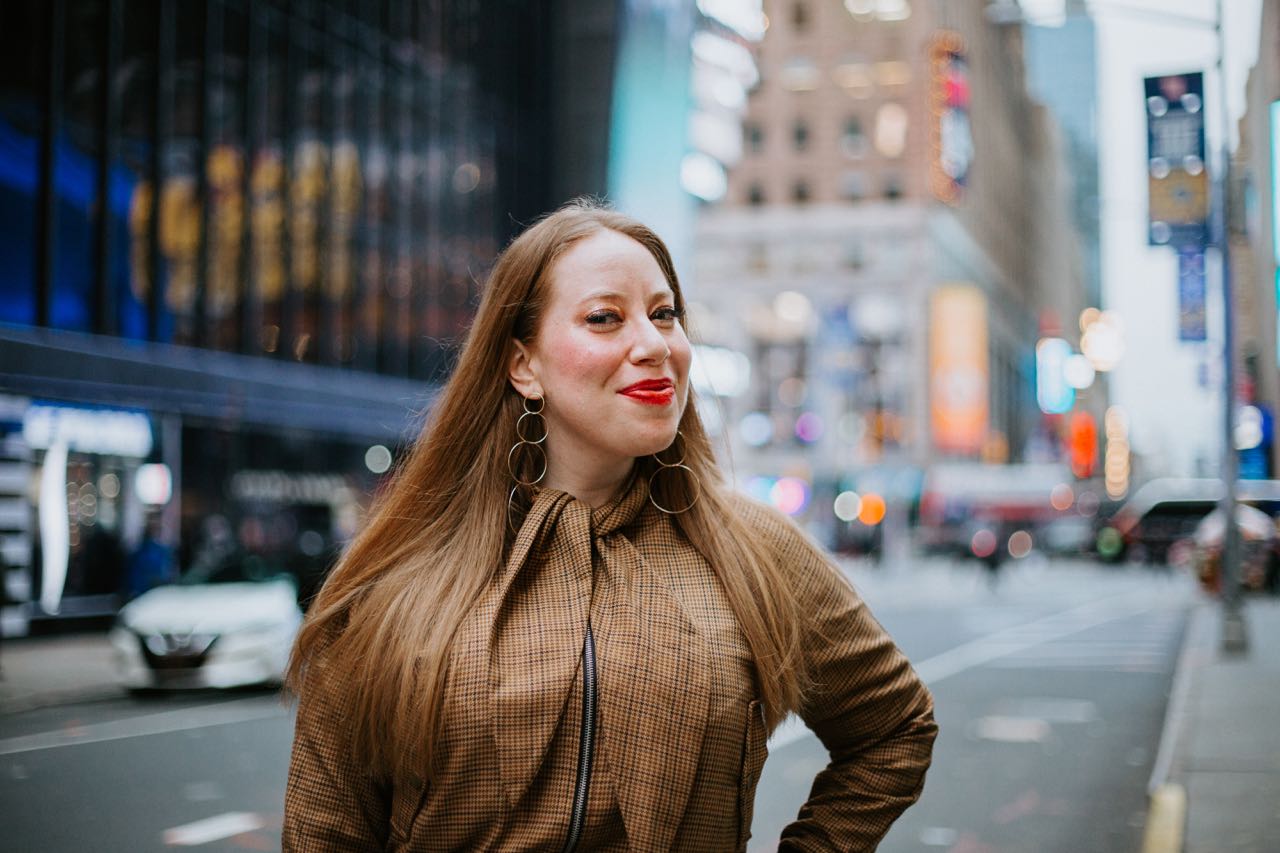 March 28th, 2019
Jennifer Ashley Tepper is not even 35, but already the theatre historian and producer, who was a 2017 Interval "Woman to Watch," is the Programming Director at 54 Below, the creator of an award-winning concert series, and the author of the three-volume book series The Untold Stories of Broadway. As if that weren't enough, Jen is currently making her debut as an above-the-title Broadway producer on the new musical Be More Chill, composed by her good friend and longtime collaborator Joe Iconis, and is already preparing to produce another musical of his, Broadway Bounty Hunter, Off-Broadway this coming summer. I recently spoke with Jen about her collaboration with Joe Iconis and his theatrical family, how she turned her knowledge of theatre history trivia into a career asset, what it's like to be a young female producer, and more.
Musical theatre seems to be a lifelong passion for you. What first excited you about musicals as a child?
I was obsessed with theatre from a very young age, from the first time I saw shows and got to hear cast recordings. I really think that what drove me when I was younger was the fact that I loved it so much, but was so far away in Florida. That fueled the musical theatre historian part of my brain, because I was thinking, "I love Annie and Bye Bye Birdie and A Chorus Line. How do I learn more about these shows and the people who wrote them? What else did they write? Who were the people in them, and what else were they in?" I tasked myself with studying the theatre. I loved opening books and liner notes and learning, "So that is what began it." I was crazily proactive about it. Every year for Hanukkah, I would get like eight cast recordings, and I would make crazy lists of obscure things that my mother would try to find in the late 90s. Before we knew there was anything wrong with this, she would order me bootlegs for Hanukkah. I would be like, "I want to learn about this obscure show from the 80s." So I was really proactive about learning, and I would scour the local papers. If there was a community theatre production of Crazy for You, I'd be like "I'm going to learn what Crazy for You is. We're going to go see this in a basement for $12." I was always very proactive about it.
Do you remember any particular shows that excited you, or albums that you were thrilled to get as a present?
Yes. Oh my God. There are a few that really stick out. I've been thinking a lot recently about In Trousers. It was out of print and cost like $50, so I didn't have enough allowance for it. I didn't get it for Hanukkah. It was expensive. We were waiting. And finally, I got it for getting a good grade on a test. It truly blew my mind; I was obsessed with all of Bill Finn's shows and I was really astounded by [In Trousers].
Growing up in Florida, was theatre something that was on your peers' radars? Did they understand your enthusiasm for it?
I definitely was lucky to go to theatre camp, and I went to a public high school that had an amazing theatre program. Because of those two things, I was able to be surrounded by at least some people who thought it was cool. But, more than that, I didn't care if people thought it was cool. I definitely was like, "I discovered Bat Boy. Let me tell everyone about Bat Boy, and play them the cast recording, and maybe we can do a song from it in class." I definitely was the pusher of those things. And I was never going to be a performer. I was not a director. But I got a seat at the table because I knew the stuff. So that also fueled me as I figured out what my place in the theatre world was. I think I knew enough to know that there were people that thought it was really cool, and a place where people thought it was really cool, and I was going to get there.
In high school you were also very involved with Thespians. In fact, you're going back to judge the Florida Thespians Festival this spring. [Note: This interview was conducted before the Florida Thespians Festival.]
Florida Thespians is a huge part of my childhood. I competed in it in high school. Even before I was in high school, I was paying attention to what the high school Thespians were doing. It was this magical world where, for a week in Tampa, you got to be with thousands of other theatre kids. And there are all these categories. You can compete in solo musical, or monologues, or group musical, or scenic design. So it's all of these young people who really care about theatre in one place. You get to not only see songs that you might not know, or scenes that you might not know, but you're also participating in it. It was like a perfect storm of magic. My junior year, my school won Critic's Choice, which is like the highest award there, for doing "Forget About the Boy" from Thoroughly Modern Millie. I basically did an impression of what Anne L. Nathan did on the Tonys. George Salazar and I were at Florida Thespians at the same time. My friends and I tried to get into this production of Little Shop of Horrors that everyone wanted to see, and couldn't get in, and he was Seymour. Years later, when we worked together on Godspell, we figured that out, and we were like, "Oh, my God!" Florida Thespians is truly a magical, magical place. In the best moments of Broadway, I'm like "This feels like grown-up Florida Thespians." It's really a cool thing.
It's nice that you're actually going back to Thespians and helping the next generation of theatre kids create those memories.
Totally. It truly does not feel like giving back because I'm like obsessed with going. It is so much fun. Last year, I was there and there were four or five people who sang "Michael in the Bathroom" [from Be More Chill]. It was such a full circle moment. One of the songs that I picked to win was from a show that my friend wrote. And kids are singing [title of show], and I was in the rehearsal room when it was written. So Florida Thespians really is my favorite thing. I love it.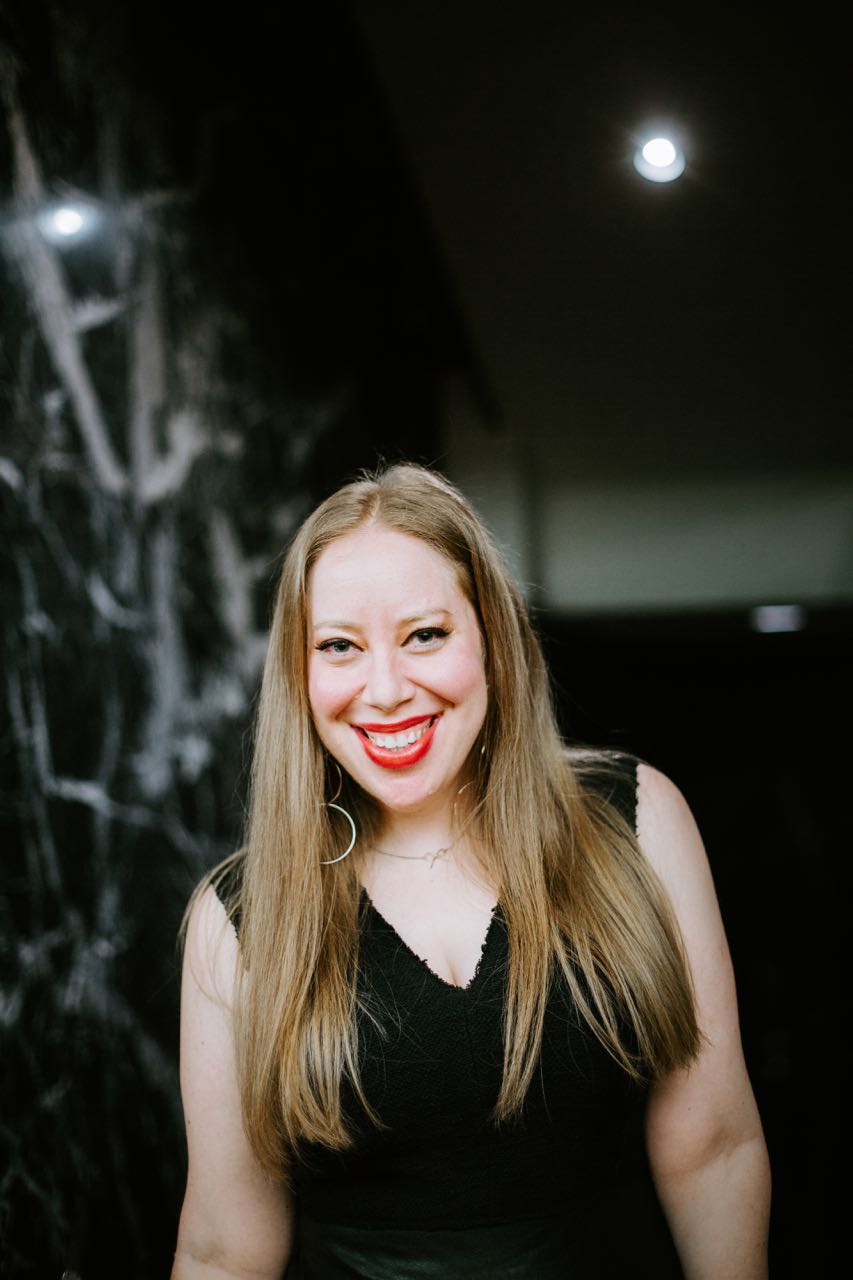 Was [title of show] the first Broadway show that you worked on?
It was. I interned for [writers and performers] Jeff Bowen and Hunter Bell when I was a senior at NYU, and then I got to be [director] Michael Berresse's assistant when the show moved to Broadway the summer after I graduated. I feel like all the people on that team gave me permission to have a seat at the table. One of the reasons I got let into some magical rooms early on [in my career] was that I was always able to pull out this knowledge that earned me some respect when I was just starting out. I think they really appreciated that, and that got me my earliest job, which was working with them at the Lyceum.
It's interesting to hear you say that possessing knowledge gave you access into those rehearsal rooms. There is often a sense, not just in theatre, but in society in general, that young women aren't supposed to come off as too smart. How have you navigated that?
I definitely have experienced that. As much as I feel like I was really lucky to get a seat at the table because of that being my secret weapon, after I graduated, between [title of show] and my first full-time job in a theatre office, [I spent] two years applying to a lot of jobs in theatre that I didn't get. I actually feel like I was able to maneuver wanting to do too many things, and being that ambitious, and not quite fitting into a box, into being an asset. It was [during] those two years that I started collaborating with Joe [Iconis, Be More Chill's songwriter], and started planting the seeds to write my books, and started producing concerts by myself for the first time. I was babysitting and tutoring and having a million day jobs, but those two years were what prepared me to do the whole rest of my career successfully. But I definitely feel like there were moments when someone was like, "Why is she talking about all of this instead of just focusing on doing one thing?"
The notion of having to be prepared to face rejection, and the necessity of working a day job, is not as frequently discussed with young people who are trying to embark on careers as theatre administrators or producers as it is with young actors.
Totally. It's interesting; I'm collaborating with so many of my friends on this Broadway show now, but we've all collaborated in barns and basements. In a way, it really feels like we're equals. I think sometimes people have this perception that a producer is someone who doesn't talk to everyone, and who sits in a fancy boardroom or something, and there's none of that. There's this synergy between all of us that I feel is inspired by the fact that we've been doing so many things as a family of artists. As new people have come on, they've joined that, and they've added to that, but there's a foundation there, so it just grows as a family as opposed to a standard hierarchy.
How do you balance out loyalty to your friends and to your theatrical family, with still being open to new collaborators and new artists?
I think there was this misconception of, "Oh, it's an insular family that only wants to work with these people they already know." And it was never that. It was always just that we have this foundation as a collective of artists who believe in a certain kind of song, a certain kind of musical; we want to create art like this and who else can we grab and put on the bus? An example is the Christmas show [the Annual Joe Iconis Christmas Extravaganza], which we've been doing for 11 years. It has grown and grown because every year, it's like, "We worked with these people on this musical and this musician was amazing, we did this concert with them, how do we add to the family?" So, it was never anything closed. It always was something that kept growing, which has been awesome. But separate from that, I think the special sauce of what people are responding to on Be More Chill, and on a lot of these shows we do together, is the fact that we know each other so well collaboratively that we're able to create this energy from that. I feel like so many times, we just have such a shorthand in rehearsal. So it's only ever been a positive. I feel like the musicians feel like such a part of the company, in a way that they haven't in other shows I've worked on, because we're all one group that has been doing Joe's work together, and that trickles throughout the whole company. But I do think whenever we have new cast members, we check in, we want them to feel welcome. We want those people to feel part of it immediately. And for people I've talked to, it's a plus to walk into that environment.
Do you remember the first time that you worked with Joe? Were you producing one of his concerts?
I heard some demos of his songs. I was obsessed with them. We had a producer on [title of show] who was producing a run of Joe's Things to Ruin at Second Stage, so I said to her, "Can I assist you? What can I do? I love this guy's work." And she let me be her assistant, and from that point, Joe and I bonded and I've never looked back. One of the first things that we did together was this run of concerts in 2009, which were Joe Iconis and Family concerts. You know Broadway in Bryant Park, where they have like all the Broadway shows perform? Somehow, I was like we're going perform at Broadway in Bryant Park. We're going do Joe's songs. Even though we're doing them at Joe's Pub and it's not a Broadway show." Honestly, it's something that I [learned] from the [title of show] gang. If you act like you belong, then you do belong. You have to send that message to yourself. So, I contacted Bryant Park and was like, "We're this amazing new show, and we're going to be running this summer. Can we have a spot to perform alongside all these Broadway shows?" And we got it and we all got to perform some songs as part of Broadway in Bryant Park. I remember Joe and I carrying a keyboard together down 7th Avenue in the heat. And then, we were back performing with Be More Chill at Broadway in Bryant Park this year, but it's a different situation, and it's exactly the same. So from the beginning, I was like, "I believe this guy's songs deserve to be heard, and what can I do to knock down some doors?" And it's evolved, but it's always stayed true to that objective.
When did you first want to be a producer? Did you know, when you were studying at NYU, that you wanted to produce new musicals?
I always was like, "I love theatre history and I love making shows happen." And I didn't know if that would mean commercial producing. I didn't know if that would mean non-profit producing. I am obsessed with Ted Chapin. I'm obsessed with Ira Weitzman. I'm obsessed with all these commercial producers. I feel okay with making my own path in that way. Honestly, right now, I have this significant position as a commercial producer on this Joe Iconis musical on Broadway and I'm using every single bit of knowledge I have from working for commercial producers, working on Broadway shows, doing Joe's shows in a basement, doing Joe's shows out of town. It was like all of those years I had of professional knowledge, doing different things, have given me all the knowledge I need to do the best job I can at this. And I always felt like this was going to be an unconventional path, and I'm just going to do stuff I'm passionate about. The past year, I've spent so much time working on The Jonathan Larson Project, which is related to theatre history, and I was directing it and then also producing the show. So it feels like what I want to do might have not a totally clear mold to it.
You do a lot of different things in this business but you've used social media to really cohesively brand yourself as somebody who has a specific voice and viewpoint in the theatre. There seems to be a parallel here because social media has done a lot to amplify Be More Chill as well.
Totally. I love the fact that on social media, we can all talk to each other about things we love, no matter where you live. The kid sitting in their bedroom in Ohio can go on YouTube and hear songs from new musicals that were performed at 54 Below last night. I think that there are so many great things about the internet that have to do with spreading new work. I love that the way that we've been able to get Joe's work out there is that we were making stuff that we thought was good, and putting it out there, and having the faith that people would find it. And it would somehow manifest in us getting these shows done, never imagining that 300 million streams would lead us to Broadway because that's crazy. But, from the beginning, we were always actively putting videos of his songs on the internet, and making sure that the music was getting out there, however it could. I also feel like I got Facebook in the very beginning. I was going to NYU when that was first starting, and I remember the first time I was in ad meetings on Broadway, over ten years ago now, and sitting there with people who were the old guard, and had been working the theatre for a long time. They were going, "Well, social media is never going to sell a ticket, but maybe we should have the show get a Facebook page." And I knew. I just always knew this was going to be the new frontier of how people found out about things. And so I always have paid attention to that, and have wanted to connect with people genuinely about things we love, like the 1972 Tony Awards, or the song that Joe wrote that we put on YouTube last night.
And before the publication of your books, before your job at 54 Below, before Be More Chill, you were actually a Marketing Director for a Broadway producer for a couple of years.
Yeah. The job that I had when I worked for Ken Davenport was Marketing/Communications Director but, because he did everything in-house as a producer, he was producing the shows, we were casting them, we were group sales, and general management, all of those things. It was a really good foundation of learning everything that went into a show, especially when we were doing Godspell. It was everything from customer relations to ad meetings and everything in between. I just feel like everything in theatre is weirdly related.
Is this your first time going to those ad meetings as a producer, as opposed to an associate or an assistant to a producer?
It definitely is, and it's been truly great to have had all those experiences. In bringing co-producers onto our team, I really wanted to bring on younger people, and people with different perspectives. We really do have this amazing team, where no one more than me is like, "We need to pay attention to how things have been done and the history of things." But it's this cool balance of all of these younger people in the room, older people in the room, people who have this knowledge of the internet, people who are traditional theatre people who are like, "How do we work with that?" So, being able to bring all of that [together] has been a cool part of the Be More Chill experience, too. A lot of the co-producers I have brought on board have never done that on Broadway before, and I think we'll collaborate again. And as I'm now putting together our team for Broadway Bounty Hunter, and bringing people on board for that, I have even more knowledge of who we want in the room, and who can bring new voices and perspectives.
Can you talk me through a little bit of how that process works? How do you find these potential co-producers?
So much of a producer's job is to steer the ship, which means making sure everyone in every position is empowered to do their job, but also being the person that oversees all of that. One of the big parts is obviously raising the money for the show, but what's been really cool with being with Joe and the family for so many years is that so many of my now investors and co-producers are people I met because they have loved Joe's work for years, and have come to our concerts, and they also sometimes invest in Broadway shows. As soon as the right thing came along, I was like, "I'm going to talk to that person." A lot of investors are people whose kids love Be More Chill and they want to invest, so it's been an interesting thing. A lot of it just has to do with knowing people, and talking to people about what investing in a Broadway or Off-Broadway show means. But what's been cool about this is that there really are so many people who are so invested in the voice, Joe's voice, and his shows. When we told the Be More Chill company that we were going to Broadway, one of the first things that everyone started freaking out about was the fact that all of his other shows could hopefully happen. It's almost like a theatre company, but in a commercial theatre now. I believe in Broadway Bounty Hunter so much, and it's different than Be More Chill in so many ways, but it's still so Joe's aesthetic. But we do feel that part of the reason it can happen now is because we've finally broken through in this way. It does feel like, in raising the money for this, it's really wonderful that Be More Chill was able to pave the way for me as a producer, for Joe as a writer, for so many of our actors, and now open other doors, too.
When you're an above-the-title commercial producer on a big Broadway show, responsible for a multi-million dollar budget, do you feel like you have to present yourself in a certain way?
Totally. I mean, I always have felt, growing up in the generation that I'm in, that being myself on the internet, and in person, is an asset. I don't mean that if I hate a show, I want to post about it. No. That's not what I mean. But I mean that if I'm like, "Today was a terrible day and I fell down in a mud puddle," am I not going to post that because it's not becoming of a producer? No. I'm a real person. I think that I take the responsibility of being a producer and making the best show we can very seriously, but at the same time, I think it's important to just be a real person. If I want to cry because I'm upset about something, maybe I will cry. I don't feel the need to hide that stuff. I don't think that makes you any less of a good producer or a good leader of a team. Joe and I are always talking about how deeply we care about things, so that sometimes it seems like it's out of proportion. I remember doing shows with my friends in my living room, and my mom being like, "You're taking this very seriously." And me being like, "Well, why shouldn't we? We want to make it the best we can make it." Sometimes when a little bit of that comes out, or something that seems unlike something that someone in a pinstripe suit at a conference room table would do, I'm like, "No. We're all just real people." I have found that honestly being that, when you're leading a team, only makes other people feel like they can actually share things themselves. I don't think we all have to be buttoned up, with our hands folded at every meeting. We're all just people putting together the best show we can.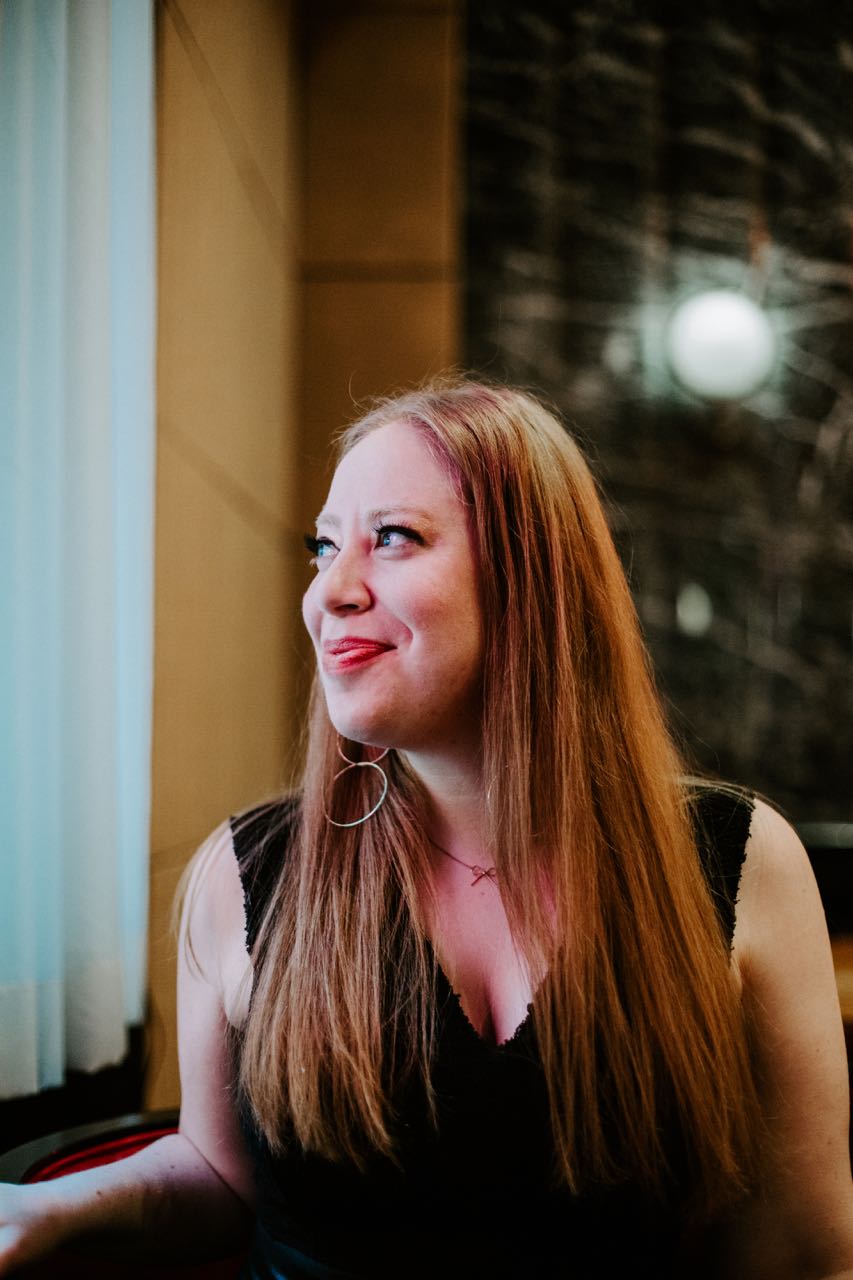 You've been working on Be More Chill for a long time now. Is there anything about the process of bringing it to Broadway that has surprised you or taught you something unexpected?
I feel like there's so much synergy in the building, between all of us. There are certain lines with people's jobs, and I think that navigating that has been an interesting process. You do function differently with your friends when you're putting on a show in a basement than you do in a Broadway theatre, but it's just kind of on a case-by-case basis. There are so many more people that are there to make the show the best show it can be. In a basement, you might be doing 20 jobs. In a Broadway theatre, there are certain jobs you do, and certain jobs you don't, and kind of figuring out where those lines are with people has been interesting. One of the biggest lessons has been something you brought up, which is, as we have been assembling our Broadway Bounty Hunter team, we're constantly having that conversation of, "How do we bring people along for the ride that we have worked with for so long and also where do we want to talk to someone new?" There's been so much of both on Be More Chill, in a positive way, and how do you continue to strike that balance? I had coffee yesterday with Annie Golden, who is our star of Broadway Bounty Hunter. She is someone who, even when I was producing Joe's shows when I was 23 and we were trying to get a spot in a basement, was always like, "You are an amazing woman producer." She never treated me like I was a certain age or a certain anything. Also, my first Broadway show I ever saw was The Full Monty, and she was in that, and so was Emily Skinner, who honestly has also been empowering me. She and Alice [Ripley] had me write their liner notes for their album. I feel like there are certain women in this industry who do raise other women up, and I want to be one of those people. It was sitting with Annie, who I've known for ten years, talking to our costume designer, who is someone new on our team, and it's that dichotomy of making that alchemy for a show, where you're continuing to empower people whom you've worked with and also bringing new people in. That has been an interesting thing that I've learned more about.
I really like that you just brought up the idea of women empowering other women in the theatre. Were there any historic or contemporary female creatives, female producers perhaps, whom you've looked up to as well?
There are definitely historic women in theatre whom I have looked up to. I am the person who dressed like Betty Comden for Halloween, so we find those pieces of inspiration. Also, I think we're living in a time when we are, very wonderfully, making significant strides forward. There are so many amazing female producers, like Stacey Mindich, and Daryl Roth, and Robyn Goodman. But at the same time, I think, sometimes, in having these conversations, we should also be thinking, "How do we hire women as associates? How do we hire women in those entry level jobs?" I think everyone has the right intention, but in racing to now make something better that has been bad for a long time, sometimes we're skipping a middle step. I think, to some degree, we have to be thinking about both things at the same time. So, I always am thinking about how we get people in the room who haven't been in the room but at all levels. Definitely that. But also, I think people forget that the producer is a creative collaborator. Because of my collaboration with Joe, sometime people will be like, "Why is this man writing this?" And they're forgetting that I'm the producer. I'm a woman. I am in the room. We've had some really interesting conversation about Bounty Hunter so far, where I'm producing it with Allison Bressi, and our director is Jennifer Werner, who's this amazing director who happens to be female, and our writers are male, and I think that creates something amazing in the room. We're all having these interesting discussions; we were doing some development and we were talking about the word nurturing as it pertains to female characters, and we were talking about using the word bitch as it pertains to female characters. I don't think those conversations need to be had only by women. I think there's something beneficial about actually having multiple perspectives in the room. I have so looked up to Liz McCann and Nel Nugent, who were producing Edward Albee for years. They had that creative relationship. There have been those partnerships. I think there's something so beneficial about that long-term creative partnership of a creative producer, who's not writing the show, but their opinion is in the room and whatever perspective they bring is part of the show, too.
In a previous interview with The Interval, you described theatre as being like a time machine. There's an interesting juxtaposition in what you do as a historian who writes about the past, and as a producer who champions the musicals of the future. How do you hope that the theatre historians in times to come will write about Be More Chill and Broadway Bounty Hunter and all the Tepper/Iconis shows?
We have made stuff that we really believe in. One hundred percent. We've remained very loyal to that, and to a lot of our creative collaborators. I think that's part of why it did take so long for a show of Joe's to reach Broadway, and for me to reach Broadway on this producing level. We wanted to do something that was our way. I hope that people will see that and, in the same way that there were people who thought the loyalty was a negative thing, people in the industry will now be like, "It is so cool how you guys stuck together and kept making stuff that you wanted to make." I do hope that it has hit a turning point in terms of how it'll be seen from a historical lens. Also, there are so many of Joe's shows that I feel so passionately about. A year ago right now, I was dramaturging [Joe Iconis'] Love in Hate Nation at Penn State University with students. The thing that I'm most excited about is for each of these shows, which are so different, to happen. This is our first time doing a Broadway show on this level, and next we're going to do this big Off-Broadway show, and we're so excited about that, and then what? It is a little bit uncharted because there definitely are these producer-writer collaborations that have happened historically, but the way that ours is in 2019 feels very unique unto itself.