Theatre Doesn't Take A Summer Vacation
July 23rd, 2018
Between Broadway seasons in New York City, the theatre world is not nearly as quiet as you might imagine. The summer months have become increasingly packed with theatre festivals, from the larger and more established, like the New York Musical Festival and FringeNYC (which has moved to October beginning this year), to the smaller, scrappier, and more niche. These festivals serve as launching pads for emerging artists to develop their work and get it seen, and create a sense of community and collaboration that you don't always get working independently. I talked to six artists participating in four such festivals about their work: Mariam Bazeed, playwright & actor in Peace Camp Org in the Fresh Fruit Festival; Daniella Caggiano, director of Surfacing in Planet Connections Theatre Festivity; Tiffani Dean, playwright of Between the Colored Lines and Other Black Girl Tales in SheNYC Arts; Laura Sisskin Fernandez, writer & performer in You Hold A Pole Every Day in Planet Connections Theatre Festivity; Stefani Kuo, playwright of delicacy of a puffin heart in Corkscrew Theatre Festival; and Anya Richkind, playwright of The End of Mermaids in Corkscrew Theatre Festival.
Mariam Bazeed, writer/actor, Peace Camp Org, Fresh Fruit Festival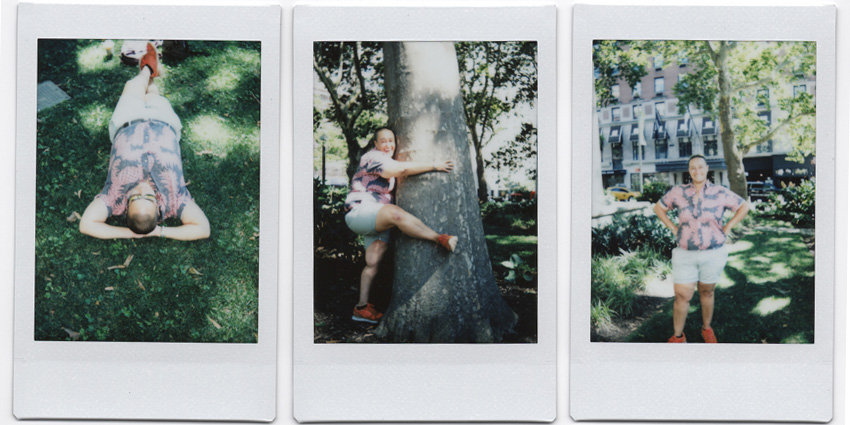 "'She'll come back to you a lesbian! In America, everyone is a lesbian!'
Mariam, an Egyptian Muslim girl with Bell's palsy and a fraught family life, snags herself a spot in a peace-building camp in the U.S. Only when she arrives does she realize that, there in far-off Maine, she has put herself right in the center of the Israeli-Palestinian conflict. Live music, puppetry, and satire underscore the sometimes bleak, often humorous experiences of turbulent youth, international strife, and queer awakening. Based on a true story. – In English and Arabic"
What was the process for finding the Fresh Fruit festival and what drew you to be a part of it?
I began doing performance art fairly recently when, in 2016, I applied and got accepted into the NEEDING IT fellowship for queer folx with little history/experience in performance, run by Dan Fishback the Helix Performance Network. Since then, I've applied to several queer performance opportunities and knew about the Fresh Fruit Festival from having seen Wazina Zondon's Coming Out Muslim there some years ago. I even ended up doing the call to prayer for that same play the next time it was produced at The Wild Project. Anyway, I applied to Fresh Fruit with my play Peace Camp Org, and my production partner in YallaSwitch! Productions, Ella Boureau, applied with her play, Helps to Hate You a Little: A Lovestory. We were thrilled when both plays were accepted, and we co-produced them together for the festival. In addition to that, Ella directed Peace Camp Org and I performed in it.
You wrote and performed in Peace Camp Org, and you are producing another show in the festival. What has it been like not only juggling multiple disciplines but also making two shows happen in the same festival at once?
Hectic. Also I feel like probably all our friends and supporters must hate YallaSwitch! from our sending so many emails variously worded to say the very same thing over and over and over again: "GIVE US MONEY TO MAKE THESE PLAYS. WE KNOW YOUR EMAIL AND KNOW YOU SAW THIS, SO THE NEXT TIME YOU SEE US AT DINNER IT'S GOING TO BE AWKWARD IF YOU DON'T GIVE US MONEY NOW." I can't say I've enjoyed that part. I'd give that up to literally anybody else, any day. The other bits have been exhilarating—not just learning how to fully produce two plays back to back, but getting to be in Peace Camp Org with a truly incredible cast and house band and crew, and under the direction of Ella Boureau, made the play so much more than the play I wrote. It was thrilling to see it expand like that in such a small space of time and with such few resources at our disposal, but that's what you get I think when you have a great team: something much bigger than the sum of its parts.
What was your inspiration for the play?
There was a time period in my life when the politics of normalization, disability, fat, homophobia, and misogyny coincided to tell a perfect story of the altered, invisibiling narratives enforced by the family, by the state, and by the marketing departments of the nonprofit industrial complex. It was interesting to write a play that could be autobiographical, musical, farcical, difficult, and funny, and that could simultaneously take on such explicitly political subjects such as neocolonial Zionist hasbara, and sexuality and gender within systems of patriarchy. I mean, why not write that play?
What do you hope is next for this piece?
The play is set to be published in an anthology in December 2018 by Oberon Books in the UK. I'm in talks to partner on a graphic novel version. And for its life as a play, I'd love to see Peace Camp Org performed in high schools and on college campuses, wherever it would be welcome! I'd love to partner with Palestinian, queer, and anti-occupation solidarity groups to bring the play to students wherever there's a stage or a floor to present it on. My big, big dream is to have it someday performed in Palestine.
Do you have any other projects coming up?
Yes! A webseries, "The Shaheens of Brooklyn," written by me and Ella Boureau. The web series you didn't know you were waiting for, "The Shaheens" follows the travails of three Egyptian-American sisters—a religious conservative, a new-age Park Slope mom, and a dyke misanthrope, respectively—as they figure out how to survive America and one another.
Daniella Caggiano, director, Surfacing, Planet Connections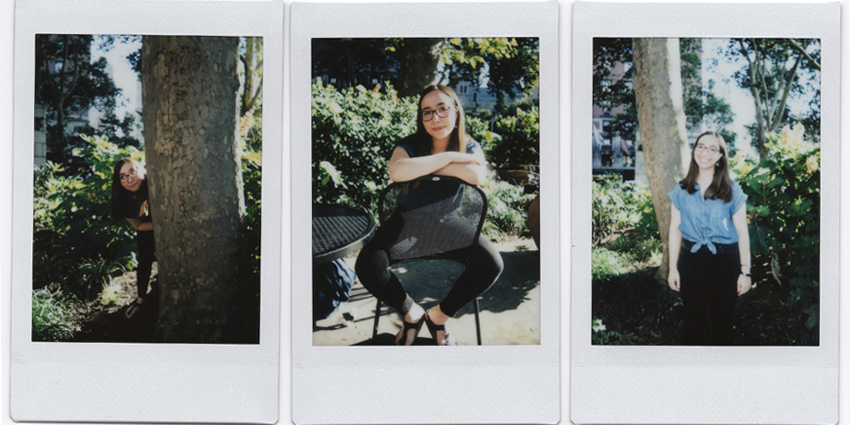 "Chelsea has no idea how to take care of her older sister Marissa after her failed suicide attempt, until they each discover the horrors of Tinder. 'Surfacing' is a funny and gut wrenching story about family, sex, life, death and starting over in 2018."
We last spoke to you nearly two years ago as part of our Women to Watch piece. Do you feel like anything has changed for you in that time?
I finished my MFA! After three years in school, it has been a big change to be released into the wild of the NYC theatre scene and get back into the freelancing mindset. I've been lucky to work on a bunch of exciting projects since graduating and meet new collaborators, reunite with old ones, and have time to pursue more of the type of work I want to put out into the world. In my directing, I am all about challenging traditional power structures and undermining systems of oppression. Our political climate has changed significantly in the past two years and the current state of our country has only reinforced my artistic mission and given me a renewed sense of purpose both personally and professionally. It also inspired me to propose to my longtime girlfriend—that's another change since we last spoke! As a queer person in America in 2018, just living your life unapologetically is a radical act.
How does directing a show in a festival format differ from a regular production?
In a festival format, everything about the production process is condensed into its scrappiest, most essential form. There are no frills—no fancy light plots, no elaborate set, no chance to see the space before opening, etc. You'll find yourself giving notes on the sidewalk to actors doing their makeup in 90 degree heat while you all wait to run in and set up your show in a record five minutes. I find there's something exhilarating about this time crunch. There's no time to second-guess yourself, and I think of these restrictions as unique creative challenges rather than limitations. Without any bells and whistles, the actor-audience relationship is emphasized. Directing in a festival reminds me that I love theatre precisely because it is sweaty and imperfect and human, not in spite of these qualities.
Planet Connections asks each production to benefit a charity, and the Surfacing team chose the Jed Foundation. Can you speak a little bit about why you chose that organization?
I've always been passionate about destigmatizing conversations around mental health—it's one of the ongoing themes in my work as a director. Earlier this year I had the privilege of directing a staged reading of Next To Normal to benefit The Jed Foundation, starring Christiane Noll and Darius de Haas. JED's mission to protect emotional health and prevent suicide for our nation's teens and young adults resonated with all of us, and we had an incredibly positive experience partnering with them. It was so meaningful for me to direct this piece for a cause I care about with both Tom Kitt (composer of Next to Normal) and Adee Shepen, Chief Development Officer of JED, in attendance. Surfacing deals very candidly with depression and suicide, so when it came time to choose a charity, JED was a natural fit. This emphasis on community engagement has been my favorite aspect of Planet Connections so far, and I'm glad for the opportunity to continue my relationship with JED and further support the important work they do.
What do you hope audiences take away from the show?
Surfacing centers around Marissa, a young woman starting over after a suicide attempt, and all the heart-rending weirdness that comes with that. I think Mike [Poblete, playwright] does a fantastic job of approaching this topic honestly and without turning it into an after school special. I hope that because of this disarming honesty, the play will open up more conversations around mental health and encourage people to seek help if they need it. Marissa's sister tells her, "You're not okay and that's okay." I think that sums up what I'd like people to take away from Surfacing—that it's okay to not be okay, it's okay to ask for help, and that owning your vulnerability is a powerful kind of strength rather than a sign of weakness.
Do you have any other projects coming up?
This is my last of several back-to-back productions this year, so I'm looking forward to spending the rest of 2018 assisting and developing some projects that are in earlier stages. I'm about to begin my First Stage Residency with The Drama League, where I'll be developing a brand new musical by Cayenne Douglass called Brewsters. In October I'll be the Associate Director on the encore run of School Girls, or The African Mean Girls Play at MCC, directed by Rebecca Taichman, who I can't wait to work with! I'm also currently workshopping a devised vaudeville piece about Valerie Solanas called SCUM, and a new play about an anti-oppression discussion group for white cis men called Allies.
Tiffani Dean, writer, Between the Colored Lines and Other Black Girl Tales, SheNYC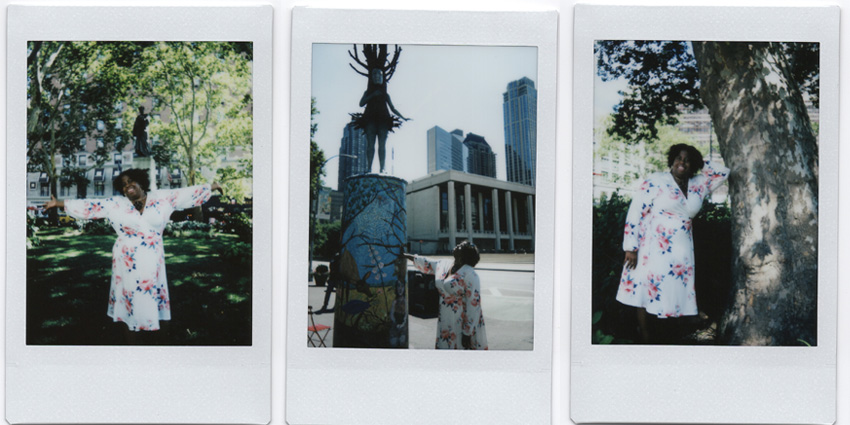 "Richard and Gina are a 40-something couple at a turning point in their marriage. They've worked hard to make a good life for themselves and their children and find that they've made less time for each other. Gina makes a bet with Richard that she knows he will not win, and as a result Richard is forced to spend time watching television with his wife once a week instead of football. This interactive play chronicles their journey while watching television together and rekindling their relationship."
This piece is described as, "A new poetic interactive stage play about relationships." What does a poetic interactive stage play mean to you and what was your inspiration?
To me, a poetic interactive stage play is when you encourage your audience to experience all of the events, emotions, and feelings along with the actors as if they were on the stage themselves. I like to think of the process as taking the audience on an emotional rollercoaster. Through a combination of poetry, music, and dance, I want them to feel the full arrangement of emotions. I want them to laugh, cry, get angry, and feel warm and fuzzy all over. When they leave the theatre, I want them to be satisfied as if they just got off a thrill ride, and hopefully want to experience it all again.
As a poet, how has your writing process differed as you developed a full-length play?
As a writer, everyone may have a different style of writing. I still employed the same structure to organize and build my story and scenes the same way I would have if the poetry wasn't there. The only difference was that some of the poetry was already written and I needed to build dialogue around it to create the scenes. But, on the other hand, some of the poetry was written during the process of writing the scene itself. Those were probably my favorite scenes in the play. They felt more organic to me. It almost felt like words blossoming into a flower on the page right in front of my eyes. Poetry is such a natural extension of me; I don't even notice when I turn it off and on. I think most of my writing ends up sounding poetic whether I want it to or not.
How did you find the SheNYC festival and what drew you to be a part of it?
A good friend of mine, Allen Clark of Run Boy Run Productions, sent me the information for SheNYC. We often share opportunities with each other when we come across them if we think they would be a good fit. It sounded like an amazing opportunity to possibly showcase Between The Colored Lines and Other Black Girl Tales beyond Philadelphia [where I'm based]. I actually didn't find out about the festival until a couple of days before the deadline and the play wasn't quite finished. I literally wrote the last word the night before the deadline and my partner sent it off the next day. We hadn't done any table reads or edits before it was sent, so I was extremely honored that it was chosen for the festival. I believe women are so under-represented in theatre and this festival sounded like just the kind of thing we need as women writers.
What do you hope is next for this piece?
One of the great things about SheNYC was the feedback that was given and the end of the festival. I got a lot of great feedback and plan on doing edits to the play based on that, and my production company, The Collective Mic Productions, plan to debut Between the Colored Lines and Other Black Girl Tales in Philly in the fall. My plan is to continue submitting it to other theatre festivals and ultimately take it on tour.
Do you have any other projects coming up?
I have the pleasure of being the assistant director for my business partner, Jody Austin's play, My Sister's Keeper, which is scheduled to be a part of the Scranton Fringe Festival in September. I also had the honor of being a co-contributor to this piece as well. I have another short play called the The Dancer that will be a part of The Bridge PHL Theatre Festival in Philly in November. As far as new writing projects go, I am in the process of writing my first musical, which for now I'm calling Four. It is a tribute to Nina Simone inspired by her song "Four Women." I'm always looking for new opportunities, and the eight lane highway in my head is always moving with ideas. The possibilities and opportunities are endless. I love it and wouldn't have it any other way.
Laura Sisskin Fernandez, writer/performer, You Hold A Pole Every Day, Planet Connections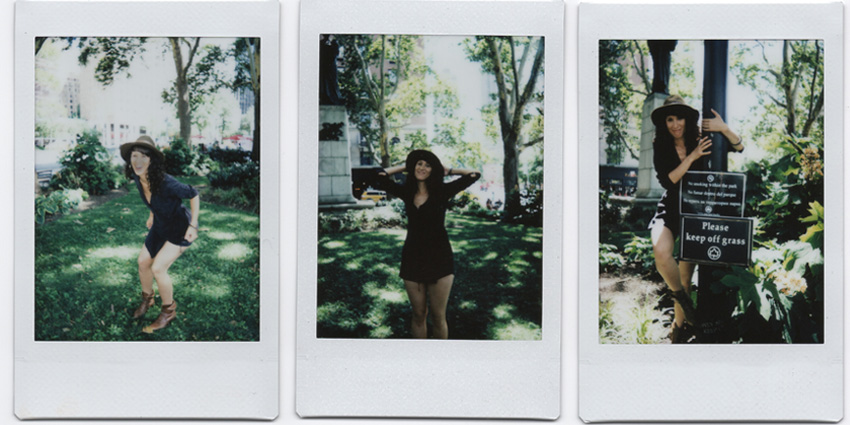 "Actor/singer Laura Sisskin offers a darkly comic musical performance about an unsettling sexual encounter leading to a pole dancing class and revelations about embarrassing childhood memories."
What was your inspiration for this piece?
The inspiration for this piece came from a few places. I took a solo performance writing workshop with the intention of creating a piece that explored my relationship to my mother and grandmother and Spanish culture. But the first question we were asked in class was, "What's your biggest fear?" I put down dancing in the middle of a dance circle, which I thought was silly, but at the same really visceral and entertainingly specific. The next question was, "How can you elevate that fear?" I put down pole dancing. The idea of writing a piece that explores my relationship to my body really interested me because of how uncomfortable it felt. This workshop took place about 4 years ago, so I feel the need to say my fears are a bit different now with the state of things in this country, but for the purpose of telling this specific story, I stuck with the former. Never having written before, there was a lot of self-doubt, so this piece was on and off the shelf for quite a while. But I entered an intimate relationship, where I learned a lot of things the hard way and I questioned how women are raised and how certain qualities aren't really in our own best interest but rather tend to be self-compromising. About a year after the relationship ended, I was approached by someone I knew who taught pole dancing. She said that I could take an intro class at her studio for free. I still had a lot of judgments about pole dancing at the time, but I had a feeling that there was an important lesson to be learned because of the resistance I was experiencing. So I looked at it as an opportunity to connect to my body in a way I don't typically allow myself and was curious to see what I might discover through it. This solo show embodies that journey and those discoveries. The #MeToo movement also influenced this piece, in that I felt empowered to write characters with clear perspectives. They own their experiences. They have their own opinions. They make their voices heard. I have a tendency to want to make everyone around me comfortable, which requires diminishing my own experience. So to write this piece I often asked myself what I would say if I didn't care about being nice.
How does your songwriting work influence your theatre work, and vice versa?
Growing up, my favorite thing to do was daydream to music. I don't really sit and write a song, going through revisions. It's more that I sit with an experience, memory, or fantasy, and if it's visceral enough, a melody and words will kind of just sync up. It's a matter of listening and transcribing. I use songwriting as an opportunity to meditate on and articulate unresolved, intense emotions in a simple and direct way. That sort of contemplation was used to write this show, and the songs that exist in this piece act as reinforcements throughout my journey. In theatre, when building a character, we learn to look at given circumstances, essentially Stanislavski's Method of understanding the who, what, where, when, why, and how. When I write a song, all of these questions are fleshed out in my imagination, and there is a very clear perspective.
How did you find the Planet Connections Theatre Festivity and what drew you to be a part of it?
I participated as an actor in Planet Connections Theater Festivity's second year. It was my first acting opportunity when I moved to the city. A couple of years later, I directed my first play in the city through the festival. I think Glory Kadigan [Founder] has set up an amazing way of building community and genuine support through this festival that also encourages artists to see themselves as activists with the power to create change through their work. So when Shaun Peknic, this year's producing director, reached out to me because of my previous participation and their mission to include more female voices, I thought, of course my first theatrical work as a writer will be through Planet Connections! I feel completely supported, and I think that's so important when trying new things, especially something this vulnerable.
Planet Connections asks each production to benefit a charity, and you chose Girls, Inc. Can you speak a little bit about why you chose that organization?
I chose Girls Inc. because my piece delves into childhood memories and the ways they inform how the present is experienced. I liked the idea of supporting a space that cultivates honest communication, emotional intelligence, and self-esteem building risk-taking among young women, because it focuses on building a strong foundation, which I think is what will create the most change towards living in a world full of empowered women in more leadership positions.
Do you have any other projects coming up?
As a musician, I'm releasing a single every couple of months under the name Oh, Elis. I just released my first one of four on opening night of You Hold a Pole Every Day. It's called "Butterflies" and is presented in the show. My next single will come with a music video, so I'm currently preparing for that. I'm also planning to create another theatre piece with the choreographer of my solo show, Laura Murphy, continuing to explore women's issues, but this time in relationship to cults. I think in this country, now more than ever, people are really looking for a sense of hope and for answers to really difficult questions, and there's a lot to unpack there.
Stefani Kuo, writer, delicacy of a puffin heart, Corkscrew Theatre Festival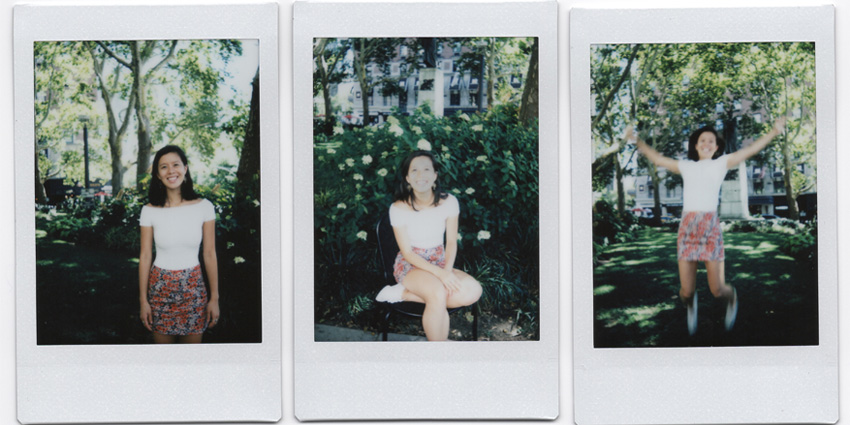 "In a small San Francisco apartment in the 1990s, Meryl and Ana Sofia, a lesbian couple, attempt to conceive a child through in-vitro fertilization while managing Meryl's bipolar disorder II. Two decades later, in the same apartment, their daughter Robyn and her roommate Hadley are forced to navigate their friendship through Robyn's cancer treatment. As they struggle to take control of their lives, all four come to experience the unique weight and loss of female friendship. A wrenching, tender portrait of characters who are complicated the way real women are, 'delicacy of a puffin heart' considers what it means to love someone honestly even when they are incapable of telling the truth."
What was your inspiration for this play?
A work that deeply resonates with me is the novel Sula by Toni Morrison, and an interview I saw where she talks beautifully about why the theme of female friendship is so prominent in it. It's because we, as women, are rarely allowed to grieve over our loss of friendship. We aren't given the constructs to do so, there's no ice cream in bed, no wallowing about old memories, no letter writing or picture burning. No one has ever said, let me heal your broken heart, because losing a friend means you don't have the friend who would have helped you get over it. My work comes from a need to tell stories I grew up surrounded by that I have not seen on the American stage. This play is a story of five women I know, not as specific individuals in my life, but from all the women I have met, loved, and surrounded myself with. I grew up in Hong Kong in a family of primarily women—women who raised children on their own, crossed oceans on their own, women who have been navigating mental health, sexuality, religion, love, and loss on their own. And during my time at home, I went to an all-girls Chinese school in Hong Kong for eight years with two younger sisters, so I have surrounded myself in a world of complex and wonderful women. I came to the States to attend boarding school when I was fourteen, and since then, I've learned to maintain relationships over distance and changes of cultures. But no one ever talks about the complexities of friendship. Every woman I know has suffered from the loss of a deep, deep friendship, and oftentimes that can cut deeper than the loss of romantic or sexual relationships. It is difficult to struggle when there are no constructs to support you or help you heal.
How did you find Corkscrew Theatre Festival and what drew you to be a part of it?
I first heard about Corkscrew Theatre Festival through a play submission website. But it was only when Theo Maltz, the director of delicacy of a puffin heart, reached out to me about submitting the play that we, along with Catherine Woodard, our producer, really sat down to look at the festival guidelines. We were really excited to submit the play because we had been working on it for almost half a year at that point and were itching for an opportunity to put it up, to bring other artist into the room to create the world, and to explore the play on its feet. One of the best parts about Corkscrew, for us, was that it's a theatre festival that supports work by artists you don't know but you should know! The festival supports emerging artists by providing space, marketing, and artistic support, and leaves fundraising, casting, and the artistic process itself to us. Since being accepted as part of the festival, it's been a wonderful few months of casting, fundraising, writing, working, and discovering the world of the play outside of my own head, and Corkscrew has been more than supportive in our process thus far.
This play tackles a lot of big topics, from LGBTQ+ issues to mental illness to female friendship. What was your writing process like for addressing so many huge subjects?
I've been told many, many times in my life as a writer and actor that certain stories are "too much" or "should be two plays," or that a play can't handle more than one big, political issue. But the idea of "subject matter" was a huge part of the problem. These are not subject matters, these are real lives. I am a woman, among many other women, who go through life experiencing a multiplicity of issues, struggles, difficulties, and obstacles. Mental illness, sexuality, and friendship in this play do not stand alone or separate from one another. They are struggles and experiences that exist simultaneously in singular bodies and individuals. The idea of tackling or addressing issues implies that the experiences that define us as women or minorities are problematic or not universal. My process of writing delicacy of a puffin heart was, in large part, dependent upon trusting the audience to understand the reality of women's lives, and was the product and gift of being able to develop the play in a room full of women. I began working on the play a year ago at the Williamstown Theatre Festival 2017, with Theo and several actors at the festival. We did a public reading at the end of the summer. Since then, we have done two public staged readings—one at Williamstown, and one this past May in New York, with Corkscrew. We have collaborated together over the past year to do private workshops with some wonderful actors and artists, and are so incredibly thrilled to be able to bring this production to life on the stage. As we continue to work towards the production, my writing process continues to grow through my own discoveries and ones made through discussions in the rehearsal room.
What do you hope audiences take away from the play? 
This is a tricky question that I never know how to answer—just like I never know what to say when people ask, "So what does the title of your play mean?" I think it heavily depends on who you are in the audience. As a woman of color, I often wonder if I make my art for people like me or for people dissimilar to me to widen their perspectives. On a broader scale, I hope every single audience member sees the women in this play for who they are, not for what their "issues" are perceived to be. I hope it will allow people to look into their own lives and the friendships and relationships in their lives that they have lost, grieved, or that they have not taken the time to grieve or value properly. I want everyone to leave the theatre wanting to call the mothers in their lives. And I want men, particularly white men sitting at the big tables, to come see this play and see the importance of the stories I want to tell. Because this play is not "niche" or "different"; I firmly believe it is universal and I want the audience to leave thinking, "Why have I not seen this before?"
Do you have any other projects coming up?
Yes! In August, I will be writing for The 24 Hour Plays: Nationals, and will be performing at HERE Arts Centre in a production of Period Sisters by Ali Viterbi. I will also be playing Helena in a production of A Midsummer Night's Dream this winter at Park Square Theatre in Minneapolis, and I am working on a short documentary film of my own, set and filmed in Taiwan, where my mother is from.
Anya Richkind, writer, The End of Mermaids, Corkscrew Theatre Festival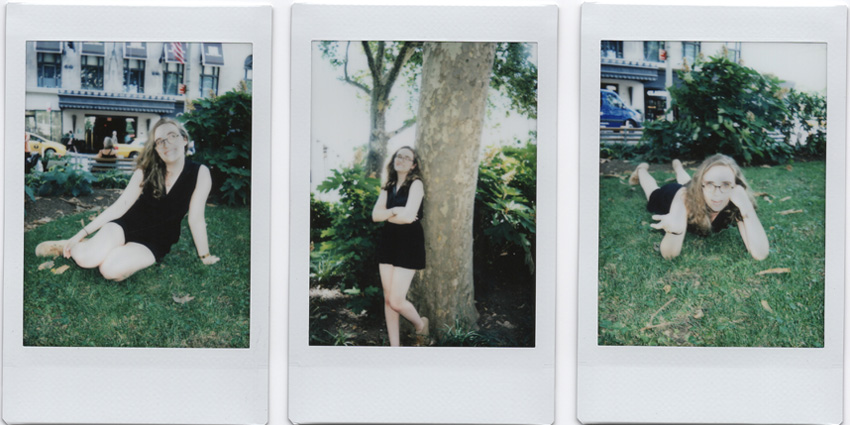 "WELCOME TO MERMAIDLAND, FLORIDA… the only place on earth where mermaids are real! Join us for our afternoon special starring Mermaid Bee, Mermaid Vana, and our newest princess of the deep, Mermaid Marie. Reawaken your childhood fantasies. Revel in the death-defying underwater dances. Soak in the impossible beauty. And please disregard the alligators. There is nothing to worry about."
What was your inspiration for this play?
I was obsessed with this theme park in Florida called Weeki Wachee, where women perform underwater as mermaids. For better or for worse, a mentor told me to follow my obsessions, because when you're obsessed with something there's usually something there. So I dove deeper into the mermaid world, learning about all kinds of mermaid attractions around the country. Right around then, I also heard about this time Gloria Steinem worked as an undercover Playboy bunny for a few weeks (she thought they would discover her real identity, but they didn't, and she ended up quitting because the work was so physically taxing). This play really grew out of an amalgamation of those ideas, and letting my mind wander to what life would look like at a slightly campier version of these real places, that was also under siege by silent, looming alligators hungry for women's flesh.
How did you find Corkscrew Theatre Festival and what drew you to be a part of it?
I'm always on the lookout for submission opportunities, scouring various forums, Facebook groups and panlists. I liked the sound of Corkscrew for a few reasons—firstly, because it is intimate, and secondly, because it prioritizes collaboration and development. They keep the scope small so that more attention can be paid to the teams, which felt very communal and warm to me. Our team accepted Corkscrew's offer while the play was very still evolving—which is terrifying! That said, we did that largely because Corkscrew emphasized that the whole idea is to devote concerted time and energy to evolving a new piece. Production is development.
What do you hope is next for this piece?
I would love to see this piece in a bigger space with a huge budget (I mean hey, dream big). I didn't really realize when I was writing it, but the play is very design-heavy—there are underwater dances, carnivorous alligators, roasted alligators, a little beach where the shore meets the spring… It would be so cool to let the designers just go HAM on making this world come to life. For this run, we relied on ingenuity to make the show happen on a relatively small budget, so I can't even imagine the joy of bringing this piece to life on a larger scale. Including smell. At the beginning of the show, the theatre is supposed to smell like bubblegum and swamp. I dream of hiring a Smell Designer.
How does participating in a theatre festival differ from doing a regular production?
It feels really nice to have the support of a festival. I think Corkscrew curated a really cool season overall and I love thinking that we are just one piece of this much larger project. It kind of feels like theatre squared, because you get the community of your particular production and the community of the festival at large. Our team has felt so supported, which just makes the whole thing feel more possible!
Do you have any other projects coming up?
Yes! My play tender of you too, directed by Jenna Rossman, is running at The Tank July 24 – 29, produced by Hysteria Theatre. tender is about two girls in high school, Allegra and Tara, who meet when they are cast in their school play as Frances Willard and Mary Bannister, two leaders of the Women's Christian Temperance Movement who shared… a… very close… friendship… Through rehearsals, sleepovers and communion with ouija boards, Allegra and Tara discover just how similar—and dissimilar—they are to Frances and Mary. (Also, if you see both of these plays, there is one character in tender—never seen, only idolized and evaluated from afar—who grows up to be a character in The End of Mermaids.) [Note: I am the producer of tender of you too.]