An Interview with Betsy Wolfe on the Way to Carnegie Hall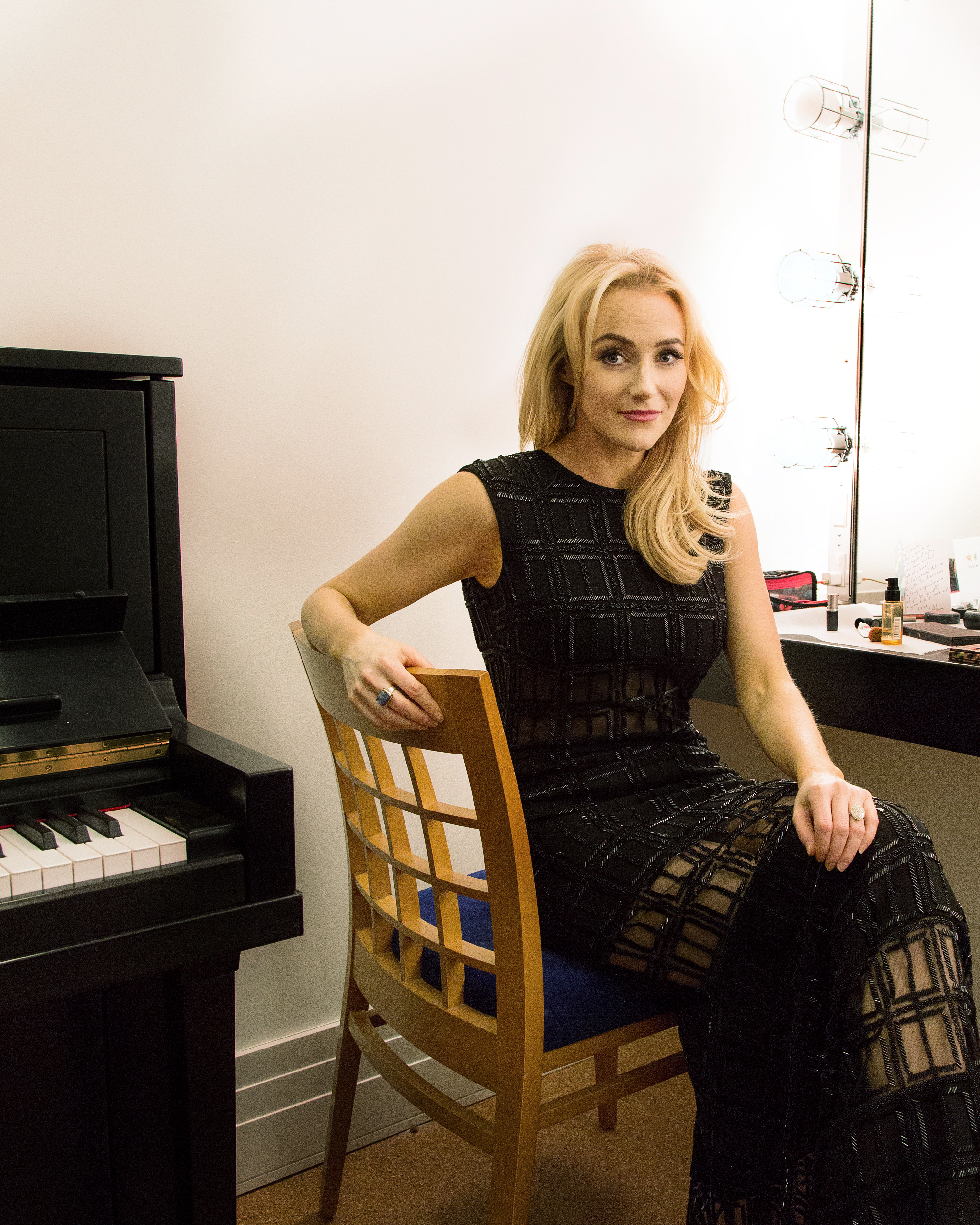 Written by Victoria Myers
Photography by Emma Pratte
April 4th, 2016

There is a woman who is a retired accountant who has been attending concerts at Carnegie Hall for over twenty-five years. She has a subscription. She always sits in the same seat towards the front of the left orchestra. From time to time the subscription department will offer her a new seat, but she likes this one, thank you very much, because she has gotten to know all of the other subscribers who sit around her. Tonight she is at Carnegie Hall to see the New York Pops perform Broadway Today with guest artists Betsy Wolfe and Darren Criss. She's excited for tonight's concert and to be, once again, seated in the gilded parquet of Carnegie Hall.
"Are you excited?" she asks the young woman next to her.
The young woman next to her just happens to be The Interval's photographer, Emma. Emma has never seen a concert at Carnegie Hall before. She is very excited.
Soon the entire concert hall will be filled with the sounds of a full orchestra playing a selection of contemporary Broadway songs while one of the brightest talents of our rising generation of Broadway performers gives a stirring rendition of "Meadowlark," a panorama of emotion on "A Summer in Ohio," and show-stopping "Maybe This Time" (among others). It will be one of those times in New York where the showmanship and craft of musical theatre, and the artifice of gilded age buildings in an age no longer gilded, will create something that might not be entirely real, but is palpably true.
But right now, Betsy Wolfe is backstage covering her rhinestone-encrusted heels with black masking tape.

Betsy Wolfe is standing in the coat check at the John Barrett Salon because, she tells me, it has one of the best views of the city. Situated on the eighth floor of Bergdorf Goodman, the windows of the salon (particularly and irreverently the window in the coat check) look out onto Central Park and the uppers east and west, presenting a view of New York that has equally been made in the imagination as it has been by real estate and city planning. Here there's a feeling of being in a pre-In Cold Blood Truman Capote novella.
Betsy has just gotten her hair and eyebrows done and is saying goodbye to everyone. She's been coming to John Barrett's salon since Sherie Rene Scott introduced her them during Everyday Rapture (co-written and starring Sherie and co-starring Betsy.) John, the story goes, took one look at Betsy and Lindsay Mendez, who together made up Everyday Rapture's Mennonettes, and declared their days of do-it-yourself coiffuring over. She's been coming to the salon ever since as her career continues to grow, from her role in the Roundabout's revival of The Mystery of Edwin Drood to playing Cathy in the Second Stage production of The Last Five Years to co-starring in the Susan Stroman/Woody Allen collaboration of the Broadway adaptation of Bullets Over Broadway.
And that brings us to today: getting ready for Carnegie Hall and giving Betsy plenty of opportunities to put a cosmetology spin on an old adage, "The real way to get to Carnegie Hall? Good brows." Which is the exact thing one might say when they've gamely decided to start an interview with their eyebrows covered in dye, which is exactly how this interview began. But Betsy smiles and laughs and seems unfazed. She looks at herself in the mirror straight on, without the ubiquitous head tilt that seems to develop for women around age twelve and can take years to get a hold on. John, who is not just a name on the salon door but a real and jocular person, wanders over to say hello ("He doesn't shake hands," says Betsy) and quips, "Is she bragging about her open mic she's doing on Friday?" "See? You have to keep people in your life like that," she says in a manner that proves that close relationships with your hairdresser can exist outside of the pages of an article on Jennifer Aniston. It is decidedly affable and without self-consciousness.
Between eyebrow dying and looking out at the view, we talked about getting ready and putting together a Carnegie Hall concert.
Since we are starting here, what goes into this aspect of getting ready for a concert?
Well, let me tell you honestly, it's not usually coming to Bergdorf's to get prepared. Luckily I have a friend here, and I've been very fortunate to have help in that department. It used to be very much a one-woman show, finding everything and doing everything myself. And I'm very proud of those days, but I'm very grateful that I have help to have a fuller brow.
It's a lot of thought and effort.
I think it's a blessing and a curse of being a woman. Like Darren Criss has one suit he's wearing the whole night. For me, I take pride in being able to embrace the feminine touches I can add to the concert, but at the same time it's a lot more work. It's a lot of smoke and mirrors.
How much say do you have over the songs you'll be performing in the concert?
This is the first concert that I've had 100% say in. It's pretty exciting. Steven [Reineke, Music Director of the New York Pops] and I have been working together for years on putting together concerts, and most often they're existing charts that exist in the catalogue and/or themes that have come long before I'm considered part of the symphony show. This one, Steven approached me years ago and said, "I want to do Carnegie Hall and the Kennedy Center and do a program that's 100% Betsy Wolfe and what you want to do." So it was absolutely thrilling. We spent about eight months coming up with material that we thought would be great for the New York Pops and a lot of pieces that have never been done for a symphony. So much of what's written for Broadway is written for a much smaller orchestra, so to hear songs that I've been singing in Broadway shows or Off-Broadway shows orchestrated for a full symphony changes the song in a way. It's been really thrilling for me personally. Something that goes along with so many of the songs is that they're part of who I am and part of my journey, and have come into my life at certain times. At the end of the day I think I've chosen songs that really make me smile and really make me happy when performing.
I imagine this might be different for shows you've been in vs. shows you haven't, but when doing a song for a concert, do you think about, "Okay, it's from this show at X moment for Y character," or do you try to forget that and just look at the lyric and what's in front of you?
I think if it's written really well and the material we're doing is superb material, the songs can stand alone. Sure we'll explain a little about "Summer in Ohio" [from The Last Five Years] and what's happening, but I think with this material if you just say the words, the story will be known. For instance, "Meadowlark" is one of my all time favorite songs and I'm doing that at Carnegie on Friday, and it's really a stand-alone song. After the Kennedy Center, the majority of people's comments were about how they had never heard that song before, but after listening and hearing that story they felt something, which, to me, is like the highest compliment they could give—that they could hear something for the first time, or hear something differently, and identify with it.
You did this concert at the Kennedy Center too. Do you change much between shows?
There are some things that just, personally, I want to connect more with, but they all have to do with moments where I was worried with something externally. So it's more just notes for me—what I want do better and feel better about. I think, for me, there's a checklist of things that I want to do that probably wouldn't mean much to anybody else, but personally I want to walk away knowing that I was able to successfully do those things. Kind of my own mountains and battles that I fight with in myself. I want to be able to say I conquered that or I made that work.
When you first get introduced to a song, do you respond more to the lyrics or music?
I actually don't know if I can compartmentalize the two. One of my favorite songwriters of all time is Billy Joel and I don't know what impresses me more—his musicality and where the songs go, or the lyrics to most of his songs. I'd say when you have someone who can do them both brilliantly, the song resonates with you. Typically they go hand in hand for me. There's nothing like a beautiful melody line, but if there's no substance in the lyrics it becomes just like a pretty instrumental. I think that's one of the things that's so brilliant about much of Jason Robert Brown's music is the instrumental breaks in his songs are subtext—it's like the instruments have their own voice and they're responding and saying something back.
I saw there were a few of his songs on the set list.
It's the first time "Summer in Ohio" has ever been orchestrated. The first time I heard it was at the Kennedy Center on stage [at rehearsal] and, for me, it took it from being this smaller piece where Cathy is in her dressing room and is talking about how crappy her summer stock experience is, and all of a sudden, with this huge sound, it became like this performance piece for Cathy, and if she could have this dream ultimate show, this is what it would sound like in her head. It was so much fun to think of it in a new light because it was like, "Oh, this is what Cathy dreams it should be like if she had it her way."
When I've talked to actresses who have done revivals, something that comes up a lot is all of the chatter and expectations about how a part should be done. When you're doing a concert like this, where it's a lot of contemporary songs and a lot of people in the audience who may have seen the shows fairly recently, does that add a whole other layer? Especially since it's a concert and the songs are out of context.
I spent a year doing revivals: Merrily We Roll Along [as part of Encores!], The Mystery of Edwin Drood, and The Last Five Years. What's funny is I grew up listening to the original cast recordings of all of those shows, so I don't know if anyone could put more pressure on me than I can to try and live up to what that person brought to the role and why it was so successful and why they were there. Ultimately though, I know that I'm me and they're them, and I could say something very clever, but ultimately it comes down to that I know I'm there to do it for a reason. There's something innately me that lends me to being the voice of this person to this new generation, and I want to honor what they've done but also find a way to make it accessible to myself. It was no surprise to me that Sherie [the original Cathy in The Last Five Years] and I met years ago and I ended up playing Cathy. There are so many similarities there and yet there are so many differences. I think the biggest compliment is that people say, "I never thought I could see anyone else do it, but you changed my mind." That's a huge compliment to me. I'm excited—Sherie will be there Friday night, so that's pretty fun for me to get to sing this song and honor her in a way. Honor the greats that have come before me and paved such a path for me. Things are revived for a reason. We all want second chances in life, second chances at relationships, second chances at work events. I think that's why I love revivals. How can we take what we've learned and improve upon it? And you're never going to please everyone, and I'm okay with that.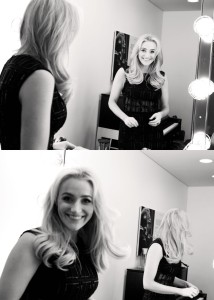 If you exit Bergdorf's out of the 57th Street doors, it is a straight shot to Carnegie Hall. Between the two points you'll pass the site of the old Rizzoli Bookstore currently being torn down, a Duane Reade, and the Russian Tea Room. It is a nice day, unseasonably warm—New York, for the moment, still has seasons—and we're walking to a nearby coffee shop. As we get closer to Carnegie Hall, Betsy mentions that as she's gotten older she's been trying to make more of an effort to stop and take things in. When she was in college she got to be in a concert with Patti LuPone, and asked for some advice. She was told that when she got on stage, before she started to sing, she should take a moment to look out. "You never know when you'll be back," Betsy says. With Carnegie Hall looming in front of her in every way possible, we cross the street and she goes and looks for the concert poster. It's on the 7th Avenue side of the building, displaying her headshot along with photos of Darren Criss and Steven Reineke, and in big red letters, "The New York Pops." Underneath, a piece of paper with the time of the concert has been taped on, previously having been left off the poster. There's an early episode of Sex and the City where Carrie and her friends wait on a corner with champagne for a bus with her poster on it to go by. I don't remember what else happens in that episode, but the longer I've lived in New York, the more dissonance that moment has. I take Betsy's photo with the poster and we cross back over to the other side of the street and get some coffee.
Do you see any themes in your work?
The first thing that came into my head was that, more often than not, I'm playing the girlfriend or wife of a far more successful male counterpart who eventually leaves her, which couldn't be more further from the truth in my real life. And she's usually from the Midwest. I play a lot of vulnerable characters. What attracts me to these characters is that there's a distinct journey that they go on. In my real life, I always want to learn something by the end of the day. I want to learn something by the end of a project. I don't want to be the same person as I was when I started it. To me, that's the most thrilling thing about approaching characters. I think there's always a part of yourself [in every character], but if something scares me or if I don't know who that person is at all, I'm going to want to be a part of that. I like to think that a lot of the roles I've done have a lot of self-discovery, and at the end a renewed faith in themselves. That looks different for each role, but I take the most satisfaction in that.
When you come into rehearsal, are you one of those people who comes in with a lot prepared or do you like to wait and see?
I think that if you had asked me that question ten years ago, I would have said more prepared, but the substance wouldn't have been there so much. I think I can do my own research and the basic things that one would do to not make a fool of themselves at the first table read, but as I've gotten more comfortable with my own talents and my own ability to connect with the material and connect with people, I try to come in with as much as a blank slate as I can, and hope the other actors do the same. What good is it if we're each in our individual rooms at home coming up with what we're going to do? It sucks the life out of the creative process for me. I always look forward to being in rooms with people who are going to throw things at me that I wouldn't expect. That's one of the most thrilling things that can happen.
Since you mentioned confidence, one of the things that's always interesting to me with actresses is what it's like to be in an industry that spends so much time telling you who you are and what you're good at.
You're sadly a product. You're an object, in a sense.
How does that affect your sense of self?
I am still very much figuring out who I am. I know that I look, on the surface, very different than I did ten or twelve years ago. I was also a lot more interested in what people thought of me ten or twelve years ago, and interested in approval, and identified mainly by what other people would say about me. I think I've always had a good gut instinct and I'm very proud to say—I don't want to say conquered—I have realized about myself that it was a weakness in myself, caring too much about what other people thought of me. I was significantly heavier in college. I played all of the "friend of the lead," "friend of the pretty girl," sidekick roles. When I got out of college, I was convinced I was going to continue to play those kinds of roles. So there was kind of this disconnect. I remember getting this call to go in for Ragtime and, I kid you not, I was like, "Oh, Emma Goldman. I love that part. Sign me up." And they were like, "No, they want to see you for Evelyn Nesbit," and I was like, "Wait a second. The gorgeous girl on the swing who has this big sexual scandal?" I didn't physically see myself as that. I have never seen myself as that. I don't think I see myself as that now. I'll always see myself as the girl who played Kenickie in Grease in junior high or the funny sidekick. To me, that's always going to be who I am. I actually really appreciate what that's done for me. I feel like there was a time period where I wasn't able to rely on looks to get things, and I think that instilled in me a real sense of self, and forced me to find other ways to connect with people beyond surface level things. It was jarring and took a bit of adjustment once I got out of college and it's something I'm still learning. I like to think, as an actress, I can identify with women of all different walks of life and all different looks. It's something that I make sure is in all the characters that I play. My type—I don't think in terms of type anymore since I like to think that I've shattered stereotypes even for myself—has shifted a lot and, I guess, physically I shifted, but I think the biggest transformation was just the way I thought about myself. I think I had a very narrow-minded view of who could play certain roles or why certain people played certain roles, and that's something I've been glad to shift perspectives on and sort of break down those barriers for myself. I take great pride in that. I have a lot of younger girls—of all different shapes and sizes—who have said, "I never thought I'd see someone who looks like you playing this role," and that to me is the most meaningful compliment that I can ever get. Because I don't know if I thought that, and I didn't have anyone to tell me that when I was fifteen or sixteen, so to hear someone actually see that and have an example of that, that's the reason you do what you do.
Is there a moment you can think of that started to change your perspective, especially about caring less about what other people thought of you?
I think being in Everyday Rapture was a big lightbulb moment for me in a lot of ways. It was the first time I was working with one of my idols [Sherie Rene Scott]—someone I'd grown up listening to—and then grew to know as a person and respect them as an artist as well as an individual outside of the stage. Both Lindsay Mendez and I were not the typical showgirls. I remember the breakdown was "long, leggy, beautiful showgirls," and, at the time, I don't think our names would have been the first to come to your mind. I thought of gorgeous dancers. I remember Sherie saying, "No, I just wanted amazingly talented, strong women on each side of me." That show—seeing a female protagonist and woman at the helm—was life changing in so many ways. It still affects me to this day. It still leaves a marker for what I'd like to achieve personally, or at least the impact. It really taught me what it was like to be part of that kind of creative process.
Everyday Rapture is one of my favorite shows ever. And I think, out of contemporary shows that have been on Broadway in recent years, one of the top five most important.
There aren't many women who can get up and tell a story like she can, and put her heart out there and simultaneously change the way you're going to view your life when you leave that theatre.
So now you have people putting you in a different box, and both come with baggage.
They do. Which is why I love a character like Cathy [in The Last Five Years]. You get to do everything in a show like that. And, of course, my dream is that there's going to be a female protagonist in a show to come along who is funny and quirky and weird and self-deprecating and vulnerable and ballsy and all of those things that women are. And the more women we have writing for women—I think we're just starting to scratch the surface of that.
It seems like there's a weird quagmire when it comes to women and theatre roles. I think most people, when they think of Broadway stars, a lot of women come to mind.
And yet the roles…
It's very strange.
I don't know if I know the answer to it but I know I want to be part of figuring out what the hell that is. Even if I'm a small cog in the wheel like doing things that feature female writers and participating in women's writer conferences, which I've been happy to do. I like to think that we're going to see more and more of that.
This is a little bit of a thorny question. When it comes to parts for women, especially in musical theatre, there are some really good parts.
Few and far between, but yes.
It's that few and far between thing, since when you think about every season, there are only X number of shows and X number of parts in those shows.
And already a whole list of people who are going to be thought of way before you. As a woman, I think it's so unfair too, because there's the perception of where you are in your own life of, "Is she married? So she should only play parts where she's married. Or does she have kids?" Men don't have that stigma on them nearly as much as women do. It's a constant battle trying to figure out how to navigate that. One thing I've learned is that no one is ever going to look out for you the way you'll look out for yourself. And I don't mean that like be tough and screw everyone else and the world is out to get you. I just mean that you can't sit and wait for someone to write you a brilliant part or the perfect song or hope someone doesn't take a job so you get it. You have to kind of create opportunities for yourself now, and that's what I respect about so many women who have done that like Sherie—she's written two shows that are so fabulous and tell such a beautiful message. I love that thought of owning your own career and taking no prisoners, and as long as you're personally happy and you're artistically satisfied, that's all you can ask for right?
I read an interview you did where you mentioned writing something.
It's the most exciting thing I'm working on and the most terrifying thing. You can't have someone like Sherie Rene Scott in your life and not be challenged to learn from what she's been through and what she and Dick [Scanlan] have done. Again, it kind of piggybacks off this thing of how no one is going to write something for you. It excites me immensely and also terrifies me because it's just a matter of… what story do you tell? I'm still very much starting it, but it's time. And I know I can do it, and I know I'm ready to do it. My biggest influence for that was obviously Sherie—I think I've mentioned her name like seventy-five times.
It's okay.
But being a part of that really influenced the way I viewed a one-woman show or, really, just writing anything about yourself. The balance of how much are you going to give of yourself and what story, theatrically, you're going to tell.

There is a giant Judy Garland poster on the far wall of the Rohatyn Room at Carnegie Hall. It is the Judy Garland poster. Currently, it is bookending a step-and-repeat that has been set up for tonight's concert. Emma and I are standing by a wall watching the goings on. Sherie is here. John ("He doesn't shake hands," says Sherie) is here. Betsy is somewhere in the sea of people bookending the step-and-repeat that's bookending the Judy Garland poster. She takes official photos, some with Jason Robert Brown (who accompanied her on two songs tonight) and some with Bobby Lopez and Kristen Anderson Lopez (Betsy performed "Let it Go" from Frozen). She takes selfies with people. She thanks them for coming. She is still wearing the same pair of heels she's been wearing all night and the final dress she wore for the concert (Betsy wore five dresses for the concert—a combination of Carmen Marc Valvo and Leanne Marshall—and broke the record for the most dresses worn during a single concert). She laughs and demurs when someone compliments her on her appearance. Another photo is asked for. Sherie leaves. John leaves. Emma and I find some place to sit down. Betsy is still greeting people, looking them in the eye when they speak, and holding still in the elasticity of the crowd. As people rarely ever say, she displayed real class.
About an hour later, the step-and-repeat has been disassembled and Betsy has finally made it down the hallway and into her dressing room. It is fairly sparse but has some flowers and cards lining the dressing table and an upright piano pushed against the wall. She smiles for Emma's camera, still not her final obligation of the night; there's another party to follow.
"Okay, do one to represent how you really feel right now," says Emma.
Betsy lies down on the piano bench.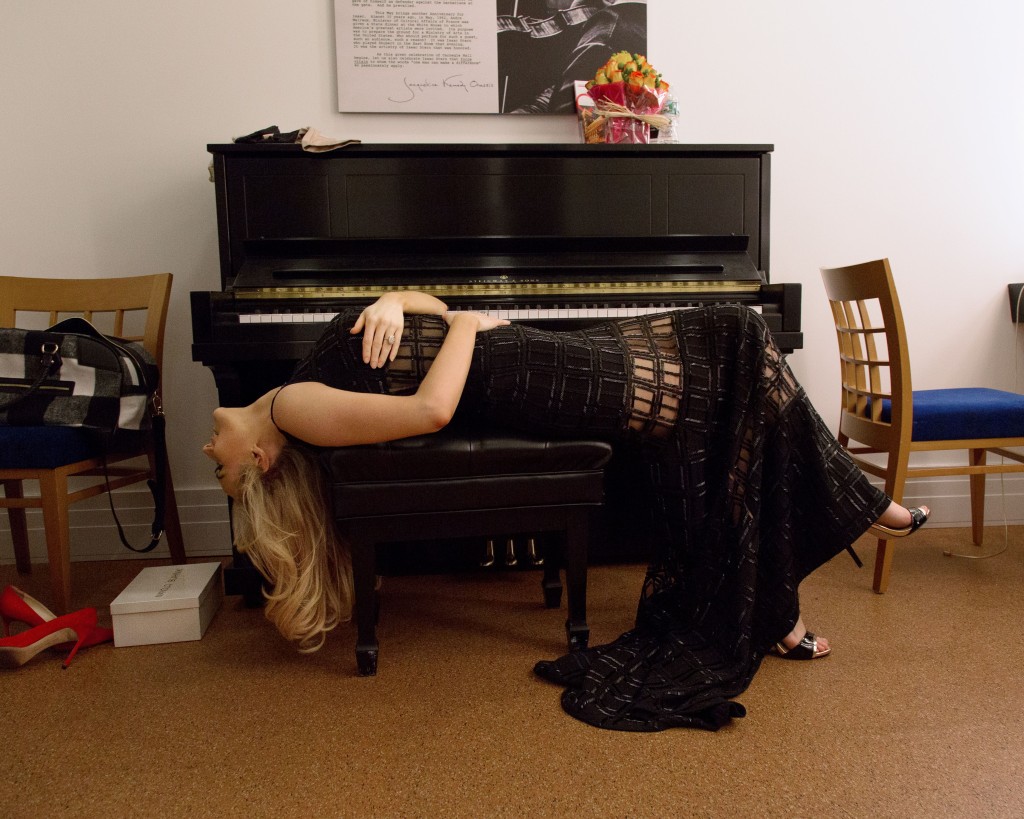 Betsy was going to take the subway today, but then someone got slashed by the subway entrance, so she took the bus. She's just returned from being home in California for a week visiting her family. "I missed New York," she says, "I missed all the smells—as stupid as that sounds—I missed almost getting run over by a cab as I did this afternoon getting off the bus. I was like, 'Aw back home. Someone tried to kill me today.' It felt familiar in a way." Oh right, when she took the bus to avoid the subway slasher, she almost got run over by a taxi. "I've always felt a sense of belonging in this city. And for a career that so many times offers so much rejection, it can also be a real community."
I wanted to ask you about everything that happened after the concert, because it's a lot. I mean a lot, a lot. And you had to do it in heels.
You know, that's become another part of the show in a way that I don't think used to be so much. Part of what I think theatre fans love is the connection to the actual artists now. I think with everyone now wanting selfies and photos, they have an accessibility to you—they can send you messages, they can tweet you and say, "I'm the one who did this, I'm the one who tweeted you." It's very satisfying to meet people afterwards who have reached out, but it does make for these nights where, in some ways, you've finished your job and then there's a whole other after…
An entire other performance?
I hesitate to use the word performance because you're obviously grateful, and I want to connect with people who are there to have a connection, but it can be demanding to the point where I have to be aware of how much I can do or how much I can give to that, especially if you're doing eight a week. These one-offs are harder because your muscles aren't built up to it yet. I was there for a while and then there was a time to go. But I felt like I got to greet people who were there and thank people for coming who put in time and effort and a financial investment. I think it's easy to look past that, but these are people who follow me in some shape or form, and it means a lot.
How do you balance being grateful for people coming and wanting to say hello to them, with whatever you're feeling on a personal level about having just done this huge thing at Carnegie Hall? The part of you that maybe wants to…
Go reflect. There was a huge part of me that would have loved to have even five minutes after the concert to just absorb it and reflect on what it was for myself, which, in a way sounds selfish, but it's not. I did that the next day though. I had all day Saturday—trust me, no commitments. It was so depressing waking up Saturday morning because I had this concert I had been looking forward to for a year and a half, and the culmination of so many people's hard work—and not just the culmination of a concert but what I've worked a long time for—and so Saturday was an interesting day. It was a bit of a bummer.
What did you do Saturday?
My best friend, who flew in from Colorado, was here, so we just walked around the city and hung out. She used to live here and I went to college with her and I've known her for over ten years. It was really special that she flew out. So I devoted the day to visiting with her and decompressing in a healthy way. It wasn't more parties or meet and greets, it was just someone who knows me and who cuts to the chase.
I was thinking about that a lot after, because you were incredibly gracious with everybody, but it's a lot about other people and not a lot of time to reflect for yourself or see your friends who are there.
I think that's the hardest thing, trying to balance my personal friends and my family who were there and who I get to see on a more regular basis, and then people who maybe bought tickets nine months ago. I know that I don't necessarily owe them anything, but at the end of the day you add up all of the people who come to these and, on some level, that's why I get to do what I do. You reach a certain platform where you keep doing work, but someone has to come see that work. I want to respect that and give that time, but it can be overwhelming sometimes. And I know several performers who go out the back door and sometimes you just have to. I've had moments where I'm just not feeling very well, and to do your job you can't do the after stuff, and it can be perceived very poorly by fans, or they catch you on one off day and it can change someone's entire perception of you.
When we were talking before, you mentioned that you'd had some personal things you'd wanted to accomplish at the concert. Did you feel you were able to?
I was happy post-first song. I remember the last time I sang at Carnegie Hall, I couldn't get my heart rate under control, and while I thought the song sounded fine… for me, the reason why I started doing this whole thing, is because I love doing it and I love singing, and if I'm not able to love singing because I'm so nervous, what's the point? So [this time] I was really happy after the first song. I calmed down and was able to connect more and enjoy the night and celebrate that there were so many family and friends there with me. So yes.
How much thought do you put into the banter between songs?
There wasn't a ton of banter. You know the idea of what you're going to say, but if it's scripted out, there's no element of surprise and there's no spontaneity. And I like seeing how things are going to go that night. I'm much better in the moment than not. I wasn't planning on saying the Carnegie Hall thing with the dresses. I had no idea that I was going to break the record until someone told me right before I went on stage, but I thought it was too special to not share with the audience. Since you get enough oohs and aahs when you walk out, I'm like, "Yes, applaud the gown," because they're worth applause—they're definitely not mine, but they're worth applause. Funny secret: I had duct tape on my shoes. I'm a little superstitious. I have tons of pairs of über fancy dress shoes, but I'm really comfortable wearing this one pair of heels that I've had for years, and they didn't work with several gowns where they needed black shoes. So I had black gaff tape on them in certain numbers—black gaff tape over the rhinestones—and, if you look really, really closely in some of the photos you can see the tape. But it was pretty funny to be wearing this expensive gown and know that I had on a pair of $65 dress shoes with black tape on them.
That's amazing.
But I knew I could walk in them.
It kind of adds to the ambiance of it all.
And at the same time, we're all just trying to fool somebody in some way. Super fancy, but what are you underneath? And I've always loved that. It's like my apartment too. I have some really fun, eclectic pieces from ABC Carpet and Home and there's definitely the Ikea bookshelf in the corner. That's kind of who I am. 
I wanted to ask you about your sense of humor because you're funny.
That's like the biggest compliment to me. I've always just wanted to be funny. I don't know if it's being a younger sibling or seeing it as a big win when my family would crack up, but I think I grew to love seeking out those kinds of laughs. I was always drawn to comedy stars. One of the first times I remember ever watching skits or parodies or understanding that kind of humor was The Carol Burnett Show. Watching reruns of that non-stop. I think that was always something I latched onto immediately. I've still never met Carol Burnett. I hope I don't fall down when I meet her. I've met enough famous, fancy people where I kind of know, "Oh, okay that's how you'll act," but with her I don't even know what on earth I'd say.
I think it's different when it's someone who has had a big impact on you rather than just someone who is famous.
Absolutely. What's so bizarre is the way I feel about Carol and the way I've felt about certain performers, I have now seen that in some young girls who come backstage and can't articulate their thoughts and are so moved by it in a way that's different than just, "I'm meeting someone from the CD." In a way that I can tell the work means something to them, and I think that's the most genuine, real compliment there is.
Is there anything that jumps out in your mind as something you wish you'd known about the industry when you were younger?
You know, I'm still learning things. I can't think of anything that would have been life changing for me to know that I'm not trying to adapt to every day. The rules constantly change in this business. Every day. And how you get jobs, and even the way we network and socialize is different in this field. The form is different. I think even if you'd said, "This is the vital piece of information," it would have just changed in two years anyway. Something that I always tell people or that I've had to think about lately when I get asked, "If you could give one piece of advice to a seventeen or eighteen year old going on to musical theatre school or wanting to be a performer…" I struggled, and we talked about this before, thinking that I needed to be something else. I think that's common at that age. But I think I spent way too much time trying to fit into the mold of someone's ideal of that role, and when I separated myself from that expectation and said, "This is how I see it. How can I do this? How can I have the most fun with this? Who is this person to me?" I think that's when I started to cross that bridge to the other side and do those roles because I wasn't trying to please someone else, I was just trying to make myself artistically happy. And that was very freeing. That's the one piece of advice as generic and cliché as it sounds.
I remember when you talked about that before.
I still struggle with it now, where I'll read breakdowns and think, "This is so not me," and more often than not, those are the roles I end up getting. I think because I'm able to separate myself from it in a way. I think there's a certain "I don't care" attitude that has to come along with all of this. Because at the end of the day it's just a role, it's just a show. And I think that's a thing that I appreciate about being older and having that perspective. It's just theatre. That sounds terrible, but I don't know how else to say it. I think I used to think it was everything, and it's a huge part of my life and I love it so much, but I think the more I can release the pressure for it to be everything, the more I can enjoy everything.
And you also need stuff to bring to your work that's not just work.
Yeah. I spent a large part of my time in college not doing the things that I think most college kids probably do, because I was so focused and driven. And I think, in a way, I was missing out on certain life experiences, but I have no regrets about where I went to school or what I was studying or how things have progressed. I always seem to be at the right place at the right time and it led me to places like Carnegie Hall on March 11th and every job I didn't get led me to that night.
It's a good attitude to have.
You have to have it. You will last in this business for four months if you can't find peace with rejection on many levels.
I found this other interview you'd done where you were asked about being ambitious.
It's a word that comes up a lot.
There were a couple of things that I thought were interesting about it. The question said, "You're described as ambitious," and then asked you about the double standard for women with that word. But then, in reading other interviews with you, there was nothing that jumped out at me as being any more or less ambitious as anyone else in this industry.
The thought of that word…
Does it make you uncomfortable?
No. I'm trying to look at it objectively. I view that word positively, as a whole. I think there's a double standard for women, which is negative. But if that's the word we're going to use, I've always been ambitious or motivated, but it's not exactly about achieving a goal. It's always been what would fulfill me or what makes me happy or joyous. My dad was a Triple-A ballplayer and he spent years in the minor league farm teams and got really close to making it to the majors a couple of times, but for various reasons, as so many do, never quite went up there. And my mom was an artist—a professional artist—and both ended up teaching. It was interesting to me to spend so much time in your life focused on a specific goal, or seemingly so—baseball or art—and end up doing something completely different and having that be more on the side. I just remember thinking when I was younger—and it was a faulty thought because they're so happy with what they do and their lives—but I remember thinking, as a kid, I wonder if my dad would be much happier if he had made it to pro baseball. And I thought, "Maybe I'll be happy if I make it to Broadway," which is a silly thought, especially since as soon as I made it to Broadway it's not like I was done, I was just looking for the next place to perform and to do what I love. And your passions grow and change over time. I don't necessarily think I set out to be ambitious. I think I was just genuinely listening to what excited me, and it might sound ambitious because I was always working on new material. I don't know. If I got in a show and stayed there five years, is that less ambitious than doing five new shows that barely pay? Perhaps, but I know I'd rather be jumping from new show to new show rather than sitting still. I have a hard time sitting still. I guess I'd call myself ambitious for wanting to make it to Broadway. I don't think it's a bad thing. I think it sometimes gets a bad rep because it implies you might take people down in your life to get where you need to go. But what I love about the theatre is that it's a community and, working on a show, the whole show succeeds or it doesn't.
Are you visual?
What's interesting is I can see things off the page. I'll read a script and get really excited about how it's going to look on stage, and I think I have an ability to see how the whole thing is going to function. My mom is an avid reader. I'll never forget reading the first draft of Jersey Boys before it went to the La Jolla Playhouse and getting goosebumps because I could see what was going to happen on stage and the way it was going to be a success. I had my mom read it as well, and she was like, "It's great but I can't see things the way you do," and for someone who was a professional artist and a painter it blew my mind. We just see things in very different ways. But maybe that's why I'm doing what I'm doing.
And good for working on new material.
If you told me, "Draw a rose, and a rose looks this way," I can do it, but if I can create a new flower, I have a lot more freedom in that. And that's why I like working on new material too. If I start to get too much of an idea of what it's supposed to be, then I'll start trying to fit into that box, which I think is why I struggled so long trying to audition for roles and trying to be what other people wanted me to be for so long.
Have you thought more about the show you're writing?
Of course, I ran into Sherie, of all people, in the Phoenix airport yesterday. I was walking to my connection and I went over to the ticket counter for a random reason and I took a different route back to go get a water bottle, and I noticed this woman standing there, and I would know that stance anywhere. It was so weird that I ran into her of all people because she came to the Carnegie Hall concert and we hadn't connected since and she was like, "What are you writing? What are you working on?" She's always been really encouraging me to do stuff. I have been thinking about it more. I think it's going to be something that no one has written thus far. There are fewer and fewer opportunities as the years go by to have things handed to you, so you really have to create them yourself. And I think it was exciting to do something like Carnegie Hall where I got to pick so much of the material and I'm going to seek out more of that. I know the way it feels when it's right.

The only way to come and go from the John Barrett Salon is by taking Bergdorfs' main elevators. The elevators have etched glass panels that invoke the era of the department store's beginnings—they may or may not be original. As we take one last look at the view from the top floor and Betsy waves goodbye to John and tells him she'll see him Friday, the elevator empties out and we get in, pressing the button for the ground floor. The doors close and I comment that the salon is probably the exact opposite of what people think it is.
"Yeah, yeah I'm sure that's true," Betsy says. "But that's one of the things that's so interesting. Everyone comes from somewhere and has a story to tell."
You can follow Betsy on Twitter: @BetsyWolfe and Instagram: @bwolfepack.