RACKET. – Periods Without Shame
Making a racket about periods. Period.
Written by Alex Strycula
Photography by Emma Pratte
November 30th, 2015
–
It's no secret that our patriarchal society still tries to keep periods a secret.
Just take the recent controversy surrounding THINX period-proof underwear as one example: this fall, the pro-positive period company's ads were ruled too "inappropriate" to appear in New York City subway stations by the MTA and its advertising partner Outfront Media purely because they contained the word "period."
Thankfully, THINX – a Brooklyn-based company that aims to reduce the ignominy around menstruation through re-imagined feminine hygiene products – fought back. The ads were ultimately approved to make their debut at the Bedford Avenue L train stop earlier this month, though they were subsequently barred from running in taxi televisions two weeks later.
–
Friends Margo Seibert and Caroline Angell – an actress recently seen in Broadway's Rocky and a writer with her first novel due out next summer, respectively – have also added their voices to the vital outcry to de-stigmatize society's relationship to menstruation. This fall, the two women teamed up to create RACKET., an initiative formed to help reduce the needless stigma and shame surrounding periods. The idea was largely born from "recent insensitive responses to periods" such as the MTA's resistance to THINX's ads, as well as years the duo have spent working with homeless individuals at the Church of the Epiphany in Manhattan and a mounting frustration over three fundamental facts:
1. Feminine hygiene products are not considered essential under the food stamp program, and are therefore not always provided to women in shelters.
2. Access to said products, their expenses, and the choices that surround them are connected to privilege.
3. Periods are still taboo. Period.
And so, RACKET.'s mission is this:
"RACKET. thinks that all women deserve a shame-free relationship to their periods regardless of socioeconomic circumstances. We aim to redefine feminine hygiene products as essential; to provide women access to these products; and to encourage an open dialogue about menstruation, thereby transforming a historically taboo subject into one that connects communities."
Their first self-appointed undertaking was a drive to collect and distribute feminine hygiene products, thereby making them readily accessible to as many homeless women as possible and promoting the notion of #periodswithoutshame. For 10 days this November, RACKET. rallied to collect products with help from the Church of the Epiphany, Broadway Serves, the casts and crews of numerous Broadway shows, and several other nonprofits.
And it's not just women who have joined the movement: Margo and Caroline have been delightfully surprised by all the men who have confronted previous misconceptions about feminine hygiene products through their participation in the inaugural drive. "Many have said that they had never set foot in that aisle before, never purchased products before, and now, after participating, realize what a big deal it is not. They are also surprised by how much these products cost women on a monthly basis," the pair noted when debriefing the November drive.
In the end, over 10,000 feminine hygiene products were accrued and packaged in total. That's over $5,000 in donated supplies in 260 kits that will go directly to New York Rescue Mission, which houses about 30 women per night.
The Interval was on hand at RACKET.'s packaging event last week to get a behind-the-scenes look at the final count.
–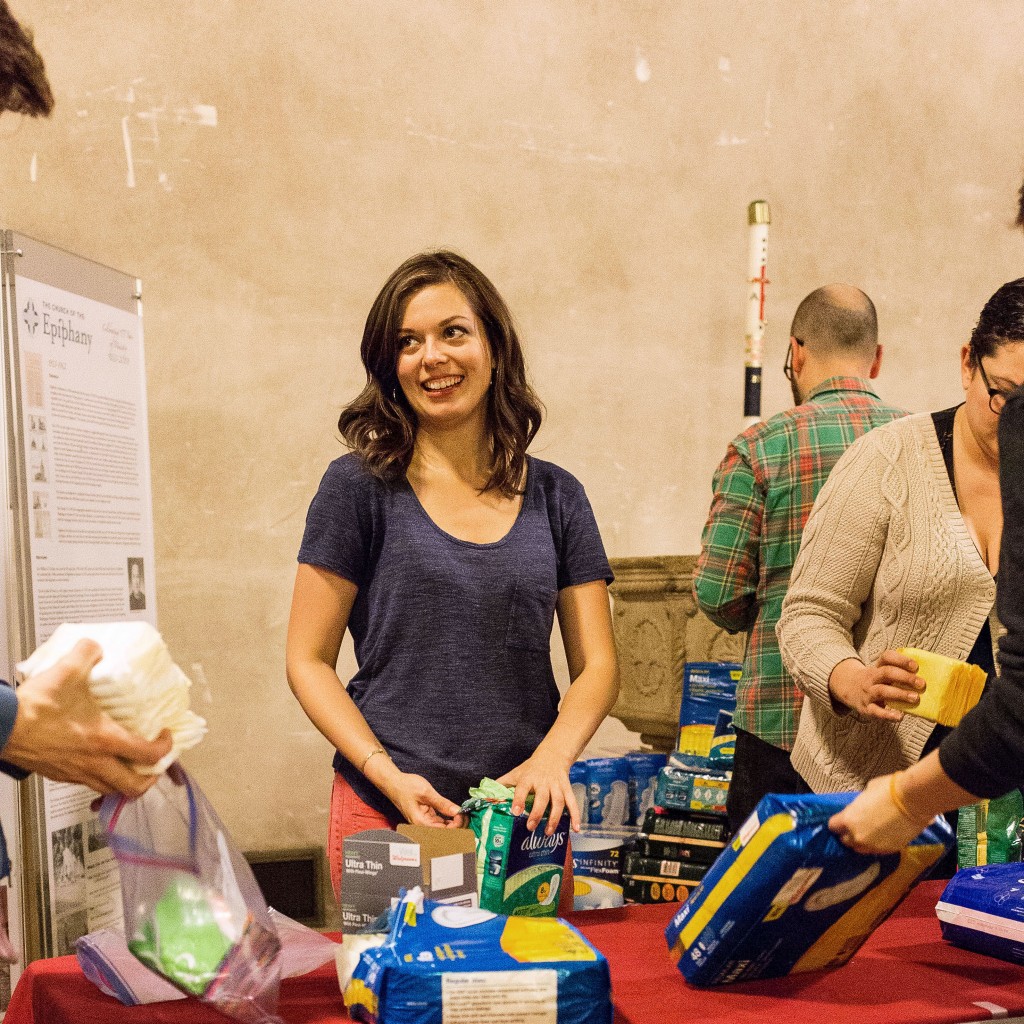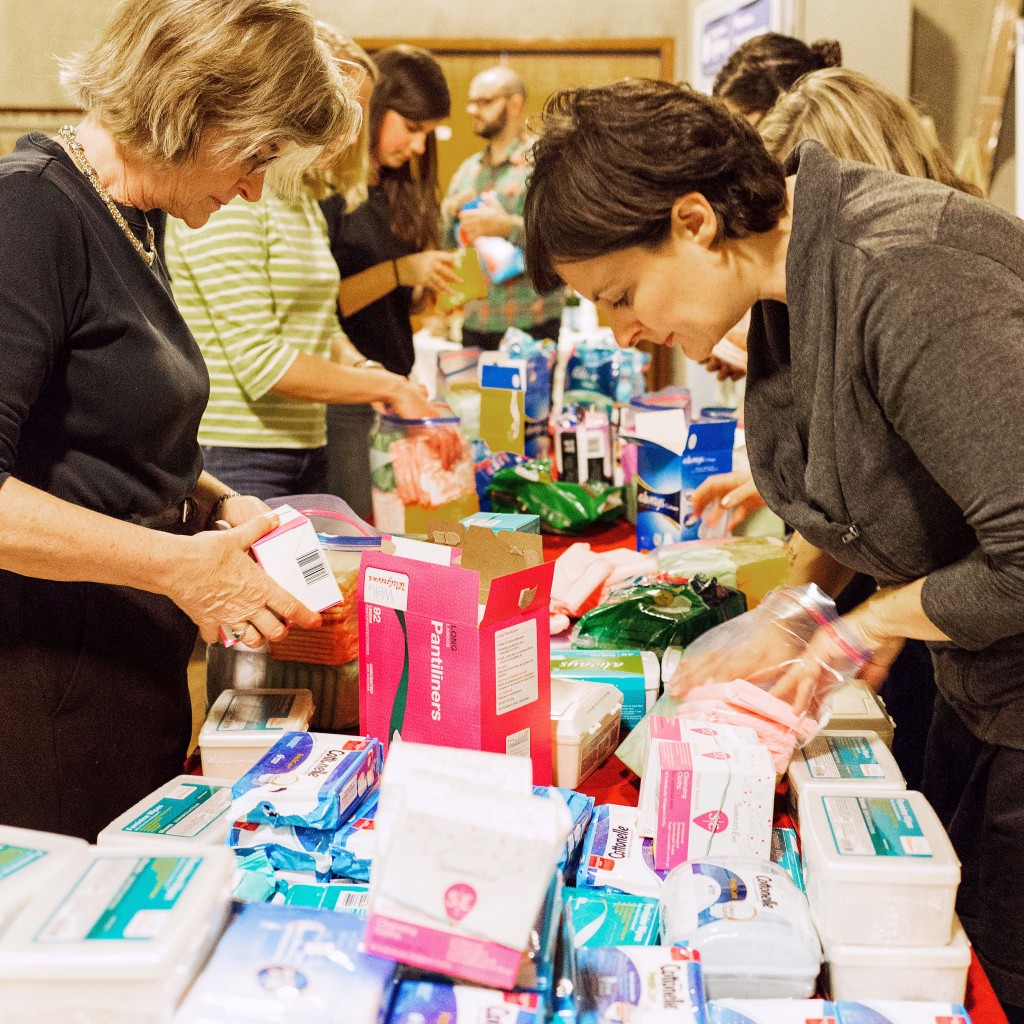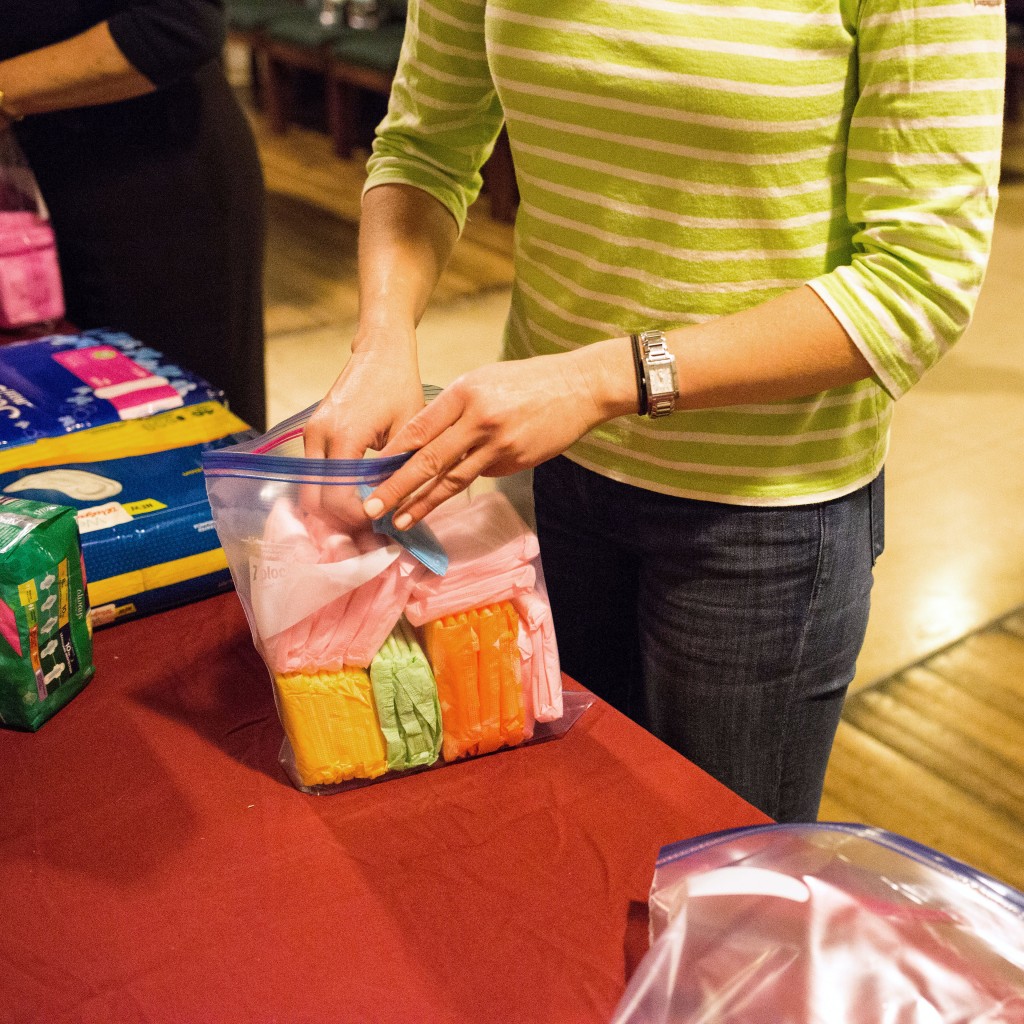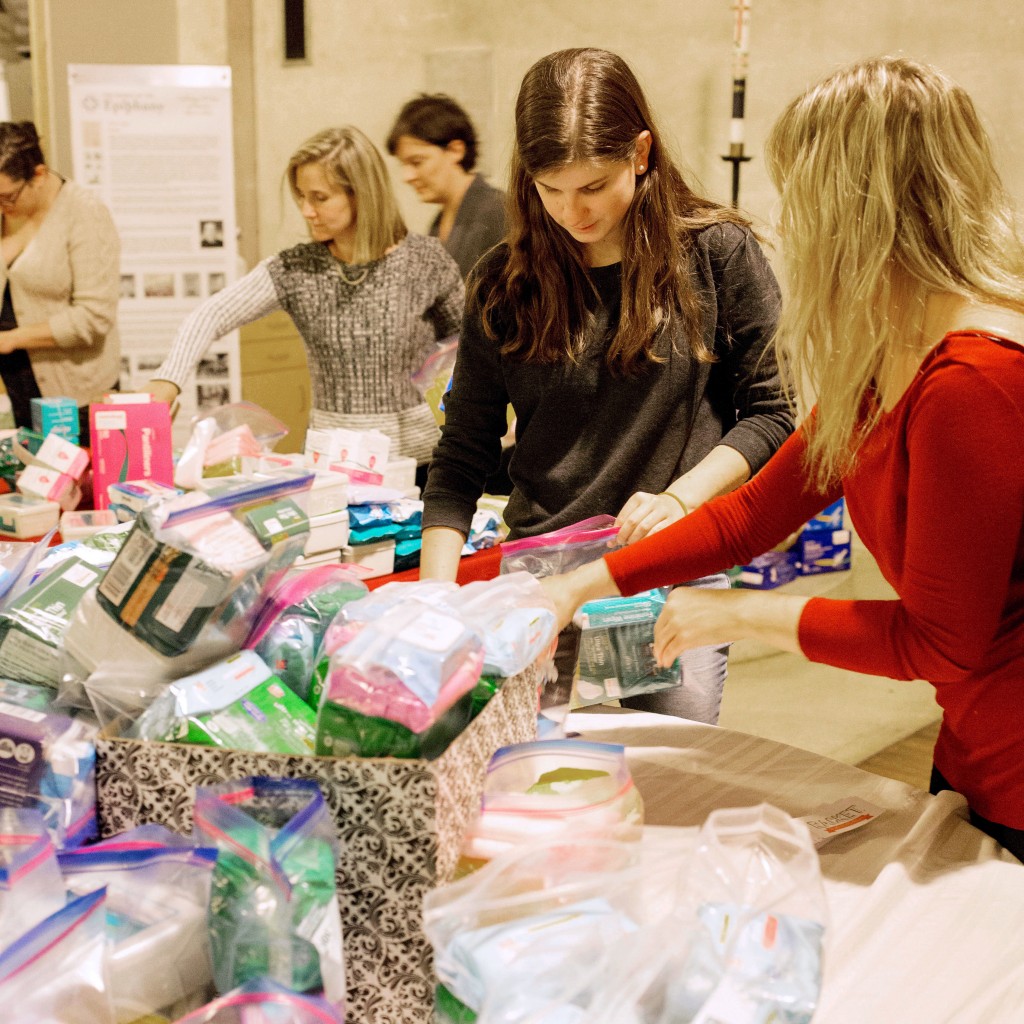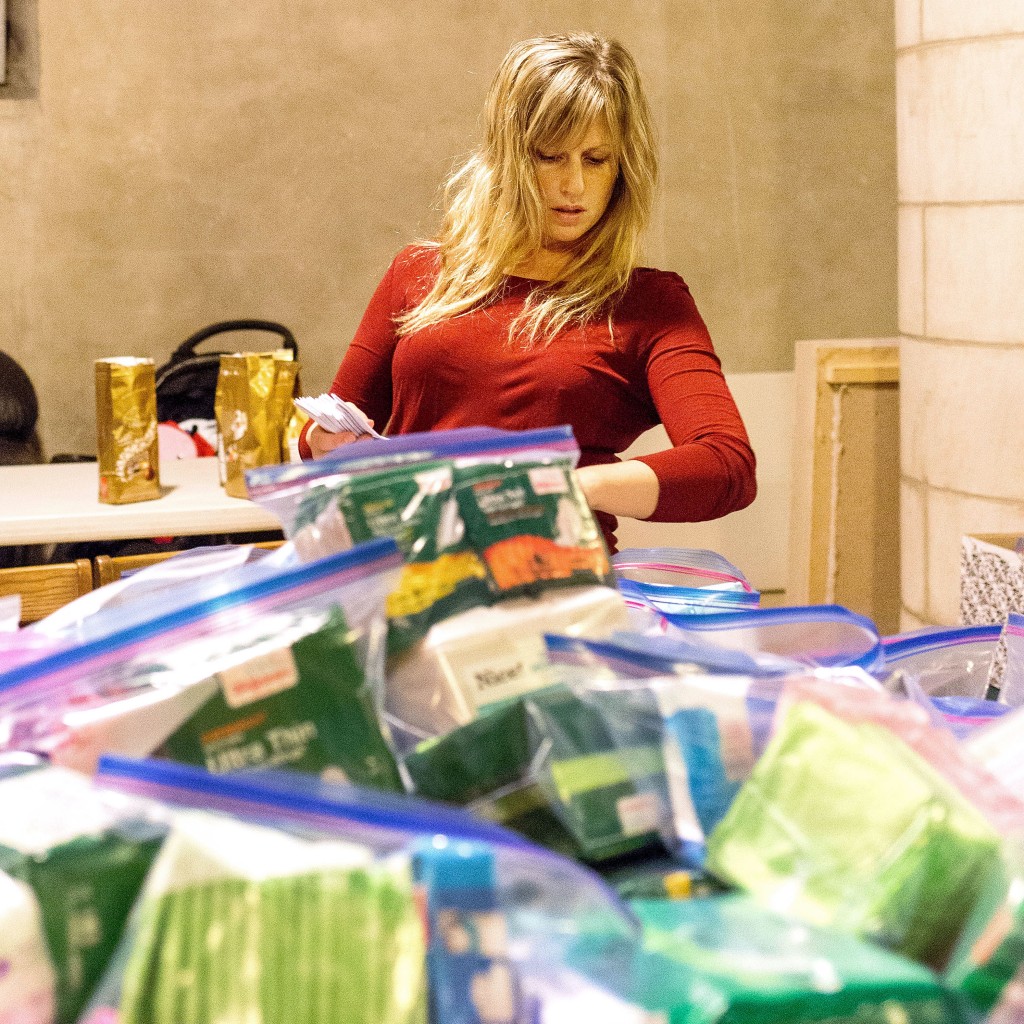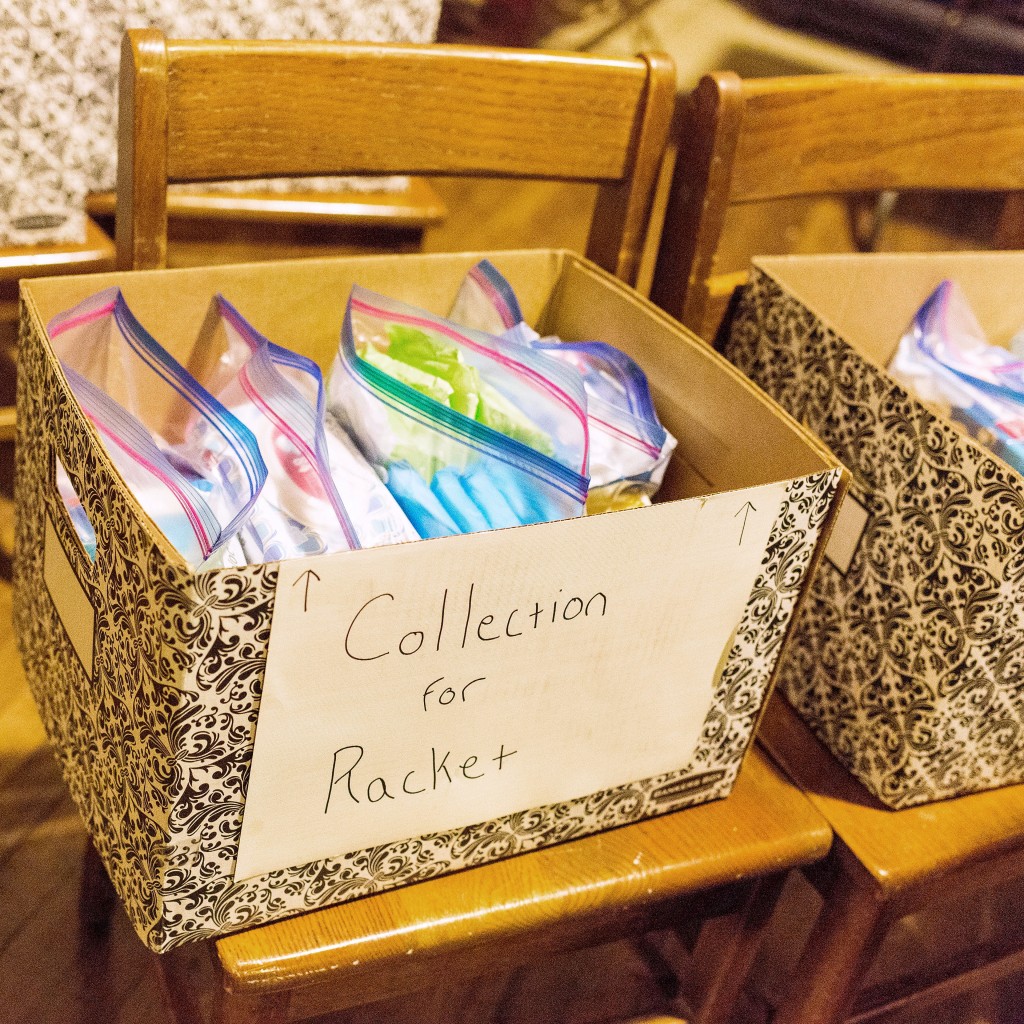 –
To find out how you can help add your voice to the RACKET. as the initiative continues, contact weracket@gmail.com or follow @weracket on Twitter.
And while you're at it – don't forget to look for Thinx's rad ads along the L train this winter.
---
Born and raised in the suburbs of Pittsburgh, Alex Strycula is a New York City-based digital marketer for Broadway and live entertainment clients. She proudly holds a degree in Theatre and American Studies from Barnard College. Follow her on Twitter/Instagram: @strycoola