An Interview with Sarna Lapine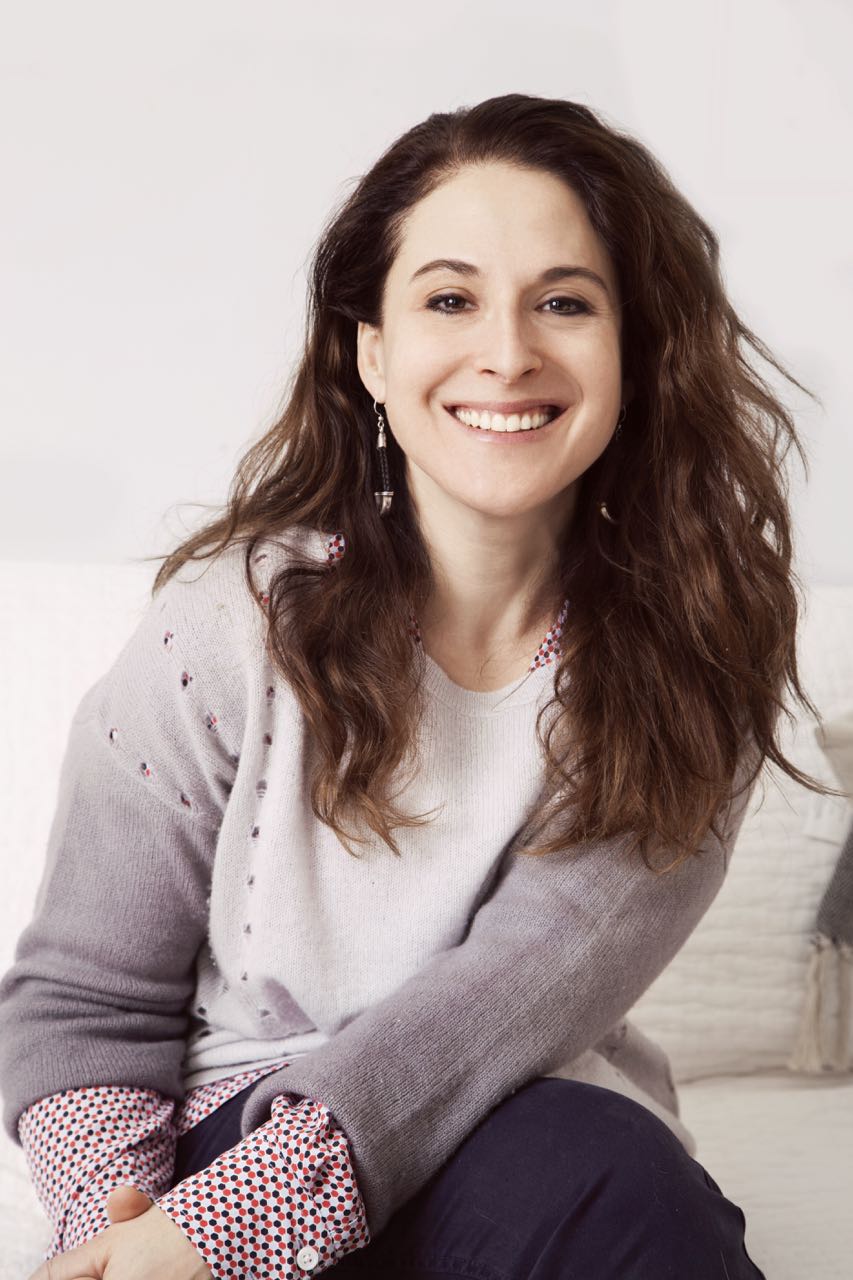 Written by Victoria Myers
Photography by Sofia Colvin
March 28th, 2017
When New York City Center announced that they were doing a concert production of Sunday in the Park with George starring Jake Gyllenhaal for their 2016 fundraiser, people in the theatre community considered it a production coup. As the weeks went by and excitement for the production grew with each press release, one thing remained unclear: who would direct. Eventually, it was revealed that Sarna Lapine would helm the concert. Sarna has a long history of being an assistant and associate director on Bartlett Sher's shows at Lincoln Center and directed the national tour of South Pacific. She got rave reviews for the concert, done under the confines of the Encores rehearsal process, and it's now playing on Broadway where it also earned raves. We recently spoke to Sarna at her apartment about her process for directing James Lapine (her uncle) and Stephen Sondheim's 1985 Pulitzer Prize-winning work and her career trajectory.
What was your dramaturgical process like for Sunday in the Park with George?
I had the chance to direct Sunday in the Park with George in Columbus, Ohio about three or four years ago at a very small theater called Short North Stage. It allowed me to really look at the material in-depth at that time. The process for City Center and then going onto Broadway was fast, so I'm glad I had my own out of town trial with the material. I tend to approach everything as text first and really study the language. In this particular case, the internal life of the artist was very clear in act one in terms of how we traveled through the park was through his lens. He would in essence, through the music and the scenes, be bringing some of the characters to life. I was really very focused on the artist's point of view and his relationship to his muse and his mistress, and understanding the arc of the piece as a whole, which is that the mistress is the muse in act one and she becomes the teacher in act two. A similar thread was with the old lady who is George's mother in act one and the same character is the art critic in act two, so sort of looking at the mother as the first critic. [A big part was] looking at how the spines for all the characters carried through both acts even though we're 100 years apart. I did do a lot of research on the time period, but began to find that the piece itself was almost about transcending time. It's a love story that doesn't resolve until 100 years later. The more time I spent looking at the time period, the more free I felt, given the creative license that James and Steve had taken in terms of the piece being very poetic and not literal in its structure.
How did you work with the actors, specifically in terms of the two acts and how, like you were saying, they're playing two separate but not unrelated characters?
In some ways they're sort of playing the same character just in a different setting. One thing we did talk a lot about was status, and that there was a major class distinction in the first act and that Seurat was painting in a working class environment. His subjects were working class, which was what was, at the time, quite radical about what he was doing. I think that status has a role in both acts, and you begin to find that the way we observe status has some superficial differences, but that it sort of sustains even in the 1980s. For example, there's Alex and Betty. Alex is played by Claybourne Elder, who also plays the solider in act one, and Betty is Ruthie Ann Miles, who is Frieda in act one. As Frieda, she's a working class servant, works for a family, looks after the child. In act two, she's a young artist looking for her own sort of foothold in the art world and upward mobility in this environment. You still have a trajectory of people in relationship to status. I think that's a common thread throughout the piece as a whole and something we talked a lot about with the cast, and George being somebody who's almost outside of the system because he does what he wants. In fact, because he's rearranging the people in the painting and putting somebody like Jules, who was more upper-class, next to somebody like Dot, who certainly wasn't, he is literally reorganizing the social strata of his version of the world. In "Putting It Together," it's almost like he treats all parties as equal as he's weaving his way through them at the cocktail party. That was one grounding element, I think, of the piece.
As you mentioned, the show started at City Center and then moved to Broadway. From what I've heard from other people who've done the Encores process is that it's not only a fast process, but the objective can be a little different than if you were putting together something for a full run. What was it like working off that process, especially when there wasn't much time in between the two?
Because I'm still so close to the process, I don't know how deeply I've analyzed it. I would say for me, internally, I'm really grateful that it was this show because it's a show I've spent a lot of time with, it's a show that I feel very close to and that I feel that I know rather intimately. Every opportunity to work on it was, in some ways, just an opportunity to deepen our relationships to the material. The thing that I said to the company on our first rehearsal at City Center was the material is so incredibly strong, it's so beautifully rendered that it completely takes care of us from start to finish. It really is about trusting the material and what James and Steve have designed and built and stepping into it and being very open to the deeper discoveries you can make once you're living inside the piece. For me, I guess the shift in objective was we can go a lot deeper this time around. Every person has a different way of getting there. It is about creating space for people to have their own process while you're putting something together as a whole. Deepening one's relationship to a play or a musical also happens over time. It's a hard thing to ask people to do it quickly.
The great thing about Sunday in the Park with George is [our] cast came to this process because they all knew and loved the piece. Everybody had some sort of knowledge of it and some relationship to it. I never felt that anybody was starting from zero. I also think because my take on it was, it is all about the people in the picture—like right on down to there hardly being any scenic elements because it's about people and space, and people in relationship to each other and the artist in relationship to all these people—that anytime we were on our feet with the piece, we were trying to discover those relationships and the details of those relationships, and how everybody was interacting in each moment that they were on stage together.
What was your process like for working with the design team? Especially going off of what you're saying about how it's focused on the relationships and the design is sparse. How did you balance that aspect with the spatial things that need to happen on stage?
The entire design team was incredible. I'm very grateful to the whole team that every single designer came to the table with so much passion for the project. The speed at which we did this affects them in some ways most of all because it doesn't give a designer time to think and plan, and you go through a process of discovery and vetting ideas. We had to make decisions collectively really fast. They were just an incredible group of people. When we did it at City Center, Beowulf [Boritt, set designer] and I talked about, rather than putting the band on the platform, we wanted to put the people in the painting on a platform. It's sort of more obviously the suggestion of the canvass or the island of the park. We had this very simple platform at City Center with chairs on either side. We had come to that conclusion together when we were moving into the theatre. It's interesting because simple was hard. It requires restraint. It requires choosing details, but then it sort of exposes all the choices you've made. There's nothing to hide behind. I actually had so many meetings with Beowulf to arrive at that very, very simple physical design, and really great conversations about what the design would do and how it would hold people and also let people move through space and how it would, at times, feel like an island and also feel like a canvass, and how we could sort of force perspective with the platform that we were designing.
Then, of course, wanting a projection surface. I really didn't feel that we wanted any sort of screen as a projection surface, that we wanted the imagery to feel softer and a little more dreamlike and a little less literal and more atmospheric. Beowulf designed this very simple but beautiful scrim that we could project on and still see the band through, which was also very important to all of us.
It was really interesting because in a couple conversations with three different designers, at one point, they each said, "I'm scared. I feel like I'm under-designing this." I thought, "Oh, that's so great that three different people are having that same reaction, because it just means that we're onto something." It is scary to be so exposed and not doing too much, but if we all feel that way, then I feel it's the right risk to be taking.
My philosophy was like, "What don't we need? How much can we strip away?" When Clint [Ramos, costume designer] and I talked about the clothes, what we liked about City Center was that the hats could be these period signifiers. I really loved the notion that one costume could transition very fluidly from act one to act two. We wanted everybody, in essence, to have one system or one costume. Clint came up with this notion that we could take a period silhouette but cut it in kind of a more modern way. He came up with a color block system for the clothing and the colors. I just loved the moment after "It's Hot Up Here" where we go into the gallery in 1984 that the scrim flies out and suddenly, we're a hundred years later. I feel like that one gesture with the set mirrored what everybody was doing with their costumes, that one piece comes off, or a jacket goes on, and those two things happened very simultaneously. That was really satisfying.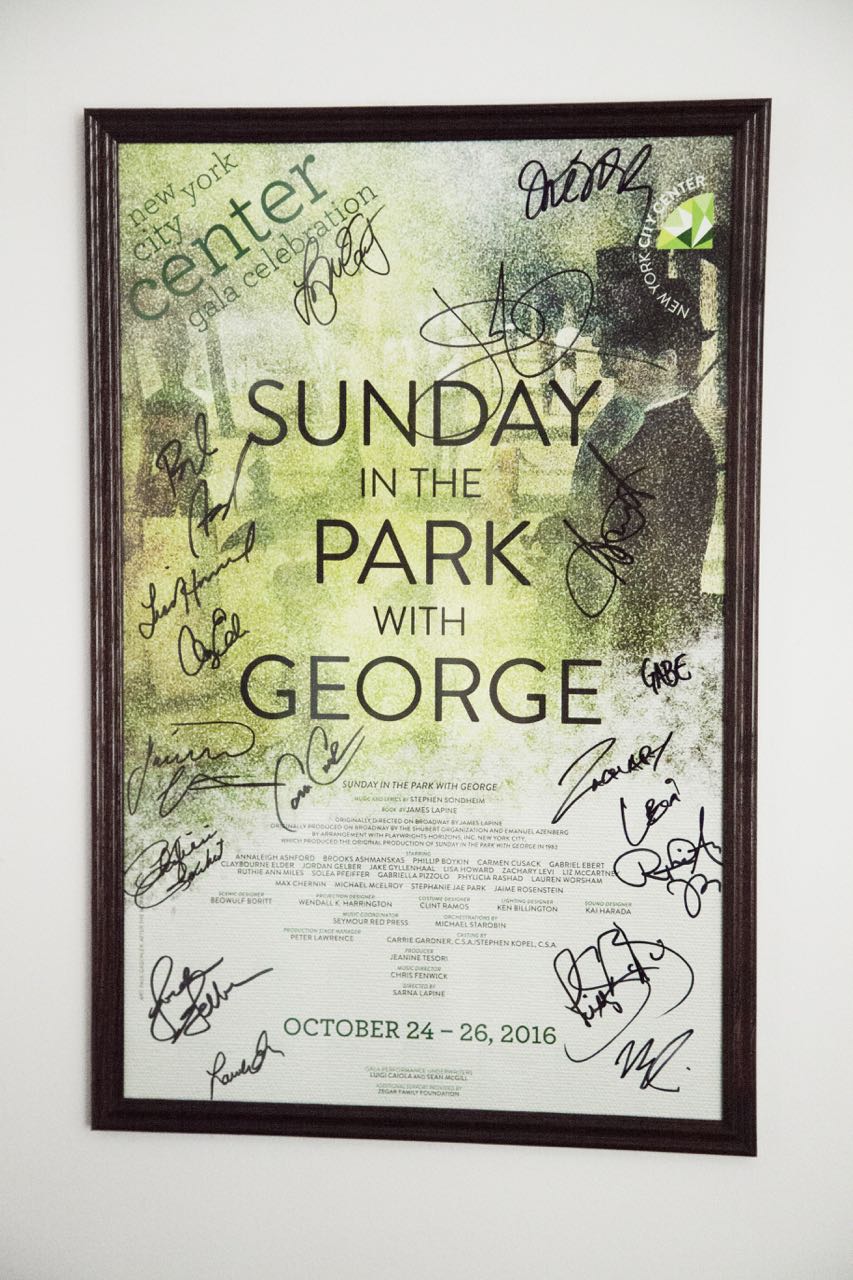 This is also your Broadway debut as director. This is a big musical with a lot of expectations on it. Plus, women haven't directed a lot of major productions of Sondheim in the past. Does that feel like pressure? What has your experience been like?
I think the gift of the experiences that I've had is that it isn't my fist Broadway show. I have been an assistant and associate for a long time, and I've worked on a lot of big shows, and I've worked on revivals and plays and new musicals alongside doing my own work, which is more small scale. I'm really grateful that I have had that body of experience because the process of directing a Broadway show did not feel unfamiliar to me. I'm used to doing things on a tighter schedule, especially because I've done so many tours. I felt really well-trained going into this experience.
What surprised me, and what I learned a lot from, is that there's a heightened sense of anxiety around you—the stakes are high for everybody. My own expectations aside, it was really interesting to face, every single day, a lot of other people's sense of anxiety. I'm sure for my second Broadway show I'll be better prepared to understand that going in. In terms of the pressure—I think artistically, we always feel pressure—artistically, you can't know how something is going to be received. I don't feel I can worry too much about that or even think too much about that.
One aspect to directing is that you're the boss and you have a lot of things coming at you and the buck stops with you. Did you find, as you were going along, that you developed strategies for how to deal with or navigate all the anxiety and questions coming at you?
Again, because I have had the great fortune of being an associate and an assistant on other shows, they're all things I've seen. I have great mentors and I did have people to turn to. I did call people for advice. One of the greatest gifts on this production is I had an incredible producer in Adam Speers. I felt like I had a partner, and I could turn to Adam at any given moment and ask him a question or ask his advice or say, "What should we do about this?" I just felt so incredibly supported by him and so incredibly supported by James and Steve and my own mentor, Bartlett Sher. It was like another ring of the conversation. The great benefit of the years that I put in as an assistant and associate is that all those people were there when I needed them and I had the benefit of our shared experience together.
In terms of managing other people's anxieties, ultimately you're managing your own, I guess because you can't exactly take on other people's anxieties. The question becomes about identifying and triaging information. That's really what it comes down to. It's like, everything that's happening around you and in the creative process is information. You want to stay as open as possible to the information, but you don't want to lose your course and you don't want to lose focus because you're on a deadline. It's that weird tension between being an artist and an administrator. Sometimes you're very guided by your artist and your intuition and your feeling about a thing, and other times you have to listen to this other voice inside yourself that says, "Yes, I trust that all of that is there and in the next two hours I have to get to point B." Maybe the real lesson was in managing my own anxiety about how to stay open and permeable to all the information and to also stay the course and stay focused and not have too much noise in my head. If there's too much noise, I think for a director, that's always the danger. You need just enough quiet to get at your own voice. Writers have the luxury of getting to do all their drafts in private before anybody reads them, right? Directing is a very public process. You're doing your first draft in front of people all the time.
Let's talk about how you built your career and also how you built your life around that.
I have to be honest and say that when I started all of this, I wasn't trying to build a career. That may be a generational thing. I have noticed there's a great deal of order and ambition in many directors coming up behind me and they talk about careers and seem very focused on that. I just wasn't oriented that way. I had a lot of other jobs before I came to directing. I had done a lot of other things.
I sort of fell into working in the education department at the Intiman Theatre in Seattle. I had lived there for about ten years. I was actually really interested in filmmaking and I was making my first documentary. I became friendly with Bartlett Sher who was the Artistic Director of Intiman. I had an inkling while making this documentary that there was something about directing that I was very excited by and I felt like I was good at it. I just very innocently said to Bart, "How did you get to do this for a living?" He said, "I assisted a lot of people and I always had great mentors." He said, "Look, I'm going to New York to direct my first Broadway show. If you can get yourself to New York, I'll hire you to be my assistant." That's really how I got my start. There was no plan. I drove from Seattle to New York. I crashed on people's floors. Eventually, my mother found this apartment because her friend's kid was moving out, and I moved in. I assisted Bart on The Light in the Piazza and it was a phenomenal experience. While I was here, I got into film school at Columbia. I drove back to Seattle. I packed up my stuff. I finished editing my documentary, submitted it to festivals, and drove back to New York and started grad school. I was studying film, and then Bart kept calling. He was like, "I got another show in New York. Do you want to assist me again?" Then we did Awake and Sing. Then I went off to L.A. and I liked it. I was thinking of moving there. He called again and he said, "We have to do South Pacific. When are you coming back?" That was a moment where I was really making a choice. I decided to come back, and we did South Pacific and that lasted a very long time. That was our longest running show we had done together and then there were two tours of it. On the heels of that tour, the touring producers called and said, "We need an associate director for War Horse." Bart and I did one more show together. We did Women on the Verge of a Nervous Breakdown, and then I left that position and went on to do War Horse. I just can't say that I planned any of it because I just didn't, but certainly being the associate director on a large first-class tour, I was able to make a living. I did some teaching. I did other small directing jobs along the way.
There are times when it's really hard to make a living. When I tried to wean myself off being an associate, I suddenly didn't have any income. I was living off of my credit cards for a while. I was in a scary amount of debt. That was a tough stretch. I don't have great advice about building a career. I think I've just always been somebody who's really attracted to, or really dedicated to trying to live my life as fully as I can in the present moment. I try to follow the energy of that and try to stay open to those opportunities and take the work as I need to.
It's interesting what you're saying about the generational differences, because something that seems common among people I know is that they feel they have to be over-prepared for everything. There's that thing of men getting hired on potential and women getting hired based on past results. Your experience of saying to Bart, "Hey, this is something I think I might be interested in or I might be good at," is so counter to the idea of having to be over-prepared before you ask for anything.
I grew up in the '90s and I grew up in an age where there was nobody like Lena Dunham, and Tina Fey was not yet a showrunner. I was looking for role models in the women that I saw in the world. There were fewer women in leadership positions to look to. There was Julie Taymor, who was a great role model, but there just wasn't anyone else like her.
I went to public school my whole life and there was a theatre program and there were arts programs. I turned away from those programs in high school. I sort of found that I got something else by focusing on sports. My generation was a product of Title IX and so, suddenly, there were sports teams at my school and I just joined them all. I did not have the courage to pursue a career in the arts. I was very shy and very introverted. While I took a lot of creative writing classes, I found critics like totally devastating and humiliating.
I also discovered this great writer that I loved in college, this woman named Pam Houston, who was another great role model and was somebody who was leading this life of total intrepid adventure. I, for whatever reason, took my bat mitzvah money that was in a little savings account and I sent myself on a two-month Outward Bound course the summer after my freshman year of college. I was 19 and it totally changed my life. I spent all of my 20s pursuing life in wilderness adventure activities because it literally rebuilt my self-esteem like one cell at a time, because I found that if I could be brave and I could be strong physically, then everything else would eventually catch up. I'm just really glad that at 19 I made that strange and difficult decision. I grew up on the East Coast but I moved myself to the West Coast. I pursued this thing and this life. I became an Outward Bound instructor and there's not a day that doesn't go by where I don't draw from having have that experience. I think I didn't know who I was until I escaped the trappings of what I thought I was supposed to be. That really is a valuable experience and practice. That's what I needed in order to arrive at this moment, but everybody's different.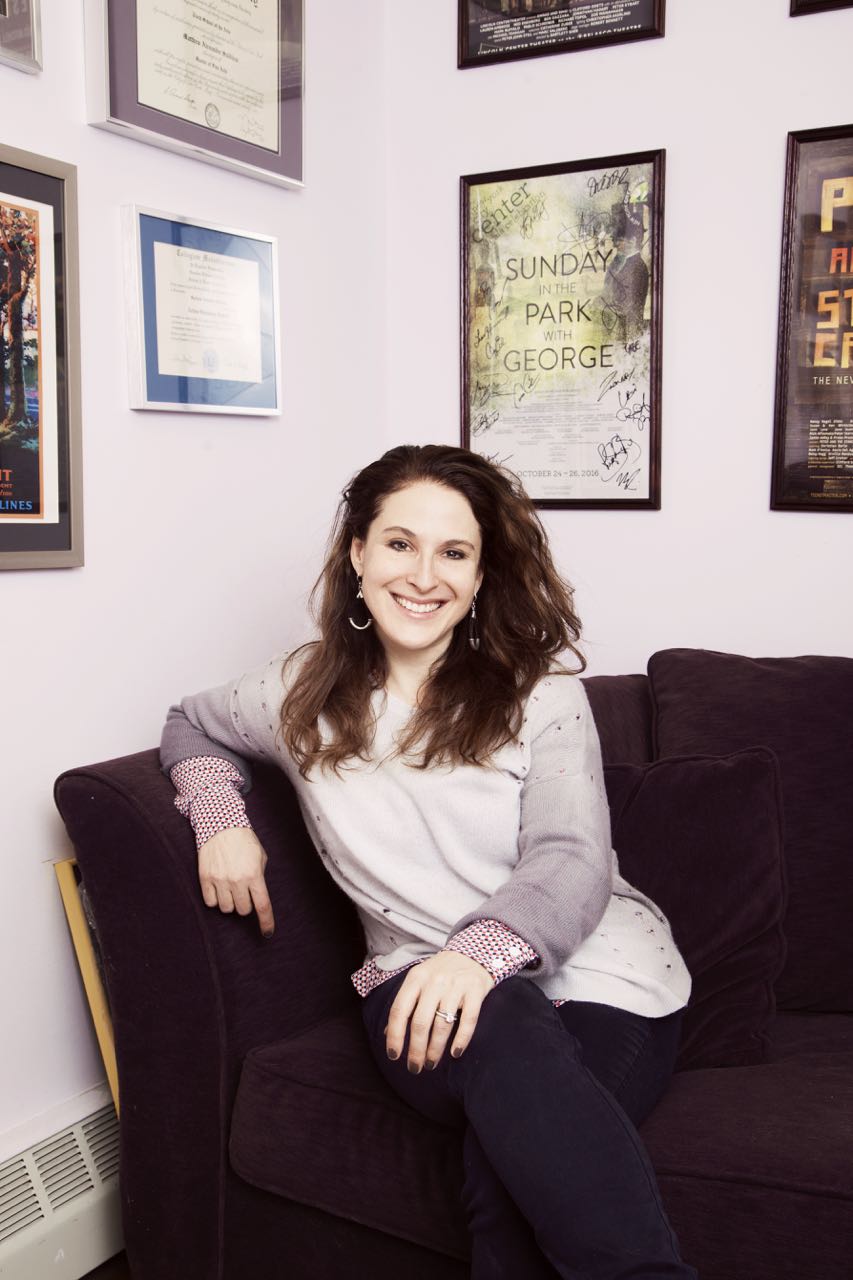 What's something that you think can be done to improve equality for women in theatre?
Something that's been of great help to me in the last few years is the SDC. And Laura Penn, who runs the SDC, has done an incredible job of reaching out to not just Broadway directors, but assistant and associate directors, and understands that that is, in essence, the next generation of theatre artists and directors and choreographers. In the last two to three years, because of Laura, I got more involved in the SDC and I met Leigh Silverman and I met Anne Kauffman and I met a whole host of other women in the field. It's been incredibly encouraging. I think some of it is just conversation and being that person that somebody else can turn to when they're having the experience for the first time, where they have doubts or they have questions. That's a great thing about getting in a room with other assistant and associate directors and choreographers, like to be able to share your experiences and just realize that you're not alone. I think that's what's hard about directing—it can be a very lonely job. There's no one else in your team who's quite going through the things as you're going through them. Having other directors to turn to is really valuable and really encouraging.