How Fashion Can Empower Women of Theatre
Written by Victoria Myers
June 8th, 2015
For our special post-Tonys feature we decided to focus on fashion and how it can be used to empower women of theatre. We collaborated with stylist Micaela Erlanger as she styled Laura Benanti for the Drama Desk Awards and Sutton Foster for the Tony Awards and got their thoughts of fashion and theatre. We also took a look at how fashion has been used as a cultural bridge and innovative tool to recruit new publicity and audiences.
(i.) The Set-Up
Theatrical magic can take all types of forms and sometimes the form it takes is moving a diamond and ruby bangle up an arm. To be precise, we're talking about a Fred Leighton bangle and an arm belonging to the illustrious Sutton Foster. The bangle, now placed securely around Sutton's forearm, adds the finishing touch to the Naeem Khan gown Sutton is wearing to the Tony Awards. The combination of the gown, with its red ombre color and sophisticated neckline, and unexpected jewelry placement provides a perfect bolt of energy and example of the visual storytelling that fashion can offer; the right outfit can contain a million moments waiting to be explored.
The person orchestrating this coup de jewelry is none other than the brilliant stylist Micaela Erlanger. It's the Tuesday afternoon before the Tonys and we're gathered in Naeem Khan's studio in midtown Manhattan for Sutton's second to last dress fitting (there will be one more Thursday morning to get the fit of the dress's corset perfected to Sutton's body) for the dress she'll be wearing to present at the 2015 Tony Awards. It feels exciting and special and like the perfect penultimate moment to an adventure in fashion that began when we sent an e-mail asking if Micaela might be interested and available for an idea we had about fashion, theatre, and empowering women.
When The Interval was founded the question was, "What can be done to make things better for women in theatre?" and it's a question that we're always asking ourselves as we look at the theatrical landscape. At The Interval we noticed that a continuing problem affecting everything from how women in theatre are spoken about to how shows are advertised: theatre is still largely isolated from mainstream cultural dialogue. While the rest of the entertainment industry discusses gender politics, theatre has been painfully lagging behind, much to the detriment of its own art form. So, again, we asked ourselves, "What can we do? How can we help bring theatre into a larger cultural context?" and the answer we came up with was, "Fashion."
And so we teamed up with Micaela Erlanger as she styled Laura Benanti for the Drama Desk Awards and Sutton Foster for the Tony Awards. We got her expert perspective on how fashion can be used to help actresses empower and express themselves on the red carpet, and on why women in the public eye deserve help in these areas. We also looked into how both the New York City Ballet and the New York art world have used fashion to expand their audiences and fund new work, something that would surely be a great thing for the theatre. After all, as the most famous and innovative fashion editor of all time, Diana Vreeland, said, "The eye has to travel." Indeed it does, and with that, the mind is opened up to new possibilities, opportunities, and voices.
(ii.) The Stylist: Micaela Erlanger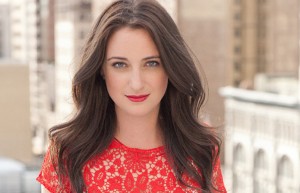 When we found out that Micaela Erlanger was interested in our ideas about empowering women of theatre through fashion, we almost burst into song and a full production number (okay, maybe we actually did—shh, don't tell). Micaela is one of the most exciting fashion stylists working today, and with good reason. Not only do all of her clients always look amazing, but they always look like individuals. It's clear that she not only knows clothes, but understands the stories they tell and the personalities they represent. No wonder she and two of her clients, Lupita Nyong'o and Michelle Dockery, landed on the cover of the 2014 Hollywood Reporter's 25 Most Powerful Stylists issue. We were overjoyed to be able to pair her with two terrific and unique ladies of the theatre: Laura Benanti and Sutton Foster. We followed along with her process (be sure to check out the behind the scenes photo essay of Sutton's dress fitting (link)) and got to watch her think of every detail—from making sure things fit perfectly to the right accessories—that makes a huge difference in how women feel in their clothing. We also got to watch her do all of this in a truly warm and positive manner that emphasized how clothing should be a form of personal expression. Micaela took some time to talk to us about fashion and empowerment.
All of your clients seem to have very distinct styles and, that always comes across in what they wear. You just recently met both Laura and Sutton, but the way you styled them seemed to make perfect sense for their personalities. What's your process like for working with a new client?
I think it's about a conversation, and also understanding that what you wear is an extension of who you are and understanding how to interpret someone's individual style. It's really looking at how to highlight that and best represent who they are on the carpet. I take a real in-depth look at what they've worn and what suits their body type. It's always research and then a conversation during our fittings. I'll have a rack of dresses and, ultimately, it's about what your client feels the best in. At the end of the day they have to walk that red carpet and they have to feel confident—and confidence shows tremendously—so you have to feel like a million bucks. It's about being open to the idea of fashion and finding the right recipe for your own personal style.
It was so great that for both Laura and Sutton—despite being totally different looks—they both had a contemporary edge to them. That's something that we don't always see a lot in the musical theatre world. It seems like those ladies get pushed into princess land a lot because of how musical theatre is stereotypically thought about.
Fashion should be about showing the various sides of someone's personality. For Laura, she is so cool and fierce and confident and funny, and we chose a pretty sexy power suit from Mugler. It was very cool and unexpected and it suited her perfectly. It didn't feel right to put her in a puffy dress. And Sutton just radiates this sense of whimsy and this playful side, and we chose a stunning, cool, unexpected ombre gown that I think also highlighted who she is perfectly. You're playing a character for a reason. I think it's about truly embracing your own sensibility and fashion style and polishing it and highlighting it and presenting that when you're on the carpet. And making it about the occasion. You can always give a nod to something, but it shouldn't be taken literally. That's when it gets kitsch.
One of the things that was so cool to watch was all the detail work you put into these looks. Like when you put the bracelet on Sutton and then moved it up her arm. Or talking about how she actually gets to the awards. There's so much more that goes into it than just picking a dress. Can you tell us a little about all of that?
I think it is all in the details and that's also what makes a look special. It's about how you punctuate a red carpet moment. Jewelry is really important. With Sutton we're working with Fred Leighton who, in my opinion, is the finest jeweler. They have the most extraordinary estate pieces and rare jewels that are absolutely phenomenal. The hair and makeup comes into consideration. The accessories come into consideration: what handbag? What shoes? It's all in the details. For shoes we had a million pairs for her to choose from, but ultimately it's, "What can she walk across the stage in?" What's going to be beautiful but also keep her comfortable so she shines? Or what handbag is going to complement the look and add that final touch? Or should we push that bangle up the arm or keep it around the wrist? How are we going to constantly reinvent and modernize a look? That's the fun part and also what makes something feel personal and special. It's always in the details. And getting to the event, you can look beautiful in your fitting or in your home, but if you walk in with a wrinkled dress then, my goodness, what was all that hard work for? That's something I always take into consideration: making sure we're working with fabrics and designs that are going to hold up. I have a million tricks for how one should travel in a big ball gown to an event to minimize any wrinkling. Since you want to look your best on the carpet and the whole night—you don't want it to be a flash in the pan.
A lot of theatre actresses have mentioned that when they have award shows and opening nights it becomes very stressful for them since they don't have help or the resources for finding what to wear. How realistic is it, in today's fashion world, to expect women to do red carpets and be photographed without the proper resources and help?
I think it's very challenging. I think it's putting a tremendous amount of pressure on them. Walking those red carpets is a big deal and you need to feel and look your best. These are occasions where women are being awarded and applauded for their work and for the art, and I think it's such a special occasion and it should be treated as such. In the past few years there's been a new emphasis on the red carpets and the attention is at an all time high so the pressure is really on. So any way that I can help women feel wonderful, count me in. But I think it's a real challenge for people who maybe don't have the same accessibility that the Hollywood actresses perhaps do. But I think theatre and the arts should be embraced and supported and should be getting the same type of attention for these actresses, who are tremendous.
Do you have any tips for actresses going to events? Especially if they can't afford a stylist.
Do your research. Know your body type and don't be afraid to try things on. Alterations are everything. Find a seamstress that you trust who understands the construction of gowns and those types of garments. Photograph yourself. Things read differently on camera than real life. It's surprising and sometimes really impacts the way you look on the red carpet. It might photograph a different color or it might photograph see-through. I think it's really about dressing for the occasion. And if you're going to the Tony Awards, dress for the Tony Awards. If it's an opening, have fun and go a little cooler. Fashion should be fun.
We wanted to talk to you about how fashion can help define an actress's image to the public and even what roles they want to play.
The red carpet is really an extension of who you are. You see actresses on the red carpet because it's associated with a premiere or an award or recognition, so it's all the more reason to use it as a platform to showcase the best version of themselves. And why wouldn't you want to embrace this opportunity to paint your picture to the public? I think it can be really powerful and it can be transformative too. But you have to do it the right way. Stylists are able to guide and help shape someone's image. We work in conjunction with an artist in promoting their work and who they are and what they do. It's all part of a bigger picture. Trust me, no one is going to walk into a store and purchase a cocktail dress and call it a day. It's really more about the relationship that fashion has with the arts and the relationships it builds and how entertainment and fashion are intertwined. It's not just that easy.
Fashion and the red carpet seems like a way that actresses can generate a lot of publicity for themselves and their projects.
Absolutely. It is. That's really the driving force. People look at the red carpet and what people are wearing and they look at the trends to see what people are wearing. The publicity factor is huge. So when you're campaigning for the release of a movie or the opening of a play, and you have those red carpet appearances and all of that, you are also campaigning your public image.
One of the reasons we're doing this is we want to bring some of that interest to theatre—new avenues of promotion and new audiences. What do you think would be a cool way for fashion and theatre to collaborate?
I think we're seeing it happen right now. I'm really excited for the Tony Awards. I think, in general, there is a movement happening and it's pretty cool to be a part of it. I hope there's an appreciation of the power that fashion can have on the carpet and how it can transcend, and it should be embraced by all aspects of the theatre and art world. I can't wait to see what's next for the season ahead. Who knows what's on the horizon. Maybe there will be collaborations with costume designers on Broadway? I think there will be more crossover and I'm excited to see what it is. I know I'm thrilled to be involved in styling such talented actresses.
(iii.) The Actresses: Laura Benanti and Sutton Foster
One of the perks of running The Interval is that we get to give a platform to some tremendous women of theatre (or as we like to say, "We ask smart people for interviews and then get out of the way and let them talk"). These ladies are the ambassadors of the American theatre and deserve to be treated as such. But being in the public eye is hard, especially if you're a woman. In today's world, it is completely unrealistic to expect women to do award ceremonies, press events, and public appearances, on top of doing one's actual job of acting, without help. One of the most common complaints we hear from ladies in theatre is that they don't get the kind of help needed for these events to make them feel comfortable and confident in front of the cameras. When used correctly, fashion can open doors to new forms of personal expression and creative opportunities. So we were beyond thrilled to pair Micaela with Laura and Sutton. With that in mind, we chatted with Laura and Sutton about their experience.
Laura Benanti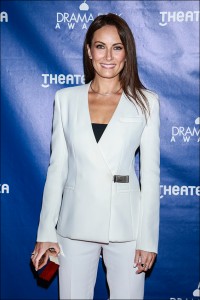 How did working with Micaela make figuring out what to wear for the Drama Desks easier? Did you have an idea of what type of look you wanted when you met with her?
I don't consider myself a "fashionable person." Comfort is primary for me. Walking into Micaela's beautiful studio, I had every intention of letting her dress me however she wanted. The minute I saw the white suit I knew that was going to be my first look. It was the first thing I tried on and I fell in love with it. I believe my first words were, "I want to make out with myself." When Micaela showed me the tuxedo shoes, I almost cried. They were so adorable, and absolutely captured my personality. #LadyBoss power suit with fun shoes!
Did you find it helpful to work with someone who understands women's bodies, and also the visual language of fashion and how it communicates things to an audience?
Micaela made me feel beautiful and powerful. Sometimes, in the fashion world, I have felt like my boobs were too big and my butt was too fat. Everything Micaela put me in made me feel good about myself. And her loving, kind, enthusiastic demeanor made it a joy. She really knows how to make a lady feel good about herself.
How much do you think an actress' personal style can help her define herself to the public and what roles she wants to play?
I think one's personal appearance is incredibly important. I wish I knew Micaela earlier in my career so that she could help me align my personal style with my outgoing personality. I think it would have helped brand me in a way that would help people get me more.
Have you ever felt pressed to present yourself publicly in a way that you thought didn't really represent who you were?
I think I used to feel like I needed to dress "sexy." Now I realize I would rather look "cool."
What do you think would be the coolest way fashion and theatre could collaborate?
I think including theatre artists in high fashion magazines would be enormously helpful. Not only do theatre people have interesting looks and backgrounds, which would be great for the reader, but it would educate the public about theatre artists.
Sutton Foster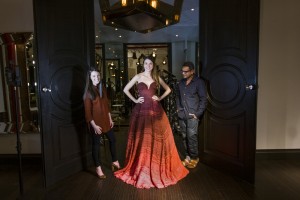 Be sure to check out our behind the scenes look at Sutton's fitting.
When you first met with Micaela, did you know what direction you wanted to go for your Tony look?
Not really. I always like classic and sophisticated. I knew I didn't want to wear anything that felt too much like a costume or that felt glitzy. I knew I wanted to feel comfortable. And I knew I didn't want to wear black. So when I was talking to Micaela the first time I was giving her that direction. Then when I met with her, this dress [the ombre Naeem Khan] was the first one that I saw when I walked in—I turned the corner and I was like, "That's pretty." We tried on fifteen dresses and that was the sixteenth dress and we were like, "This is the one." But it was the first dress I saw. The color was different and I loved the ombre. And it fit.
How did working with Micalea make this process easier than it might have been?
It's incredible working with a stylist like Micaela who thinks of every little detail. I don't look at my life or my wardrobe from a fashion point of view. I look at it from: I'm walking around the city and I want to be comfortable and how do I make it through the day. So it's awesome to work with someone who has such a great eye and thinks of all the details, like the purses and the shoes, and then to have it all come together in like fifteen minutes is awesome. I can't wait to look great on Sunday night. You realize that's important, and you want to say, "Hey, I'm still here." I realize I wasn't in a show last year, but I'm still around and I still love this place.
For an actress in today's world, how much do you think personal appearance and how you present yourself plays a role in how people see you and even getting roles?
It's an interesting thing since it's something I'm now just learning about. It's the part of the business that's not my favorite because I always want it to be about the work—that's my priority—but I'm learning, especially now that I'm doing a lot more television, that, "Oh wow," it actually is this bridge for audiences to get to know you and see what you're all about. The whole fashion element is new to me but it's fun.
One of the things we've been told a lot is that it's really stressful for women in theatre when they have award shows and openings because they don't have the help they need.
Yeah. Women of the theatre are looked towards, and I think in a flattering way, more about the work. So it's interesting, as we are showing up at more fancy award things, to find how we bridge that gap and also hold onto what we're all about. I have found that because we don't have the name recognition or face recognition because of the nature of the industry we're in, that big many named designers aren't apt to dress us. But maybe we can change that? I think the bridge between TV and movies and theatre is getting smaller—so many people are doing so many crossover things—so it's really exciting to see that changing.
Theatre hasn't quite made the leap to being part of the cultural conversation. Are there any ways that you think fashion and theatre could collaborate?
I think fashion is an incredible way to bring attention to women in theatre. I think it's a missed opportunity, and a great opportunity to do that. I'm so proud to be known as a theatre actress. Do I wish that when they cast big budget movie musicals, they were cast solely with musical theatre actresses? Yes, I do. How do we get that to happen? How do we get our names out there? I love what I get to do and I think anything that we can do to thrust us more into social consciousness the better, and if fashion is the way to do it? Hell yeah.
(iv.) The Publicity
Let's take a moment to talk a little more about fashion and publicity. We probably don't need to tell anyone that fashion can generate a lot of publicity for actresses. It's a way of keeping their names and faces in the public eye, and sometimes it can even be used to fund special projects. For example, Cate Blanchett has long been a brand ambassador for Armani, and Armani made a large donation to the Sydney Theatre Company allowing them to tour internationally and cultivate emerging artists. How great would it be if that happened with one of New York City's non-profit theatres? Or how great if theatre actresses had other avenues of promotion so they didn't have to do interviews with people and publications that made them uncomfortable (maybe it's just us, but between being photographed on the red carpet in a designer dress or sitting down with a sexist reporter and having to look happy about it, we'd pick the dress without hesitation)? But, perhaps, one of the most exciting ways that fashion could be utilized to help the theatre—and the women in particular—is by making it part of the larger cultural dialogue.
A question that we've asked the majority of actresses we've interviewed is, "Actresses in film and TV get asked about gender equality all of the time. Why do you think theatre actresses don't get asked these questions?" We've gotten an array of answers, but we can't help thinking that part of the problem is that theatre has become increasingly culturally isolated. It's hard to ask people to speak out, and hard for a movement to gain traction when it's not connected to a larger cultural moment. Think how much easier it would be to reach gender parity if, when successful theatre artists spoke about it, their comments garnered even a fourth of the media attention that similar comments from those working in film and television garnered. Even organizations dedicated to covering gender equality in the entertainment industry don't cover theatre. And this is a problem.
The fashion industry may have a complicated relationship with women, but the majority of fashion publications do cover feminism on a regular and increasing basis. Some of the best and most accessible commentary on gender issues is featured on New York Magazine's fashion blog The Cut; Cosmopolitan had a special CosmoVotes initiative during the elections; and HarpersBazaar.com was actually the first the mainstream publication to publish the term "gender parity in theatre." Okay, full disclosure, I wrote the HarpersBazaar.com pieces about theatre, but much credit should be given to Harper's Bazaar's Executive Editor, Laura Brown, who didn't hesitate when asked about using fashion to help shine a spotlight on women of theatre. It's also worth noting that gender parity in theatre was discussed on HarpersBazaar.com before it was covered in any original content by any mainstream theatre website. This just illustrates the chasm between dialogue that the rest of the entertainment industry is engaged in, and the theatre.
It might be a Clinton era term (hey, in honor of our next President, why not?) but, "It's the economy, stupid," has never been more apt than when thinking about the relationship between women and the commercial American theatre. What's the easiest way to get plays by and about women produced? Prove they make money. And with women making up 70% of ticket buyers that should be easy, right? Except it's not. And a large part of the problem is that the perception and cultural dialogue around the theatre hasn't caught up to the rest of the world. Fashion can help bridge the gap by giving women in theatre a greater platform, and in doing so help theatre engage in the larger issues of our culture.
(v.) The Ballet
Fashion can offer not only a means of entering the cultural dialogue for performers, but can also be used to bring new audiences to theatre. One of the most successful instances of fashion and an arts institution coming together has been at the New York City Ballet. Starting in 2012, under the leadership of Board Member Sarah Jessica Parker, NYCB began collaborating with fashion designers for their annual gala, giving the company not only new income, but new audience members and new avenues for publicity. From Vogue to The New York Times, there were photos of the star-studded galas, and with that came a renewed interest in the ballet as something to attend. Can't attend the gala (yes, there actually are tickets available to regular patrons)? Go to a future performance and see what all the fuss is about.
As part of the collaboration, the ballet paired a wide range of designers with choreographs to design costumes for their new work. Fans of the designers bought tickets and they brought their friends. People who might have considered going to the ballet before, but never got around to actually going, found the impetus to buy tickets. Something rarified became accessible through fashion. The collaboration was such a success that it led people to declare, "High fashion saved the ballet."
City Ballet also started doing cultural collaborations with artists, featuring art installations in the lobby of the Koch Theater. Again, they found that these cultural dialogues brought in new audiences and had a higher level of audience retention than was normal for first time ticket buyers. After all, it stands to reason that most people who attend one kind of cultural will attend another. A person who goes to an art gallery is more likely to go to the ballet or go to the theatre than someone who does none of the above. Yet they still have to have an introduction to it. Imagine it this way: if ballet, art, and theatre are seated next to each other at a dinner party, then fashion is the red wine.
We'd love to see this type of cultural collaboration in the theatre as a way to get new audience members (especially audience members who are interested in new and diverse work).
(vi.) The Art World
A few weeks ago, I spent an afternoon wandering around the Frieze Art Fair on Randall's Island. Having spent many hours of my childhood trying to find the most obnoxious way possible to amuse myself in art galleries that I declared, "So boring," I might not have been the most obvious candidate for Frieze-going, and yet for the second year in a row I found myself taking a thirty dollar taxi ride to Randall's Island for the event. Why? My feelings about contemporary art hadn't changed that much, but after days of scrolling through photos of Frieze on Instagram—from editors to stylists to people whose jobs might just have attractive Instagrams—it seemed like the place to go. And I clearly wasn't alone. Frieze was full of people, the majority of whom were under 45, spending the afternoon looking at art. It was also street style central. Did any of these people go to theatre, I wondered? Judging from my eavesdropping, many attended other arts events and seemed equally interested in discussing possibilities for how Mad Men was going to end (the finale was that night), so why wouldn't they go to the theatre? Yet if they did, their attendance hasn't been transmitted the same way or placed in the same context as a cultural event to get excited about.
Again, much like with the ballet, the art world has found the ability to locate itself within the culture dialogue of the city, in part through the accessibility and excitement of fashion. After all, New York City has always been a place where people come to experience the cultural life, be it a new restaurant or a new film; it's a city of interconnected culture. And yet perhaps the last great cultural collaboration between theatre, art, and fashion was the casting of Bernadette Peters in the 1989 movie adaptation of Slaves of New York. Meanwhile, the art world has benefited from these cultural crossovers, not only through increased attendance at art shows, but also through the positive effects on the young patronage programs of museums. Although these patron programs are for a small demographic of people, with the lack of art funding in America, the non-profit theatre could greatly benefit from an increased interest from young donors.
A prime example of this are the Junior Associates of the Museum of Modern Art. The Junior Associates, which offers donors 40 and under special programing, is one of the most popular philanthropic groups for the arts in the city—popular and fashionable. At MoMA's annual Party in the Garden attendees, from young donors to celebrities, are photographed in their sartorial best. Bill Cunningham is there. Yet, to go along with the glitz there is also a deep level of engagement with the arts, something that has been proven to be instrumental in getting and keeping young donors. Susi Kenna, Co-Chair of the Junior Associates, commented, "When I think of the group's connection to fashion, I think of the amazing outfits I often see at openings or other special events," but what she really stressed was, "The true 'cool factor' is the Museum, the culture of the Junior Associates, and the programming that members have access to."
The pressure on arts organizations to engage their donors is at an all time high. Young donors, especially, want to feel like they're part of something on both a micro and macro level. Many of the city's largest non-profit theatres do have various programming to engage young patrons—from the Hiptix program at The Roundabout to the Young Patrons of Manhattan Theatre Club—that provide ticket offers and insider access. However, none of them have managed to package their programming in a way that has the same social cache as other arts institutions. In today's world, young patrons are more likely to be swayed by posts on Instagram or Tumblr than by TV commercials. When asked about social media and the Junior Associates, Susi Kenna stated, "Social media most definitely makes an impact on how a Museum is perceived and understood. With the growing number of Museum groups that one can join, it is vital that a group have a strong and compelling presence– both on their own channels and via their members." For a generation raised on a steady stream of Sex and the City episodes that morphed into Instagram feeds, the visual language of the presentation of New York City cultural life has never been more important. After all, there are only so many ways to make a photo of a Playbill interesting. Fashion, both its physical embodiment and its more ethereal qualities, offers an answer as a way to blend the packaging of form and content; it gets people in the door and gives them new ways to express their engagement.
(vii.) The Future
New York City has always been as much a state of the mind as a physical place on a map. When people dream of moving to New York they envision a collage of sounds and images of an entire lifestyle formed through ideas picked up from television shows, novels, movies, and magazines; a place where the events of one's life take place in a cultural dialogue that inspires the imagination to endless possibilities. The joining of theatre and fashion can help to connect to those possibilities, be it through giving actresses a greater platform for publicity, which leads to more power to speak their minds, or through enticing new audiences who demand more diverse work. We hope this is just the start of something and that soon we'll see everything from more sophisticated use of the red carpet to collaboration between fashion designers and costume designers to using fashion to kickstart philanthropic efforts. Who knows, maybe a fashion designer will even start a fund for female musical theatre composers and outfit some of Broadway's best as they perform the work of these talented ladies? And maybe it will get us closer to gender equality. After all, what could be more fashionable than that?