Sharon Washington on "Feeding the Dragon" and Growing Up above the NYPL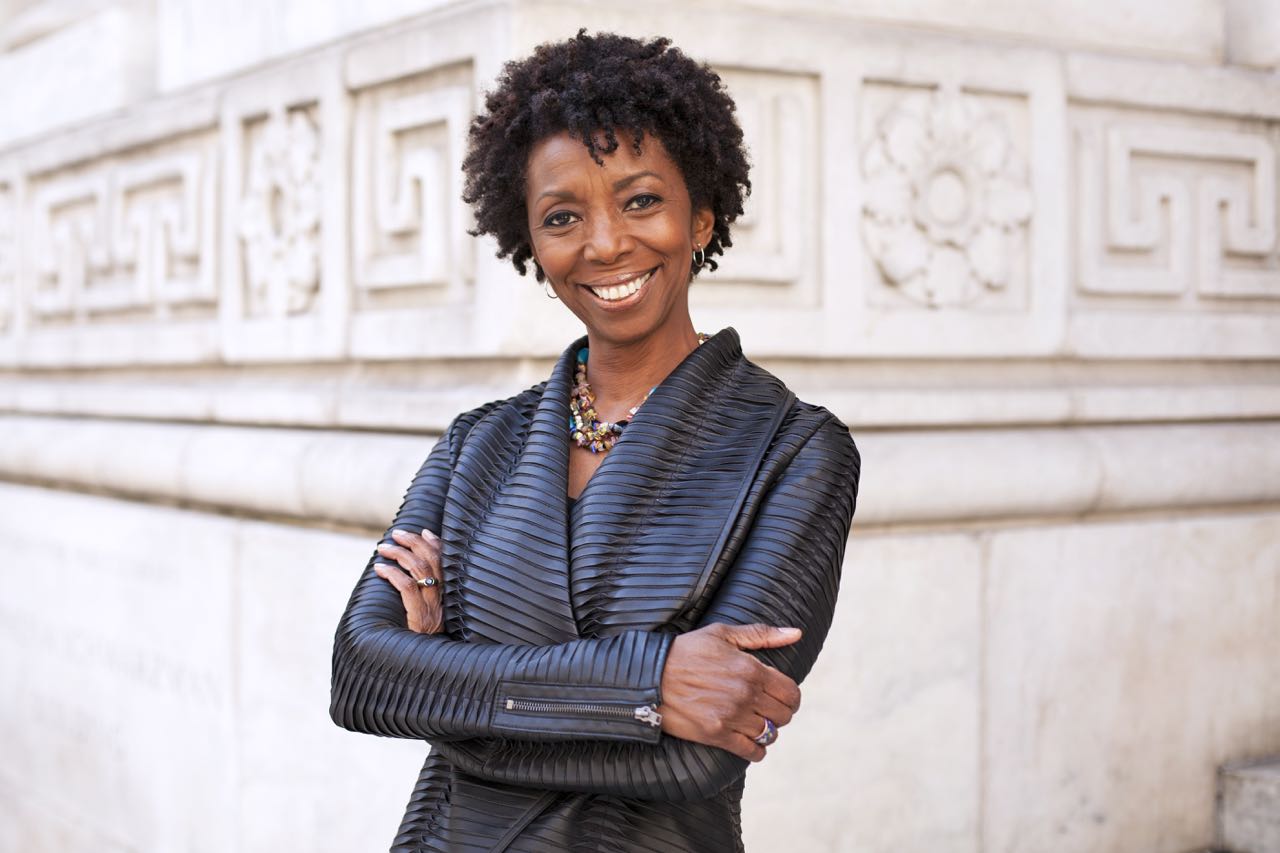 Written by Victoria Myers
Photography by Jessica Nash
April 3rd, 2018
For years, people told actress Sharon Washington that she should write about her childhood growing up in an apartment above the St. Agnes branch of the New York Public Library, where her father was a custodian. Now, she finally has, but it's not quite the story people were expecting. As she puts it, "It's also the flipside of the fairytale." Currently playing at Primary Stages, Feeding the Dragon is Sharon's solo show reflecting back on her childhood and her family—complicated and difficult moments included. We recently went with her to the Main Branch of the NYPL and spoke with her about writing and performing Feeding the Dragon and books that have had an impact on her.
What inspired you to sit down and write Feeding the Dragon?
Over the years, people have been pretty much telling me I have to write this story. Anytime anybody would hear that I grew up in a library, there would be all these questions, and there'd be this, "Oh my God, you have to tell that story. It's a little girl who lived in a library, it's classic. It's like Eloise." So I've been thinking about writing this story for about 30 years.
I started writing it as a children's book because that's how I'd always seen it. A little girl who lived in the library and watched her father feed the furnace. I started to write it in 2010. I took a writing class at the Y, and my teacher submitted it to The New York Times. At the time, there was a section where you could submit writing. That section got dropped, and it ended up with Jim Dwyer at About New York, and he ended up doing a column about my family. The next day, in his inbox and in my inbox, there were all these requests to write my story and I thought, "Now that it's out there, I have to do it myself."
I think people have been so fascinated by what was it like to live in a library and what it was like to grow up in New York at that time, and so the impulse was that I needed to write it before somebody else wrote it.
Did it take you a while to figure out what the hook was beyond just the library part?
Yes. That was the most difficult part. Like I said, I started writing it as a children's book, and that was really the magical story with the books coming to life. As a new writer, most teachers will tell you, "Just keep writing, don't edit yourself." And the story that came out wasn't a children's story. It was me as an adult reflecting on what it must have been like for my father to have to shovel coal 24/7, and what it was like to be a black man in 1971 in a maintenance position. All this other stuff started coming out, so I just started writing and there were all these individual stories. It was really hard for me to figure out, why am I telling this story? Why does anybody care to come hear this story? What's the reason for Sharon to tell this story in 2018? And that was really hard. And then after writing and writing and writing a lot, I finally figured out the why.
Tracy Brigden at City Theatre in Pittsburgh got one of the early drafts right after I finished my residency at New York Theatre Workshop, and it still didn't have an ending. Tracy said, "I love it, I want to do it." In those rehearsals, that was really hard. And we started talking about why I wrote the story, and I'd say, "Well, because people tell me all the time, it's like a fairy tale. And it's actually not a fairy tale. There's a flipside to the fairy tale," and that's when the light bulb [went off]. I was like. "Oh, I'm telling the flipside of the fairy tale. That's what it is." It's me, as an adult, trying to tell this story.
You mentioned the "why now" of the piece. Did you find that there was anything else happening in your life, or culturally, where you felt like now's the time and this is why I'm telling this?
Yes. There are a lot of untold stories. Chimamanda Ngozi Adichie did this great TED talk about the danger of the single story, and I think you're seeing it with African writers, where the story that's bubbled to the top has been the poverty of Africa, the suffering of Africa, and now we have a bunch of other wonderful African playwrights who are writing about another story. The other part of the African story. I think that's true for black playwrights as well. Colman Domingo is a dear friend, and we talked about, "Why can't we ever just tell a story? There are so many stories other than just pulling ourselves up by our bootstraps and being oppressed and being striving. We want to tell a story about a family dealing with Alzheimer's. They happen to be an African American family." And that's the play I did, Dot, with Colman. I feel like a lot of these other stories are bubbling up, and I feel like my story feeds into that. It's a story about a family who lived in a library, they are black because I'm black and my family was black, but we deal with a lot of universal issues.
Have you found any particular challenges of being both a writer and actress?
Yes. It's the hardest thing I've ever done. I would say 95 percent of the plays I've done have been new plays, and I love working on new plays, I love going to Sundance and working with young playwrights and emerging playwrights, and that's part of my gift to a playwright. I have a pretty good ear, and being in that room where you collaborate and birth a new work, that's all so exciting to me, but I've always been an actor when I work. I get to act and give the playwright my notes, and then I go away, and they come in the next day with new pages. When it's just me, and at the end of the day I have to come in with new pages, it was really hard to discipline myself. To be like, "Okay, today I'm the actor. I'm just going to work on the scenes, like I would any other play." It was really challenging, and I'll freely admit, there were times when I thought, "I can't do this. It's impossible, I don't have the time."
Were you always interested in writing?
No. I never thought of myself as a writer. I have such respect for writers, and I have such dear friends who are wonderful, wonderful writers. I think you should be really good at what you're really good at. I thought, "I don't want to be insulting and presumptuous that I'm a writer." For a long time I wouldn't say I was a writer, I'd say I was a storyteller, because that's how I think of myself. That's what helped me actually make the transition. I thought, "Well, what I've been doing is storytelling. So now, I'm going to tell my own story." I never thought I would end up writing my story, no. And I certainly didn't think that I would get a fellowship to write another story. Now that I'm the Tow Foundation playwright in residence for Primary Stages, I have another play that I'm working on, which is very exciting.
Were there any particular challenges with this being your personal story and writing about your family? Both in the sense of still theatricalizing and fictionalizing things, and that people in your family will come to see it?
All of the above. I wanted to make sure that I wrote this as a tribute to my family, to my father, to my mother, to my grandparents, and that class of working class New Yorkers that I think has disappeared. I wanted to make sure that the history was right and the stories were right. So much so that at some points early on it kind of bound me up, because I thought, "That's not exactly what they said," and it took a couple of my writer friends to say, "It's okay. It is a piece of narrative fiction." It is based on my story, and these are truths, but of course you have to create. You can't remember exactly what your father said at the table when you were eleven years old. Of course you have to make that up. But it's made up within parameters of, I have a pretty good idea that's what my father would have said. I wanted to be true to their voices and to their spirits, not necessarily quote them verbatim, because that's not theatrical. It's all true, but moments are spliced together. I compressed it all into one summer, just to make it more active and make the stakes higher and make it more dramatic.
Before we get into how books impacted you, what other areas of culture influenced the writing of this piece?
Painting. One of the characters in the play, my uncle Gene, was a painter. Not a professional painter. He had some training, he actually went to an art school, but as a black man, at that time, he couldn't make his living as an artist. But he would paint on everything and anything. So he's one of the characters in my play. He taught me about art, and that has definitely influenced the play.
What's the first book that you remember having a major impact on you?
There are a couple. The Phantom Tollbooth, James and the Giant Peach, Harold and the Purple Crayon, and From the Mixed Up Files of Mrs. Basil E. Frankweiler, because it's about kids who run away to the Met and I thought, "Oh, that's sort of like me." And of course, I had been to the Met so many times in school and, I was like "Well they kind of live in a museum, like I kind of live in a library." And I remember The Phantom Tollbooth because it was other worlds and portals. I loved stories about places that opened up into other worlds because I thought, "I lived inside a library. I could open a door at any moment and maybe step into another world."
As a child, what fictional character did you most identify with? And as an adult, what fictional character do you most identify with?
As a child, the girl from The Mixed Up Files, because I remember she was a bit of a bossy pants with her little brother, and she was the one who kind of came up with the idea. I was a little bit of a bossy pants. She was very organized, like she had the plans, and I would like to think I was very much like her, or she was very much like me. As an adult: Maya Angelou, not so much that I identify with her story in I Know Why the Caged Bird Sings, but I remember thinking, "Oh, you can tell a story about growing up and about what that was like." I didn't identify with the specifics of her story but with her voice, and the point of view of this little black girl. And that was the first time I read a whole book that was from the point of view of a young black woman.
Do you have any books from high school or college age that had a great influence on you?
Zora Neale Hurston. Their Eyes Were Watching God. Again, this whole world that I was like, "Look, somebody wrote a book about this." And A Tree Grows in Brooklyn.
What was the last book that you read that you thought was amazing and would tell everyone to read?
Brown Girl Dreaming by Jacqueline Woodson. Absolutely phenomenal. I guess it could be called a coming of age story, but it's written entirely in poems. It's just beautifully written and evocative. I carry it around with me all the time. She's a wonderful author. She was named National Ambassador for Young People's Literature. She's an amazing woman.
Is there a book that you love, that when you tell people about it you're surprised that they haven't read it?
Mama Day by Gloria Naylor. Naylor is most famous for her novel Women of Brewster Place, but this gem is one I've read again and again. It's beautifully written and has the feel of Shakespeare and Greek drama in its magical realism.
If you were on a desert island, what books would you take?
I would take a book of fairy tales. The classics, because I can always read those over and over again. I would take a poetry anthology. The collected works of African American poetry. Hughes and Hurston and Angelou. Those I am continually inspired by over and over and over again. And The Bible and the Collected Works of Shakespeare.
What do you hope people take away from the show?
I hope people are intrigued, amused, touched, and see some of themselves and think about how we are more alike than we are different. I think that sounds a little cliché and a little old fashioned, but I think the theatre, especially now, needs to show our similarities more so than our differences. It's a very specific story, but I think it's also a very universal story. The biggest compliment is when I did the show in Pittsburgh and an older white woman came up to me after the show with tears streaming down her eyes and she said, "I'm from the suburbs in Pennsylvania." It was the day after Donald Trump was elected in Pennsylvania, and she said, "You couldn't be more different than me. But that was my father." That is what I think theatre can do. I hope, in some small way, that you spend an hour and a half with me, and you recognize some of yourself or some of your family, and you go call your mother or call your father.