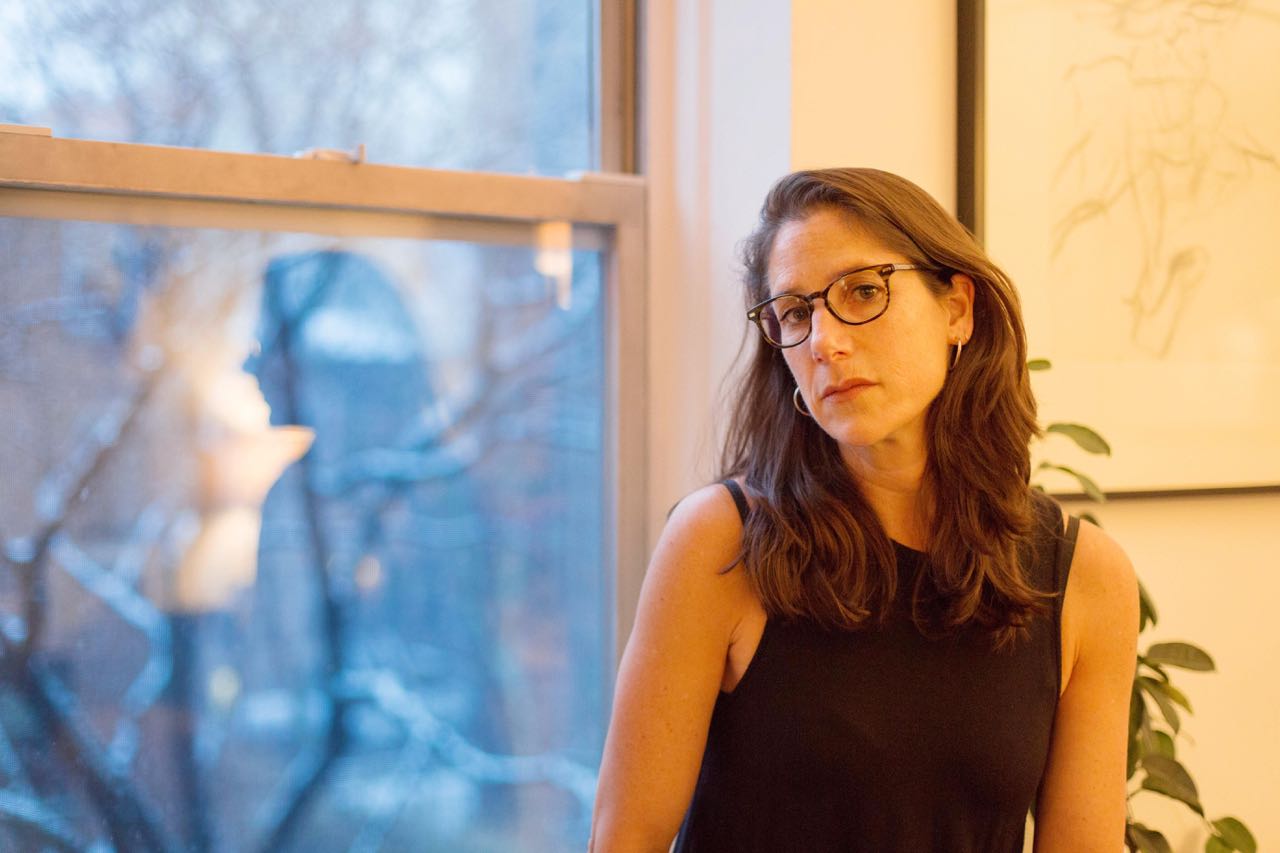 Written by Victoria Myers
Photography by Tess Mayer
December 18th, 2017
Director Anne Kauffman's name was everywhere this year, which is a slightly bizarre (and cliché) statement to make about a director who has been working consistently for over a decade. But here are just some of the things she did this year. Her latest project is the critically acclaimed concert/theatre piece Hundred Days at New York Theatre Workshop. Earlier this season at NYTW she directed Amy Herzog's new play Mary Jane, which has made it onto many critics' Best of 2017 lists. She also made an overdue Broadway debut directing Marvin's Room at the Roundabout. Last summer she directed the Encores! Off-Center production of Assassins, and a few months later was named the co-artistic director of Off-Center after the death of the program's artistic director Michael Friedman. So, yes, it was a big year, and we recently sat down to talk to her about staging Hundred Days, her feelings on her Broadway debut, her plans for Off-Center, and her thoughts about the category of "female director."
Hundred Days is an unusual piece. What was your jumping in point for it?
When I first started working on it, about four years ago, I was introduced to the Bengsons through Lisa Steindler at Z Space in San Francisco. She had this project, and I didn't know who they were. I went to go hear them sing and it was sort of transformative. Their music is extraordinary and their presence is amazing. The piece is about a great love, and ironically, at the time that we started working on it, I was in the middle of a divorce. It was very tricky. It was kind of a weird moment to be endeavoring upon this great love story. Not that I ever stopped believing in love and falling in love, but it was a difficult time for me. What's interesting is that we've been working on it for four years, and we have really endured huge life changes throughout that time period. As the piece was changing, so were we. I do think that the piece is a lot about trudging forward in the midst of great fear. It's certainly what we all have done in the last four years at various times in our own lives. This kind of perseverance has been really inspiring.
When things are being developed over a long period of time, do you usually try to stay very in touch with the writer's initial impulse of why they wrote the piece, or do you go more towards the changes in how you feel and the changes in the world?
I think the second. I think this in particular was a very curious piece because the Bengsons started this when they first met. It's been ten years. They have changed quite a bit and their art has changed quite a bit. As we continued to work on it, I was very encouraging of them to stay true to who they were becoming, because the piece is all about them. This seemed like a particularly poignant directive to continue changing according to who they've become.
At the very beginning of it, there was all this fictional structure around them. The piece has really been about stripping away to the very core. That's a sign of maturation too, sort of facing yourself and really being honest about who you are. That was part of the process for them. Also, it was a way of getting to know them very well. There's stuff in that piece that was encouraged by the writer and dramaturg, who had this perseverance to keep digging and digging at Shaun and Abigail that brought forth stuff from Abigail that she'd never told Shaun before. All of those things though, it was a very emotional process.
I think just like any great piece of art that you get to work on for a very long time, you really discover yourself through it. I feel like that myself. I feel very much a kind of journey that I've taken, in terms of how I'm able to be straightforward about what I like and I don't like, who I am as a collaborator, how to work on a piece that's like this, and becoming very close with the Bengsons and feeling like family.
What was your process for how you staged this piece? It's not a typical theatre piece, but it's not exactly like a straight concert either, and it is being presented in a theatrical setting. How did you teach the audience to watch the show?
The impulse to do this very stripped-down version was a very powerful reaction to what we had done in San Francisco, which was all artifice. At one point in the process after that particular production, I had been talking to people and a dramaturg about just sort of getting back to the core of who Abigail and Shaun are, and it seemed that the most powerful thing was the way that they travel. They toured with the music. They hadn't made the piece yet, but they would talk about being in the midst of making this piece. They would kind of just talk about, "This is the part where this happens, and this is a song that we've written for when we put this into the piece." The audience was moved every time in concert during their concert tours, the audience just couldn't get enough of it and were responding as though there was a real thing. For me, it felt like the power of storytelling and the fact that the music is the thing that is first and foremost in the piece. Why not actually celebrate the music as much as possible?
Then I felt like I kept saying to the Bengsons, "What I would like to do is to try to get the greatest impact out of the least amount of stuff on stage." I think of this piece as a theatrical concert. I think that when an audience comes in and sees the band setup and they don't see a set, the expectation is that they're going to hear a concert. But it's at New York Theatre Workshop, so we know.
I like the idea of saying to an audience, "This is going to be a concert, and then there's these little elements of surprise. Theatricality kind of sprouts from it." I want the audience's imagination to be the greatest set designer. I think it sort of happens, because I think if you give nothing but the music, and you're absorbed in the music, then one little theatrical gesture becomes us as an audience filling out the rest. I'm very interested in that collaboration with the audience.
We hadn't really done this version of it in a space like New York Theatre Workshop, which, as you pointed out, is a theatre. We did it at Under the Radar at the Public, but it was part of a festival of concerts and pieces and plays and performance. There's a hodge-podge of genre and style in there. That also felt like it sat really comfortably as a concert. Then we did it in a small venue in Cincinnati a couple of years ago, which was a very small venue that you couldn't really expand into.
When I was sitting in tech at New York Theatre Workshop, I was like, "Holy shit." I was like, "Right. We are in a theatre, and there's an expansion of the space." We didn't fuck with the space like a lot of people have been doing recently with New York Theatre Workshop. We kept it in the proscenium setup. I was like, "What are the expectations going to be? Do I have to meet them?" I would say that there are probably a couple places that I wish that I had figured out one sort of revolution of theatricality, but on the whole, I think I'm pretty satisfied with how it ended up. I also know that we're touring with it. It's going to be in all these different places. It felt like it was helpful for me to think about that too.
I want to talk about the autobiographical nature of the show. How do you approach where you want the audience to buy into viewing this as autobiography and where you don't, or where you don't necessarily want that being part of this discussion?
I think it's actually pretty important. I work with the Civilians. I feel like these are real people and these are the words that are coming out of their mouths and are things that they actually said. It feels, to me, the most compelling. It feels inarguable, and actually it feels like the kind of work that audience members might be able to access the most freely. I think that this particular piece is a conversation with the audience. I think it took us a while. This is the first time we opened with Abigail talking a little bit about her life. Before, we just started with the vows. We started, they came out, "Hi, I'm Shaun. This is Abigail. Blah blah blah blah. Here are our vows." Then we kind of dove into her life a little bit, just a little bit.
It was very important for me to set this up as something that Abigail was struggling with, that the story comes from a place of struggle with Abigail to frame it. I think that the trauma that she experienced that has led to the fear in the piece had gotten lost in the past, and people were not actually feeling the depth of that pain. They were not looking at her fear within that context. It's difficult, I think as an older person, too, to understand the fear of losing Shaun. They're young. They're healthy. They're in love. They're talented. Where is the connection, because I could just say, "You're going to grow out of it." There is something real that has scarred her and helps us understand that this isn't just sort of surface fear. This is actually a deep-seeded fear.
Again, there are theatrical flourishes in here, and there are moments that we stray a little bit from reality, but for me there's an emotional truth there, so that if we allow the audience in in a way that connects with Abigail, those theatrical flourishes will now feel emotionally truthful. Not only will they be sort of exciting theatrical moments, but they will have a visceral truth to them, which I think is what theatre should do. I want the audience to buy in. It can be a little tricky sometimes if they're like, "Is he really sick?" If they're confused about what the actual story is. That's another reason that we need to foreground the fear. I want to be able to get buy-in by the audience, and then take them on a ride that has one hand on earth and then allows them to create with us and still feel emotionally connected.
How was it working with the performers, in terms of using things from their real lives?
That was actually something that came into play most powerfully and most impactfully during the writing process, because [writer] Sarah Gancher was very adamant that they put stuff in their own words and describe the feelings that they were having in those moments. She actually got pretty intimate with them. I was able to take that text and take them as performers and treat them a little bit like characters. It's a real dance, because you can feel when they bristle at language that is not their own, that isn't precise enough to get at exactly what they're feeling—they're very vocal about that. Also, you can feel when the stakes are really high when it's not being precise, and they are very smart about understanding how to eschew reality for a second in order to make a connection, a storytelling connection from one beat to another. I think a lot of it had to do with just letting them lead us through.
The other thing that was very, very interesting this time around, which I had not done in the earlier versions was really capitalize on who Shaun is in the relationship and who Abigail is. Earlier on, they sort of vied for primacy on stage. The fact of the matter is Shaun is very shy and Abigail is the sort of social grease of the two. I dug into their personas much more deeply this time around and hopefully freed them to be themselves more. The layers just keep stripping away and getting to the sort of core of them.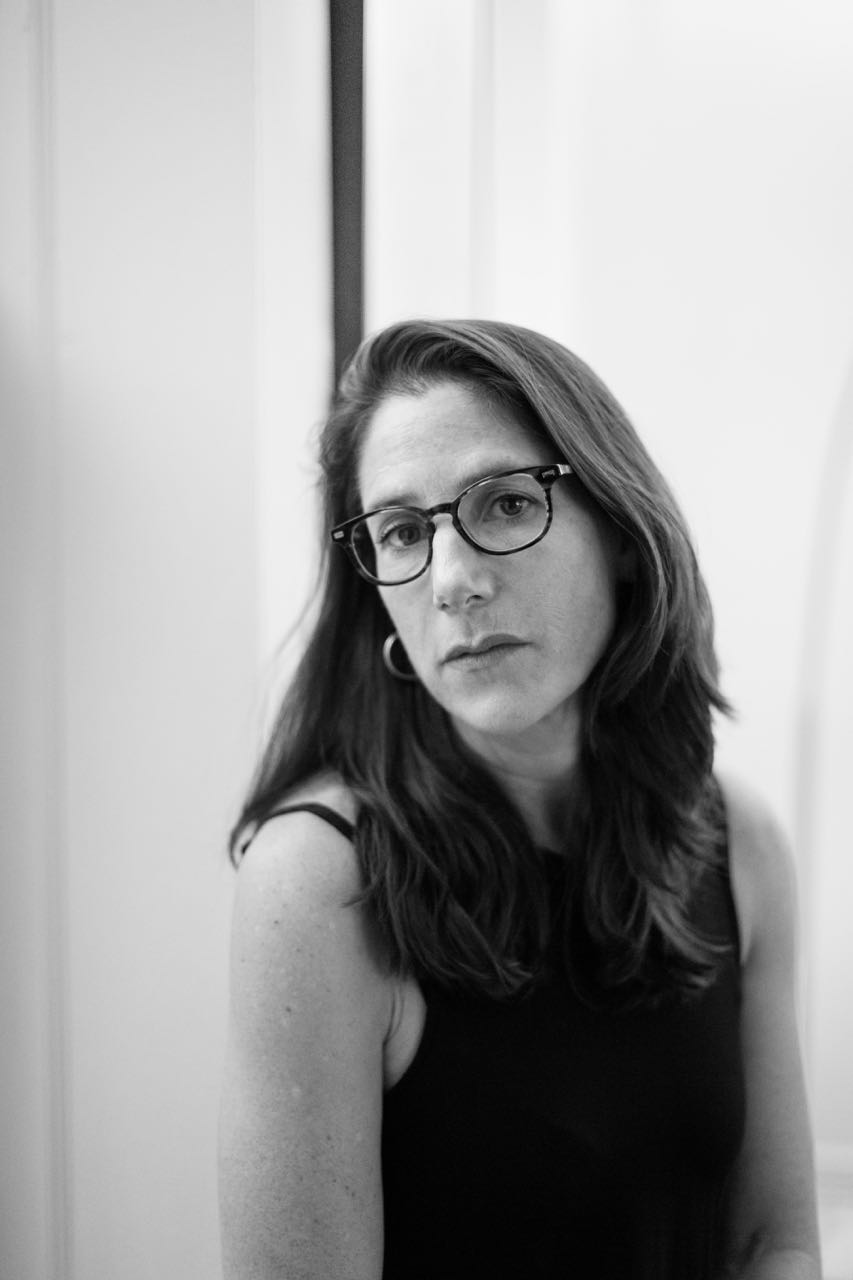 This year, you've done a wide range of projects. Do you find yourself gravitating towards things where you feel like you know how to do it and have been thinking about it for a long time, or do you gravitate more towards things where you think it's really interesting, but you have no fucking clue how to do it?
I think you distinguished two categories that, I think, are actually really smart. One is sort of subject matter that I'm exploring in my own life. Then another one is artistic form. When I did Assassins at Encores!, I was like, "What the fuck?" I had no idea, but I knew I wanted to get into further into musicals. The last few years, if you look at my oeuvre, a lot of it revolves around getting old and dying. It really does. Pondering death and pondering what to do with that time between now and death. I think you could make a case that that is what I've been focused on.
In any case, I have finally allowed myself to use my work to really figure out who the fuck I am and what the fuck I want to do. That sounds kind of sad in a way, because I feel like so many artists figure that out early on. I'm discovering that, and I think I'm really lucky that I get to have a community of people and thinkers figuring out these problems with me, and I get paid to kind of figure my life out. That's one category. Yes, I am attracted to those things that I'm wondering about.
Then there's the other one, which is more formal and more like I've got to grow as an artist. For me, it feels like it's important to have a healthy diet of both. I also think I need a healthy diet of weird new plays and classics. It's just a balanced meal that I'm looking for.
When you were saying you feel that you came later than other people to using your work to figure yourself out, do you feel like that is something that has to do with the nature of being a director, in terms of career things being out of your control, or do you feel like that was just a personal thing that has to do very much with you as an individual?
I think it's probably a little bit of both. I think it was my not understanding how to use my particular role or not feeling like I had the power to actually use my particular role in the theatre-making business to do that. I think that's slightly a lack of imagination on my part. Also, I think it is a little bit personal. I know a lot of directors where I would imagine that that's exactly what they're doing.
I'm not quite sure what I was doing before that, to be honest with you. I think maybe there was just a hunger and a curiosity when I was younger, and proving myself. I feel like my gaze was to the outside and trying to prove to other people that I knew what I was doing. I think as I get older, that gaze has turned inward. Also, I'm just a little bit more selfish. I feel like there's a certain amount of time I have left. I'm tired. My choices feel more honest.
You made your Broadway debut this year. How did that feel?
I will say that it was thrilling to finally pop that cherry, which feels way overdue. That's not ego. It's just I've been doing this for many, many years. It's not at all how I thought I was going to come to Broadway, which was an interesting thing to try to reconcile inside my soul. Interestingly enough, the play [Marvin's Room], it would have been exactly the kind of thing I would have directed as a new play when it first came out. There's something really gratifying about that. I felt really close to Scott [McPherson, the playwright] while I was doing it, or in preparation for it. I think I'm still struggling a little bit with the way I came to it. It felt, in a strange way, a little bit out of my hands, or that I wasn't guiding the sort of context within which I was debuting.
How did you think it was going to happen?
Well, I thought Detroit was going to go to Broadway. I thought Belleville was going to go to Broadway. I thought that I was going to go to Broadway with a signature piece of mine that had already done well Off-Broadway, and I would sort of introduce myself to Broadway audiences as me with my playwright friends.
I know from when we talked before that some of the female director stuff is not your favorite to discuss, but since you mentioned an overdue Broadway debut, you're in that in-between generation in the sense that you're not necessarily going to be the first woman to do X, like in the generation before you, and at the same time, not being part of the generation after that's been so focused on gender and where there's been so much more attention to that. How does it feel to be in the middle of those two groups?
There's actually kind of a lot of freedom of being in the middle of those two groups. In terms of my point of view, I feel like I can slide around a bit. The last time we spoke, didn't I quote Zelda Fichandler? Didn't I say something about Zelda Fichandler where I was like, she asked me when I got back from grad school, "How's it going?" I was like, "It's really hard." She said, "What?" I said, "To be a woman director." She's like, "What?" I sat there and I looked at her, and I was like, "Oh right, Zelda Fichandler basically started the regional theatre movement in this country." And I decided I was going to put my head down and not look up and just do good work. I would be noticed for it, which I think I have, to a certain extent.
Recently, I feel like I realized I think I misinterpreted her. I thought what she was secretly telling me was to put your head down and not worry about it. I think really how I should have taken that message was, "No, look right at it, and take it anyway. Don't ignore this thing. Actually do what you want to do and take it and look it right in the face." I feel like I have been burying my head in the sand.
My point of view on my opportunities—and as I look around at others' opportunities—has shifted a little bit. I think I'm seeing things a little bit more clearly. I'm still trying to figure out the best way of activating myself in this moment, but I do think I feel differently. I was recently asked to be on a panel about women directors, and I said no, because I feel like it was the same thing with that New York Times article about female directors. I was ashamed, actually, that I had said yes [to that article], because first of all, it was written by men. All the interviews talking about the women were all by men. I felt like it was a small group of women, and there were many more women. Also, the fact that we had to have an article about female directors was really basically calcifying the ghettoization, I thought, of it. All of these organizations and these theatres who want to talk about these things, they think that they're doing their part by having these panels. It's all the same people and the same conversations. I feel like they're not [doing anything].
Other directors reached out to me and asked me if I was going to do it. I said no. We had a really good conversation about why I wasn't going to do it. I was also slightly convinced by these other directors that maybe I should do it. I think that these institutions think that they've done something by having these conversations, that they're giving voice to us. I think that they should have men on the panels talking about them. I think that it feels like it's about optics, and it feels a little bit like they can kind of check the box. I also feel like the way that they talk about it is very limiting. I said no.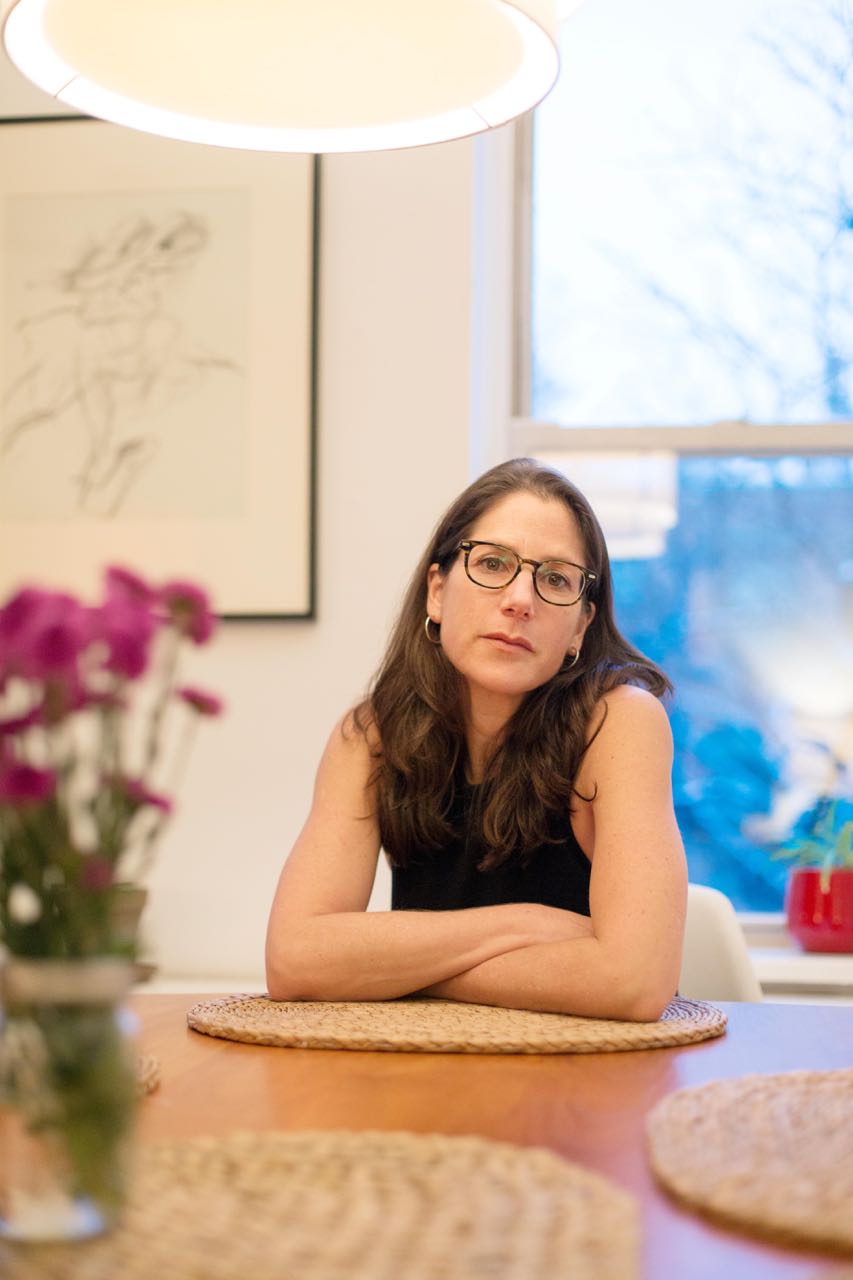 You're the new co-artistic director of Encores! Off-Center.
Isn't that crazy? Somewhere Michael [Friedman] is laughing his ass off and saying, "I can't believe you asked, of all people, Anne Kauffman to do this," but here we are, Michael Freidman.
Have you started planning yet? Do you know what you want to bring to it?
I feel like I was so new to it, and it was the very first time I'd ever done anything with Encores!. I knew what it was, but I didn't know about it in depth. Right now, I have the great, great fortune of being co-artistic director with Jeanine Tesori, who started Off-Center. It's like a master class in being an artistic director and also just becoming acquainted with what her original ideas about it were.
Right now, I'm just playing catch up. It just happened so quickly. I'm learning about the organization, and I'm learning about what should be introduced into the building and what I can bring, why me, and sort of searching myself and what my taste is and what my knowledge base is (and the lack thereof), and how that's positive and how that's actually an advantage, and how that's going to guide the way that I move forward. I'm just like a student of all of this at the moment.
I don't know if you have gotten there yet or fully decided this in your mind, but with a position like this, where do you find the balance between thinking, "They picked me, so I want to make this about bringing my individual viewpoint and really what I can bring that's going to be different than what everyone else can bring," and then the institutional memory part of it, which is "This is what the thing is. This is what you sign up for"?
Well, I think Off-Center was created to be a sort of congenial opponent of Encores! during the year. There's already a kind of renegade spirit to the program itself. I feel like that's really helpful, even if it feels very much like the institution wants that and the people are agreeable to that. Then there's the other part of it: How do we continue to break out of the mold, because this institution has a lot of history, has a lot of status, and has made great work. I think that both things will be present, and that the spirit of wanting change is so great there that I think it's just about trying to figure out the avenues to make sure that those changes happen.
In the next five years, professionally, what do you want to do?
I want to direct more musicals. I feel like I've become very active in advocating for directors and what we need in this country to make work and make work well, and to be cutting edge, and to keep growing. I feel like I'm interested in policy for us. This whole entrée into Encores! Off-Center, I wanted to be an artistic director several years ago. Then I stopped wanting to be an artistic director. Now this feels interesting because I'm not an artistic director of an institution, I'm the artistic director of a program. It's a very interesting position to be in. It feels lighter. It feels like there's more wiggle room inside of that. I'm interested in these in-between spaces where I can be a leader that's not in the rehearsal room. The other real plus side of being in Encores! Off-Center is that I'm going to be able to hire directors and composers. I'm going to be able to give opportunity to other people. That feels like a multiplication of what I'd already love to do. It just feels like I can do it on a bigger scale.